Laos & Vietnam
Shadows of Doi Moi
April 1995
20 Years After Liberation
It's dark, but the temperature is still over 30 degrees centigrade. A musical band 'Yellow Skin' is playing their original songs on an outdoor stage. This is "Musician Coffee Shop" owned by Chen, who participated in the universal exhibition held in Osaka, Japan in 1970 as a representative of then South Vietnam. He opened this shop three years ago. This is the third time I came here to collect materials for an article after an interval of five years. The last time I came here, a professor and students of a music college were playing musical instruments awkwardly in a strange combination of oboes and electric guitars in a restaurant. When I think of those days, I feel I am living in a completely different age. I ordered beer, which France resumed producing in this country for the first time in a quarter of a century under joint management with a Vietnamese government-managed enterprise, and then two girls appeared with dried cuttlefishes in baskets on their heads. They said they were 7 and 12. I bought a dried cuttlefish from each of them. The price of a cuttlefish has risen to 3 dollars, three times as high as before, affected by increasing exports to Japan.
It is 20 years since Vietnam gained independence and the South and the North were reunited. Although Vietnam is still a socialistic country ruled absolutely by the Communist Party, the government adopted "Doi Moi Policy (=renovation)" nationwide in 1986. While Doi Moi, accelerated by the collapse of the Soviet Union, is emitting glaring light like blinking neon signs of international enterprises, it is also giving shades where you can't see anything without looking it hard, and the signboard of slogan of the socialism is already put in the shade.
How far does the government allow us to see?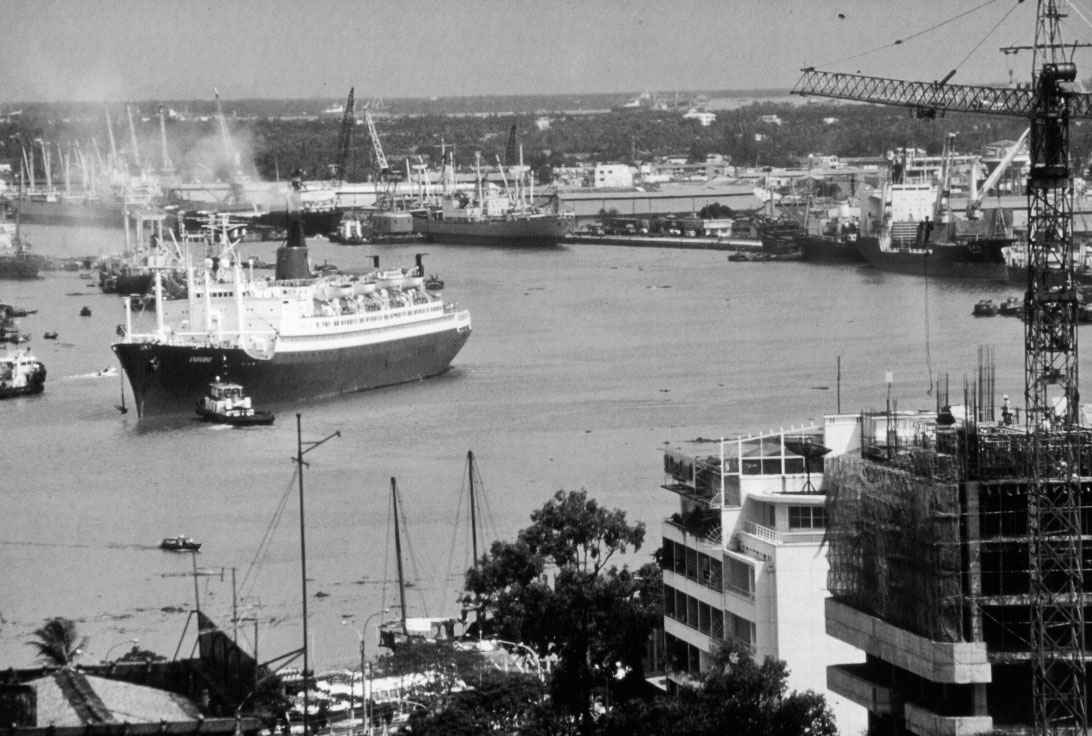 A tourist visa or business visa has been able to be obtained more easily and issued sooner in the last two or three years. But a journalist still needs to get a press visa and be accompanied by an official interpreter and guide from the press department of the Ministry of Foreign Affairs. Furthermore, his or her collected materials for a report will be censored when he or she leaves the country.
In the first place the essential features of Doi Moi include not only 'introduction of market economy' and 'immediate abolition of the socialist line' but also 'participation in international cooperation'. I wonder whether political matters such as human rights and freedom of the press are included in Doi Moi. I could not go to anywhere freely to collect materials for an article before. Wherever I went, I was always welcomed with a clapping of hands of the people standing in a line and served cake with tea. Through those bitter experiences I had been worried before I entered the country that I might see only the scene of a picture frame again.
A 29 year-old official guide from the press department accompanied with me. "You can go anywhere you like. We have nothing to hide. But I'll assist you so that you will not misunderstand anything," he explained why he accompanied me. The Secretary General of the Communist Party, Do Muoi, admitted the necessity of critical reports, even though not quite satisfactorily. In March this year he said in front of 330-odd local journalists in Hanoi, "We need more press reports in which problems are pointed out and the solutions to them are proposed. But we don't allow the misuse of freedom of the press that will menace the stability of political and social conditions."
Now both the government and private enterprises are mad for business. For instance, the Ministry of Defense remodeled a hotel that had been used by the Central Intelligence Agency (CIA) of America into a hotel for tourists. Not only the Ministry of Foreign Affairs but also other ministries are giving foreign visitors assistance according to their purposes like a travel agency does. The press department official said the main reason for giving such assistance was that the ministries could draw their own income directly from interpretation and coordination services.
A friend of mine, a journalist, could enter Ho Chi Min with a tourist visa a month earlier than me, because he didn't carry many instruments. He said, "Everybody is afraid of talking with a foreign journalist even about economics, let alone politics." The citizens may have freedom of speech and be able to criticize the government and the party now, but they seem not to forget the purge that was carried out until recently.
Vietnamese of Chinese descent in Cho Lon
The number of Vietnamese of Chinese descent in Ho Chi Minh is estimated to be 500,000. Most of them live in Cho Lon district. Since the 20th anniversary of liberation is now one month away, there are many flag vendors selling the national flags with a yellow star on a red ground and the party flags with a yellow hammer and sickle on a red ground. Dozens of the flags are fluttering in the wind full of exhaust gas. Mr. Koichi Kondo mentioned specially in his writing The longest day in Saigon that the people in the Cho Lon district were the first to have replaced the former national flag to welcome the liberation army ?they were so quick to change their tune. But later, many boatpeople came out of this district, because the communist party requisitioned their property and forbade them to do business.
"I wanted to let my children go off, but I didn't have money to do so," An (69) said over a cup of coffee, looking back the past. He had been a primary school teacher in Cho Lon, but teaching in Chinese was prohibited in 1975 and An lost his job because he was not good at Vietnamese. So he worked as a newspaper carrier and his wife worked as a tailor to bring up their eleven children. He said he couldn't speak Vietnamese well even now, because he had not been educated in Vietnamese at school. When he was school age, the lessons were given in French or English at school in this district, but not in Vietnamese. "My son can speak Japanese. He works for a Japanese company," he said proudly in rusty English.
The government permitted schools to resume giving lessons in Chinese in 1986. People think the government tries to give facilities to Chinese businessmen coming from Hong Kong whose investment in this country ranks top in number and amount, Taiwan and Singapore. But such a change by Doi Moi was too late for An. He was too old to be reinstated in a school or to find a new job. "I should say I was lucky. Two of my friends were sent to the re-education camp for eight years, because they had taught political subjects at a junior high school and a college. They were really unlucky." As if An had nothing to be afraid of, he started spilling out the grudges he had had against the government for the past 20 years. His remark was so bold as to make me uneasy.
"I don't understand his Vietnamese, because there are some Cantonese in his talk. He is too old," the press official said, and after that the number of words he interpreted decreased. Having a glimpse of the authority's intention to try to make the past obscure, I stopped the interview to avoid a trouble.
Love of 20 years' standing
When I entered a Chinese restaurant to have lunch, the assistant manager spoke to me in English hospitably. From his age, I could not help asking where he had learned English. He was a sergeant of the South Vietnam Army. He said he would soon go to America where his fiancee was waiting for him. He suddenly moved his eyes inward and stood up with his toes turned in. "I'm still single," he said as if to mock himself. Then he seemed to be moved to tears. He changed the subject.
Before liberation, he had already been engaged to marry her. But he was held in prison for one and a half years after liberation on the grounds of being a supporter of America and the puppet government. After he was released, he and his fiancee left for America as boat people in 1978, when the China-Vietnam war broke out, but they were caught by the coast guard and put in prison again for two years. They worked out a plan that his fiancee escaped alone first from the country. In 1990 she finally made it and she lives in Los Angels now. She didn't have her name entered in his family register, because they thought an unmarried person was easily accepted as a refugee. But when his fiancee visited her old home Ho Chi Minh in 1993, they signed their names on the American marriage registration. Their love of 20 years' standing finally bore fruit. An is now waiting for the day when he can go to America through the system for bringing over family members.
"I'm over 50. If I go to America, I'll not find a good job because of my age. Maybe I'll go back to a dishwasher or a cleaning man." Now there are more than 80,000 former refugees in Ho Chi Minh, where people are excited over business chances. At last An's long cherished desire is going to be realized.
From being broke and jobless
"The year of 1974 was a turning point," said Tuan (59), who was a major of a bombardment battalion in the South Vietnam Army, looking back on the complete change in that year. "When I was making nail scissors in my workshop, which is also used as a living room and a bedroom, a man from the People's Committee visited me and praised my nail scissors for their good quality. And then they suggested me to hire more people and produce more. They said that they would fix me up with land and funds. I couldn't believe my ears. If he had told me not to exploit workers, I would never have missed his words."
With liberation, he had his furniture factory, mansion, three cars and private helicopter confiscated and he was put into a re-education camp for 18 months. When he came back to Ho Chi Minh from the re-education camp, he was broke and jobless. However he started his business again. He made machine tools out of scrapped arms and sold them. He attracted many customers by giving out fliers of his own making. He made out well in the business of repairing motorbikes and painting cars, and his monthly income increased up to 10 times as much as a government-managed factory worker's. But he was ordered to close down his factory by the authorities. They alleged that he hadn't worked for the interests of the country.
Doi Moi Policy wasn't adopted nationwide until 1986, but the People's Committee in BinhThanh district, where Tuan has still lived, has been reformist from that time and piloted Doi Moi prior to any other districts. The then Mayor of Ho Chi Minh City was the present Prime Minister, Vo Van KIET.
"If we had a chat even with a Russian, the police used to question us later about what we had talked about. But as you can see, we can talk with a foreigner without any problems after 1986." Tuan appreciated the political changes. However, the reasons for opening his own factory in the first place were that no one thought highly of his French, his English, which he had learned in America where he went twice for military training, and his knowledge of engineering, and that he could not even find a job.
Later he developed his business into scissors manufacturing. With his good sense of management and a technical skill so good as to win consecutive victories in the industrial technology contest held in Hanoi, his factory became the country's leading scissors producer. His factory is, however, of humble structure with four one-storied wooden buildings. In the buildings, disposed machines by a government-managed factory, which were improved on, are sitting in line.
He is aiming to produce scissors of high quality by good Vietnamese labor force and put them on the market at internationally competitive price, so that he leaves spending on new plant and equipment till later. Actually he just came home from Australia where he visited to find new customers. He wants to export his products to Australia, America and Japan rather than to East Europe where he is exporting now.
At the lunch table he mentioned that there was a plan of constructing villas for Japanese aged people on foot in Ho Chi Minh City. He said, "The villa will be a big house. They can live in luxury, having three servants in their service. One thousand dollars is worth ten thousand dollars in this country. It's a nice plan, isn't it? The people in Ho Chi Minh City can get jobs, so that their living will get better than now," he said cheerfully. On the exterior wall of his factory a slogan was placarded. It said, "Let's work hard. For ourselves, for our families and for our country." The order of priority was completely reverse to the former one, and 'For our socialism' in the former slogan was replaced with 'for our country.'
There are always some unlucky people under any regime without regard to their will or efforts. The rate of Vietnam's economic growth reached 8.3% last year. However, there are people who sustain the glorious macroeconomic index at the bottom of the society and find themselves poorer than before when they look at the widening disparity in wealth and prevailing goods. I wonder if such people are increasing in number. When we parted, I asked him, "Are there any former South Vietnamese who are still tormented with discrimination?" Eloquent though he is, he said short, "Yes, there are. Some."
He himself hired one of his men in his bombardment battalion days as a factory manager. According to Tuan, the man had been forced to work on a farm in the new economic section until 1991.
The night in Ho Chi Minh
At that night, I wandered around the downtown area to see 'some' that Tuan mentioned. Anyone can work as a shoe repairer on the street, a street vendor or a pedicab, cyclo, driver without regard to his background. A worker of the government-run companies gets a monthly salary of about 50 dollars, while a cyclo driver earns a large income, though it is not secure. I spoke to a cyclo driver who was waiting for a customer in front of a hotel of long standing. He needs 300 dollars a month to support his family, and he earns that money only by his cyclo. "Foreign tourists have increased in number. They spend a lot of money. Thanks to Doi Moi," he said. "Well, what do you want to know? Get in, then." He started driving his cyclo toward the Saigon River with no definite destination. A tandem motorbike came close one after another and said persistently, "Do you want a girl tonight?" Two years ago a citywide crackdown on prostitution took place and prostitutes were forced out to the suburb. Today prostitution is mainly practiced at a small hotel under the cloak of 'freedom of love'. "I was a sergeant of the South Vietnam Army. When I came out of jail, there was no job. So since then I've been a cyclo driver." The driver spoke in American English, mainly in phrases he learned by ear.
Japanese investment ranks forth, following Hong Kong, Taiwan and Singapore. About 60 Japanese companies extended their business to Vietnam before June last year and 50-odd companies opened their branch offices in Ho Chi Minh City. The number of foreign companies has remarkably increased in this city more than in Hanoi City, the capital of Vietnam. So naturally Vietnamese who can speak a foreign language are in demand. However foreign companies are not allowed to advertise directly for local staff in the newspaper and the like as a rule. They have to make an application to the public labor service office for employment. Then the office will send a person to the company. This cyclo driver can speak both English and French, so he wants to work for a foreign company. But a person who was once arrested cannot even register himself with the labor service office.
"I was put in jail for four years only because I chatted with a foreigner. It happened in 1985. I don't want to be arrested again. I have six children. Recently there are spies for the Communist Party among cyclo drivers. They squeal on us. Well, I have to go now." His cyclo disappeared quietly into the street by night.
My Vietnamese friend, who accompanied me tonight, studied economy at university and can speak English, but he had to work in a low-paying government-run company for 17 years after liberation, because his father was an owner of a rubber plantation and his brother was a colonel of the South Vietnam Army. He said, "I met a director of a foreign company on the street and he recognized my ability. So I asked him directly to hire me." His official position is only an assistant who doesn't involve in management, but his boss thinks highly of his advice because he has a through knowledge of Vietnamese society. Now he earns 350 dollars a month –seven times as much as the salary he got from the government-run company. "So I have to work hard. I will work even from early in the morning, until late at night or on Monday, if I'm asked," he said with a smile on his face, which I couldn't see last time.
I looked in at one of karaoke bars. The number of karaoke bars in Ho Chi Minh City exceeded two thousand. "After leaving school, I couldn't find a job. So I …," said a bar hostess Fuen (20), who came here to work from Hanoi last month. She was wearing Ao Dai, which the people in the North wore only on a formal occasion. Ao Dai suited her nicely. She was still on probation and didn't know how much she would get. But she will surely get more than she did in Hanoi.
There was another bar hostess who would turn 20 this year. They didn't undergo the liberation war. "I like making clothes. I want to work in a sewing factory, but …" She ordered water for herself, but she drunk three glasses of beer that I ordered?she drunk more than me, a customer. When she said, "I hate here!" her senior bar hostess reproached her.
Employment opportunities for young people are not so many. The reasons are, I think, that the country does not have much strength of national capital yet because of the war of many years; that the army has reduced its troop strength by hundreds of thousands since 1987; and that deficit-ridden government-run companies are reducing their personnel in accordance with Doi Moi. Incidentally the Vietnamese general statistics bureau announced that the unemployment rate was 8.1% (in 1992), but it is commonly said every fifth person of the working population has no job. At another karaoke bar Hon (21), a sophomore in the law economic department of Ho Chi Minh University, was singing a song in a beautiful voice. She said, "Doi Moi? Thanks to it, I can eat to my heart's content now."
When she was a child, she had to line up for her rations with a ration ticket in her hand for many hours since early in the morning. But the rations were often run out before she got. "I need 600 dollars to pay for my school expenses a year. My father runs a clothes store, but he cannot earn much… I want to take lessons by day and to work for my education by night, so that I have no other choice but to work here." 30 percent of the songs in the karaoke software were English, Chinese and Japanese, 10 percent each, and remaining 70 percent were Vietnamese. But I was stunned to see the screen where a telop of song lyrics in Vietnamese was running on the scenery of the Hawaiian beach or the scenery of the Alps, which was completely irrelevant to the contents of the lyrics. "I want our country to follow Singapore and Thailand. I think Vietnam can compare with any country of ASEAN in 2000." She must have read an article on this subject. She could handle even solid matters.
Ho Chi Minh City experienced a capitalistic economy for 20 years from 1955 as a capital of South Vietnam, Saigon. The per capita GDP of Ho Chi Minh City is the highest in the country. According to the official report, it is 820 dollars, but there are indications that the city underreported to avoid an ugly rumor. It is estimated the real GDP has already exceeded 1,000 dollars. On the other hand, the GDP of Hanoi is 600 dollars and the average GDP of the country is 250 dollars. The GDP disparity between Ho Chi Minh City and other places in the north and provinces has widened to four times maximum.
This country has no longer a socialist economy system where people can go to school without paying school expenses and get a salary without working hard. On the whole, Doi Moi has successfully increased the productivity by arousing the will to work and competitive spirits, but at the same time it has brought about a situation where university tuition fees are beyond a person's whole annual income.
The cradle of the Liberation Front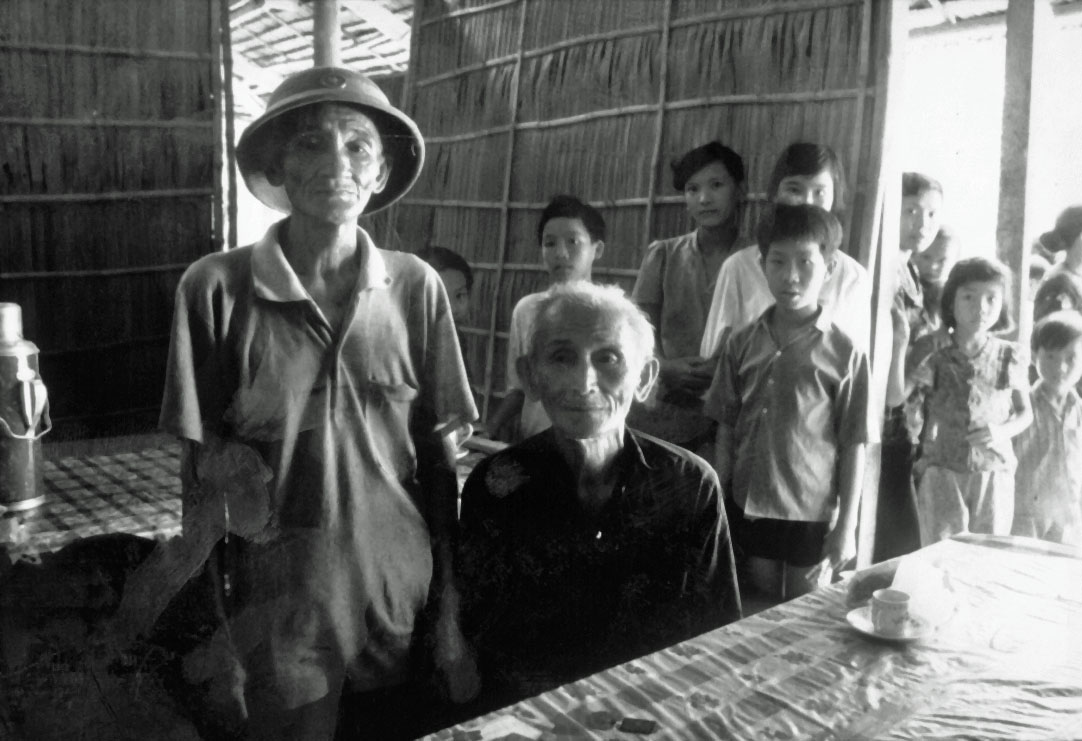 I headed for Mo Cay district, Ben Tre province in the south, the cradle of the Liberation Front, which is on a Vietnamese school textbook. It is located about 150 km south from Ho Chi Minh City, four hours' drive on Route 4. But I had to cross the Mekong River by ferry twice en route. This part of the country, that is, the Mekong Delta is 0 meter above sea level. Due to tides and droughts, sulfide in seawater is concentrated on muddy soil. So it is very difficult to get drinking water. A film of metallic soap on the surface of water in a jar is precipitated by alum. In the rainy season the roads turn into a morass, so that the people come and go by boat on a river or along a cannel. There are reputedly a lot of coconut palms, longhaired girls and communists in the countryside in Ben Tre province, but it is such a poor and remote place.
The main road was, however, paved with asphalt, so the drive was pleasant beyond expectation. According to a local member of the People's Committee who accompanied from halfway, the U. S. army built this road for the purpose of transporting their soldiers and ammunition to block liberation and also of sending relief supplies to win the local people to their side. But transport was cut off by the Liberation Front in the middle of the 1960s, so the U.S. army used a helicopter for transport instead. In the revolutionary memorial hall in the center of Dinh Thuy commune, Mo Cay district, handmade guns, hatchets and heavy sticks which were used to force out the landlord in the French colonial period were exhibited. On the wall discolored sepia photos of heroes in the village were also hung. As I heard that three heroes in the photos were still alive in this village, I went to see them straightaway.
Fin Ban Din (77) and Fin Ban Pick (69) are brothers. Their house stands in the place thickly covered with coconut trees and banana trees, where the headquarters of the Liberation Front once stood. Din joined a guerrilla band in 1944 and Pick did in 1948 to win independence of their homeland. After the 1954 Geneva Agreement, Pick moved to Hanoi and became an officer in charge of information of the reorganized Liberation Army.
"I dared to stay in the south and continued underground activities," Din disclosed that he carried out the long and massive strategy. He held secret meetings in the houses of like-minded people to unite the villagers who were exploited by the landlord. The movement grew and the villagers besieged the landlord and government officials.
"Diem, a puppet ruler, made a law to kill communists. He tortured innocent people, cutting up their abdomens, cutting off their heads by a guillotine, and raping women. It was horrible!" said Din emphatically, looking back the past. The villagers had resisted such oppression passively by burning photos of Diem or disobeying his orders, but in January 1960 they at last rose in rebellion with guns which they looted from the government army and primitive weapons like heavy sticks, and they successfully made this village the first liberated district in the Mekong Delta. At the end of that year, the Workers' Party, the predecessor of the present Communist Party, formed the National Liberation Front of South Vietnam.
Din said, "We were not inspired or led by organizers from Hanoi, but we rose up by ourselves against our landlord and government officials who exploited us." The brothers got guidance from their senior colleague who learned how to carry out a revolution in Hanoi. But it was impossible to cooperate with the like-minded people in Hanoi in carrying out the operation, because their way of communication at that time was writing a letter and it took three to five months to get the letter after passing through many like-minded people. He also disclosed that there was a trick on letter paper. It was seemingly white paper, but letters appeared on the paper when it was dipped into special liquid.
When the liberation war became in earnest, they worked out a plan to prevent a U.S. military helicopter from landing. They planted many logs in open grounds so that a rotor of the helicopter would hit against them. On the day of liberation, he also stayed in this village to back up the regular army, which was coming from the south via Ho Chi Minh. "When our desires that the puppet ruler should be banished and that our country should be unified were granted finally, I was really happy. After liberation, the communist leaders gave us sufficient food and clothes. But the best of it is that they treated us as human beings," Din said contentedly.
Din approves of promoting Doi Moi. He said, "I'm pleased that this farm village is being modernized. More people here are having motorbikes and we are now served with electricity. People should pay more attention to the new policy." However, Pick, who had lived in Hanoi until he retired from service in 1982, seemed to tread warily in the rapid change. After he made the preliminary remark that this was his personal opinion, he said, "The government introduced the market economy, but the increasing demand always outruns the supply. The economic condition is worse than before."
Din gave me his opinion about the branching out of the former hostile countries such as France, America and Japan into Vietnam again. "I want this country to develop peacefully. I don't want to see bloodshed anymore. I think it is good to cooperate with other countries. You know, there is a proverb 'Two heads are better than one.'" On the other hand Pick said, "To avoid being colonized, our open-door policy should be applied equally to every country. I'll approve if their coming benefits both their countries and our country." The revolutionary brothers welcome new relations and hope for the development of their homeland in their own way.
The road to their house did not take four-wheeled cars, so I asked to give me a ride on a carrier of a motorbike from the center of the village to their house. Although my purpose of visit was to interview the heroes of their village, I was charged for the ride. Along the both sides of the road, there were stores standing side by side, including a grocery store, a clothing store, a restaurant and even a game center which had TV game machines. The cradle of the socialist revolution looked as if it were in the heyday of the market economy. The villagers run a store as their side business, and they grow only one crop of sugar cane for cashing as their principal occupation. They used to grow rice, vegetables and fruit and raise livestock to support themselves. The way of farming has changed.
Heads of prawns
At the market in Ben Tre, only heads of prawns were on sale. I was told that the bodies of them, which were supposed to be very big, were in a freezer of a warehouse by the Ben Tre River, waiting for shipping to Japan. "If you want to eat a whole prawn, the specialty of the Mekong River, and that in good shape, you have to make a request for it to your favorite fish store in advance," complained a Japanese staff member of a nongovernmental organization (NGO), who was assigned to the Vietnam office.
I talked with him at a coffee shop by the name of 'California Cafe', which is opened this year by a former U.S. soldier. He came back to this place where a fierce battle had been fought with his Vietnamese wife. The price of coffee here is about five yen higher than that in a coffee shop in town. But there are many frequenters who come to speak with an American owner in English. "People who were involved with the South Vietnam government are still purged from public service. Thanks to a craze for English, however, some former officers opened the English classes at their homes secretly and their living is improving. But many of them don't get a resident's card to avoid oppression. When they get old, they might have a problem though."
The Vietnam government expressed its intention to join ASEAN and started attending the conferences on Mekong Development from the year before last. This Mekong Delta is one of the best rice-producing areas in Vietnam, but if the upriver countries build dams for irrigation and power generation, the sea water will surely flow backward. The Japanese staff member of NGO, who went the round of farming and fishing villages for job training, said, "The government ostensibly opposes developing the upper reaches. They built small sluices to preserve fresh water with Japanese ODA, but I think it is one of the cards that the government plays to obtain accommodation of funds for development from the World Bank and the Asian Development Bank on favorable terms. The government thinks rice cultivation brings no benefits, so that they are going to industrialize the country even at the sacrifice of agriculture." Although it is acknowledged that Vietnamese workforce is superior, he doubts that it will be of benefit to the country to industrialize it 20 years behind in the same way as the ASEAN countries did.
The Japanese staff member of NGO, having often been interviewed by the mass media, is very discontented with their reports. He said they reported only the good side of Doi Moi and admired Doi Moi blindly.
As is often the case with rapid industrialization, the problems of human rights and environment are piling up. "Many of their articles or programs deal with rosy investment in Vietnam, because the yen has been strong. And many of businessmen who visit us want to make a profit by investing their money in Vietnam. As far as I know, most of the money went on low-risk investments in the procurement of raw materials, ventures in real estate and processing on commission." He is worried about a cloud on the horizon, because Doi Moi has been carried out only superficially.
The U.S. rendered financial aid to South Vietnam, but the present state of Vietnam shows that the U.S. only scattered money recklessly just to try to prolong the life of the pro-American government by winning the people over by bribery, taking advantage of the absence of radical programs of social reform and land development on the Vietnam side.
Connivance
When I was on a sightseeing boat to see an evening scene of the Saigon River with the press official from Hanoi, I asked his opinion about Vietnam's future. "There will be no disturbance like the Tiananmen Incident. Information from the foreign countries generally stirs up peoples, but it cannot stir up the Vietnamese. The people in Vietnam have learned from the cases happened in foreign countries what will happen to them if they use force like demonstration, strike and terrorism. I think they are weighing up what they will gain and what they will lose." On the bridge under which our boat is going, many young couples are looking at the setting sun. "Our country had been at war for more than half a century until the dispatch of troops to Cambodia in 1991, so everyone in our country is fed up with war. We think peace and stability are the most important things,"?this is the basis of his view about Vietnam's future.
"By the way, where did you go alone on that night? I know you went out because there is a plainclothes policeman in this hotel." I was worried about the people whom I talked with. I asked myself whether I had been followed. At the thought that my notebook and films might be confiscated, cold sweat trickled down the nape of my neck. But he didn't question me any further.