Burma(Myanmer)
Democratization Found in Workers
September 2013
Covered in Bangkok,Thailand
Myanmar and Thailand share the border extending for approximately 1,800km. Where a river forms the border, people can cross it by ferryboat or a bridge and where it is connected by land, on foot. Immigration offices of the two countries are located only on arterial roads and ports. In the southern part of Thailand which faces the Andaman Sea, it is easy to land by fishing boat. Many people cross the border to go to Thailand from Myanmar. Their purposes are to work at factories in Thailand, to shop at a market, to go to a hospital for medical treatment or to see families or relatives.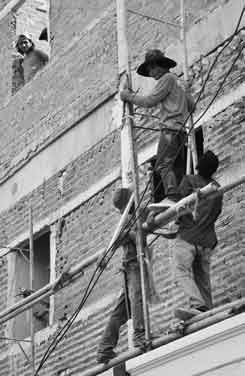 This report focuses on more than 2.5 million people who come to Thailand from Myanmar to work (the figure by the Myanmar Embassy in Bangkok). The number indicates one in every 25 persons of the Thailand's population is from Myanmar. Most of them are illegal workers and their total number corresponds with the estimate by the Ministry of Labor of Thailand. According to the Myanmar Embassy, the male-female ratio is almost one to one. The most popular job category is unskilled labor, followed by construction work and factory job. Only a few people are engaged in other jobs. Statistics on their economic scale are not available as migrant workers' incomes are transferred though an "underground bank".
Only a few wealthy people fly into Thailand with passports they have obtained before the departure. Therefore, the Embassy issues temporary passports valid for six years to people from Myanmar who come to Thailand crossing the border by land and it already issued around 150,000 temporary passports. While the Thai government says the accumulated number is approximately 1.45 million, the Myanmar Embassy considers around 1.3 million people who had obtained passports already returned home. A regular passport valid for any country has a red cover and the temporary one, purple. The Myanmar government had been consulting the Thai government about a plan for issuing temporary passports valid for only in Thailand since 2003 and it was just after August 22, 2009 that the Thai government agreed to its issuance.
The reason why Myanmar produced once refugees and now a large number of migrant workers is that the military regime failed to promote domestic industries. Two and a half years after Thein Sein took office as President, I visited many people who came to Thailand from Myanmar to work, looking sideways at democratization progressing rapidly in their home country.
Up to His Neck in Debt…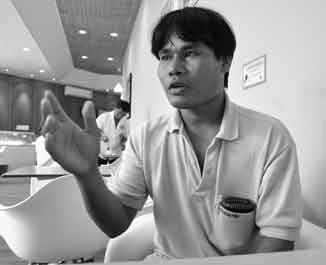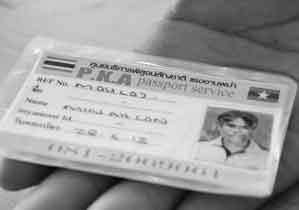 Manug Noon (27 years old) is from Htan Bo Village near Ye City. He is the third son of the five siblings with three brothers and two sisters. His parents who had been engaged in farming have already retired. He called a senior friend who was working in Thailand, then took a bus, crossing the Three Pagodas Pass, and came to Thailand for the first time two years ago, In his hometown, he was growing rice as a day laborer and earned only 3,000 kyat (approx. 300 Japanese yen) per day. After knowing that a worker can earn 300 bahts in Thailand, more than three times higher than his wage, he decided to leave his country.
For the first one year, Manug Noon did not have a passport because he was working as a fisherman near Mahachai, about 30km southwest of Bangkok. Burmese shipmen do not need a passport nor a seaman's pocket ledger if they only land at a port town when returning to port from fishing. He got aboard a fishing boat to go off Songkhla in the southern part of Thailand and was repeatedly engaged in 10-day-purse seining fishing. As a monthly salary with full board, he earned 4,000 to 5,000 bahts (1 baht is approx. 3.1 Japanese yen). After coming back from fishing, he unloaded a haul from a hold and left for fishing again immediately. He says one boat has about 20 crew members and all of them were from Myanmar.
He obtained a temporary passport at the Myanmar Embassy in Bangkok after quitting the fishing job. The reason why he quit is that the job was boring because there was no chance to meet people at sea. He also says that his salary was not enough in spite of the tough workload. He could easily move to a new job at a construction company on referral from a friend because he owed no debt to the fishing company. However, the construction company asked him to pay 12,000 bahts in total including 6,000 for obtaining a passport and another 6,000 for a work permit. That's how he came to be indebted to the company.
Manug Noon lives in a bullpen and works as a steeplejack and a formwork carpenter. His monthly salary is around 9,900 bahts in total with a daily wage of 300 bahts which is designated by the Minimum Wage Act. Most of the workers at a construction site are also from Myanmar, which is a motley collection of various ethnic groups just like his home country. Manug Noon of the Burma had been harassed by a foreman of the Mon and was not paid for the last nine working days. So he quit the construction company yesterday. However, he has not had his passport back because the company still holds it. The company says Manug Noon still owes money. He actually saw his passport only once when he went to the Embassy to pick it up. Instead of the passport, he took out a laminated card from a wallet. It says "Myanmar Worker Nationality Certificate Service Center" and has his photo and name on it. It's a simple stuff with its back side being blank.
Burmese Association in Thailand in Active Operation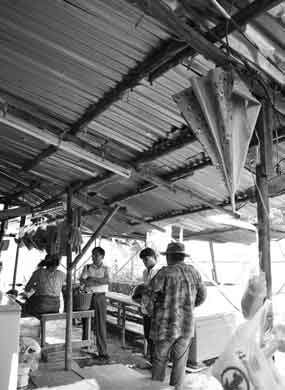 Myo Naing (53 years old), currently engaged in clothing sales in Bangkok, used to live in Japan for ten years from 1990, seeking for freedom and a job. He was a core member of the Bridge Asia Japan (BAJ) in Tokyo and founded the Burmese Association in Thailand (BAT) in Bangkok in November 2008 as an organization for mutual friendship and assistance. At first, BAT offered job training such as sewing skills for workers and these days their main activities include mediation for troubles between labor and management and care for sick and injured people. BAT's activity expenses are covered by donations and the staff work without recompense. Although it is still a small organization with four members including a representative, it plays a reliable role for workers from Myanmar.
Myo Naing, BAT representative, says he will go to negotiate with Manug Noon's employer to get his passport back. But Manug Noon doesn't know foreman's contact number, so Myo Naing decided to go to see him together. At a corner of an apartment construction site at Soi 62, Sukuhmvit Road in the suburb of Bangkok, the bullpen was located. The area was packed with barracks made of tin roofs and walls without any windows. For water, they just lead a hose and for electricity, they only have a hanging unshaded bulb. Although this place is used only for sleeping, it seems extremely unpleasant on a hot day.
When we were talking with foreman's wife who runs a kiosk at the bullpen, the foreman appeared. In a camouflage hat and a camouflage jacket, he looked as if he were a dissident guerilla. His facial expression and tone of voice well indicated he was not in a good mood and even angry. Representative Myo Naing started to speak as calmly as possible, saying that he came here to have the passport back, not to quarrel. He was wearing a brand-new shirt and well-pressed trousers. He was also carrying a briefcase, looking like a civil servant or a business person. In fact, he tried to negotiate with the foreman without saying he is BAT Representative on this day. Although BAT has a close relationship with the Embassy of Myanmar, he is not a diplomatic service member. However, the foreman regarded him as embassy staff or an official of the homeland. "Unless you do this, you might be killed." The words by Representative sounded not altogether like an exaggeration.
The foreman says that Manug Noon still owes him 4,000 bahts and he will return the passport as soon as Manug Noon pays his debt. He insists that the same condition applies to all the other workers and they have to pay 6,000 to a Thai agent to obtain a work permit valid for two years at first. Manug Noon already paid 8,000 bahts, so it seems he already paid off the fee for the passport. However, the foreman says that Manug Noon quit a job after working only for one year and that hiring a new worker requires another fee. If his argument were accepted, not only workers' rights but also human rights would not be observed. In Japan, the Ministry of Health, Labor and Welfare issued a guideline not to keep passports of foreign workers. Myo Naing backed down, "It cannot be helped." But they promised that he would be present when Manug Noon gets back his passport in return for the remaining 4,000 bahts.
Manug Noon says after he sends 100,000 bahts to his mother, he wants to go home and return to farming. He said that he can work for another construction company on his friend's introduction but it is illegal employment without a passport nor a work permit. He has to save 4,000 bahts as soon as possible besides living expenses.
Migrant Worker since 12 Years Old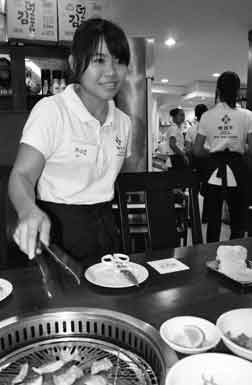 At a Korean barbecue restaurant located at Soi 12, Sukuhmvit Road where there are many Japanese restaurants, Mo E (25 years old) was working as a waitress. She was born in Eduma Village near Hpa-an, Karen State and her real name is Moh Sansang, which means rain, sun and sun. She came to Thailand through a referral of a broker when she was only 12 years old and since then 13 years have passed. She goes back to her hometown every year but has kept working in Thailand and speaks Thai almost like a native speaker. After working as a maid for six years and then a waitress at an all-you-can-eat broiled meat restaurant, she now works at this barbecue restaurant run by a Korean. Her change of jobs from a maid to a waitress was arranged on the introduction of a friend from Myanmar living in Thailand, not through a broker.
Mo E is the eldest of the nine siblings and the youngest is still five years old. Her dream is to open a sundries store in her hometown and she says she will keep working here for a few more years. Actually, the majority of the workers from Myanmar have never met any special troubles like Mo E. Otherwise more than 2.5 million people would not have come to Thailand to work.
Spread of Tuberculosis, a Great Concern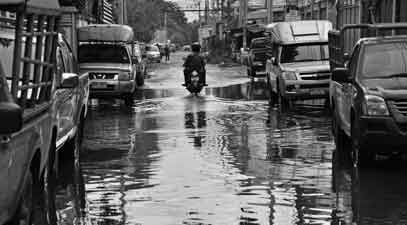 Thet Thet Oo (43 years old), a BAT staff member, regularly goes to Prawet District with only six bus services a day from the terminal of Bangkok Skytrain. She started BAT with Representative Myo Naing and now takes charge of women's issues. After 1988 when Burmese people's desire for democratization broke out in the forms of general strikes and demonstrations, she worked for the National League for Democracy (NLD) in her hometown in Shan State. Her father Nanmato was a NLD member and her house served as its chapter. Although her father was elected at the 1990 general election, he was jailed as a political prisoner twice right after the election and she worked according to his directions from a prison. Meanwhile, as there were not enough teachers in her hometown, she taught at an elementary school for eight years since her high school days. Thet Thet Oo came to Thailand in April, 2000. She recalls that battles against the government force continued in Shan State in those days, her husband was imprisoned as a political criminal and then she came to Mae Sai, the northern tip town of Thailand for fear of her physical safety. Although both Thet Thet Oo and Myo Naing were not given an official status, they are part of "refugees".
Prawet District is a bleak industrial area which can be described as neither urban area nor countryside. Plastic and jeans factories surrounded by tall walls line the street which remains inundated with the rain of the night before. Except for the factory lots, there exist vacant lands made of waste soil mixed with waste materials and overrun with weeds, or cheap apartments with four or five floors. To one of the rooms of such apartments, Thet Thet Oo delivered the medicine she picked up in the morning. The medicine bag says "To Me Sae, take one set altogether before going to bed. Next visit is September 19."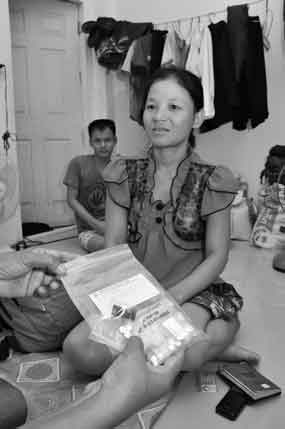 Me Sae (30 years old) was infected with tuberculosis and lost her job. She kept coughing, vomited blood and was finally dismissed from a plastic factory on February 10 of this year. Thet Thet Oo was informed that Me Sae was suspected of having been infected with tuberculosis by a mutual friend who lives in Mae Sot, a town on the border, and took her to a hospital. When she vomited blood, other factory workers made a fuss saying she must have a serious disease, which eventually came to an employer's notice. Factory workers from abroad are entitled to no sick leave. Looking at her upper arms and shoulders, I found no BCG scar (vaccination against tuberculosis) on either side. She didn't know there is vaccination nor is tuberculosis an infectious disease. In Burma, vaccines had been given to people widely before 1988 but it was abolished after the military regime took power and it has not been restored even after the democratization. In fact, when looking at upper arms of Burmese over 40's including Thet Thet Oo, we can find a familiar BCG scar there.
Although Me Sae has a temporary passport, she doesn't have a work permit because she was dismissed from the factory. Meanwhile, her father tells her, "Don't come back home because children might catch it. Cure it in Thailand." As she might be arrested by the police if she goes out, Thet Thet Oo took her to a hospital once and after that, she delivers medicine to Me Sae every week.
Me Sae, a tuberculosis patient, lives in a one-room apartment as large as about 13m2 with three other family members including her husband (29 years old), her brother (27 years old) and her cousin (19 years old) and they all sleep in a huddle in this room. She feels relieved as she has no subjective symptoms without any coughs, and her disease has no effect on her daily life these days but Thet Thet Oo calls her every night to make sure if she takes medicine every day. That's because Me Sae doesn't know she has to keep taking medicine after symptoms disappear. If she stops medicine, it might not lead to complete healing and what is worse, there is a great possibility that people around her might be infected with it.
Medecins Sans Frontieres (MSF) held a symposium on measures against tuberculosis in Yangon at the end of last August. According to MSF, although the disease rate of drug-resistant tuberculosis (DR-TB) is high in Myanmar and approximately 8,900 people are newly infected with the disease every year, only 800 patients receive treatment. On the day I visited Me Sae, it was found out that her cousin living together had been coughing since three months ago and Thet Thet Oo decided to take him to a hospital next Monday.
Tablet at a Shopping Mall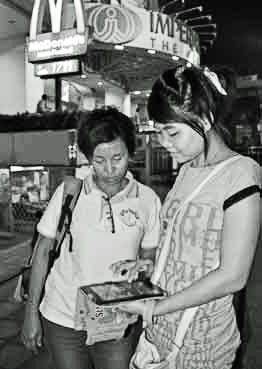 I got a phone call from Phyu Nin (22 years old), saying "Today I have no overtime work." We decided to meet at "BIG C" Shopping Mall which has been expanding their chain store operation all over Southeast Asia recently. The shopping complex she designated was in Samrong, Samut Prakan Province in the south side of Bangkok. It has been an industrial area for many years and Japanese automakers built their first factories in Thailand.
She came to Thailand from a town called Chai Maro near Mawlamyine September last year. She was also found to be infected with tuberculosis April this year but currently works at a screw factory hiding her disease. When she was working as a waitress at a diner in Pran Buri, a local city along the National Route 4 heading for south, she had a persistent cough and went to a hospital of her own will. And there, she was found to be infected with tuberculosis. That hospital in Pran Buri called BAT, concerned about her condition after she left the hospital. That's how Thet Thet Oo came to take care of her. BAT now looks after eight tuberculosis patients from 22 to 51 years old.
In the school system of Myanmar, there are four years in a junior high school, followed by a two-year-high school. She started working when she was a second year student of a junior high school. "I wanted to keep going to school but I did not have money." She is the eldest of the four siblings and has two younger sisters. Her youngest brother is only ten years old. Her parents already divorced and each lives with a new partner respectively in Thailand. They live separately from Phyu Nin. Her family back home depends on the money sent from this eldest daughter. "Even after I get over the disease, I will keep working in Thailand because I have a grandmother and three young siblings." She takes living expenses from her income, saves half of the remain and sends the other half to her grandmother.
I heard from Thet Thet Oo that Phyu Nin has been suffering from economic hardships and cannot eat enough nutritious food. But to my surprise, what she took out of her bag after a ringtone sounded was not a cell phone but a tablet which is extremely popular in Thailand now. It costs at least 5,000 bahts and equals to her monthly income. Her impoverished life which cannot afford to take sick leave, a state-of-the-art information communication device and her affection and hardworking for her family – all of these unbalanced elements can only be explained by a lack of enough education on her part.
Phyu Nin changed jobs as many as six times during one year of stay in Thailand mainly because she was infected with tuberculosis. She was dismissed from the first diner after three months due to the disease. After that, she joined a plastic factory and a company which delivers pork for business use before dawn in south Bangkok but both were hard works so she quit after two days and one night respectively. Then, she got a job at a rope factory but she started coughing again because of a strong smell and quit after two weeks. She then worked at a pillow factory for one month but quit it because her salary was too low. She started working for the present screw factory one month ago. In total, she could only work for less than six months during one year.
From Vietnam, Too
I met May (23 years old) at a beer bar which I dropped in after finishing the coverage of the day. With black hair, white skin and double-edged eyelids, she is from Hanoi, capital of Vietnam and speaks with accented Thai. The stereotypic idea that women working at bars in Bangkok are from northeast Thailand (Isan) belongs to the previous century. The working hours of this bar is from 5 p.m. to 3 a.m. There are many massage parlors and brothel bathhouses around this bar. So-called 3D (demanding, dirty and dangerous) jobs in Thailand are actually taken by foreign workers from surrounding countries including Myanmar. As Vietnam has not concluded a bilateral agreement with Thailand like the one between Thailand and Myanmar, May is an illegal worker. Either way, a work permit is not issued for liquor trade. She undoubtedly paid a connivance fee to the police or an immigration office either directly or indirectly to get a job here. For more than two years, she has continued a rotation of working for three months in Bangkok and returning home for two weeks. Vietnamese workers use a bus via Laos, the cheapest transportation method, and come and go spending a whole day. Every time, they bring back home around 20,000 bahts without exchanging them into US dollars. It makes sense that migrant workers flood Thailand also from Laos and Cambodia.
Democratized Embassy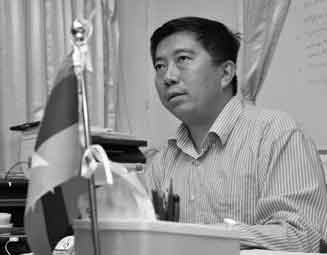 Kyaw Kyaw Lwin (45 years old) is an official of the Ministry of Labor who was assigned to the Myanmar Embassy in Bangkok. He issues temporary passports to people from Myanmar who come to Thailand to work, apply for work permits to the Thai government, takes care of problem solving between labor and management and also support sick and injured people. They rent a room in a two-storied tenement near the Embassy for 15,000 bahts a month as an office, which workers and brokers visit incessantly. There work only two employees at this office including him. They are extremely busy with only handling official workers registered at the Embassy and they are obviously short-handed. Nevertheless, it was a product of democratization that the government started offering administrative services to migrant workers. Before, the Embassy focused on cracking down on democratic wings and it was a place difficult to visit for the general public.
Fees for issuing a passport and obtaining a work permit are different for each broker and the official rates designated by the Embassy are as follows: 550 bahts for issuing a passport, 500 bahts for issuing a visa, 1,900 bahts for health insurance and 1,900 bahts for issuing a work permit, totaling 4,850 bahts. It takes three days for the procedures at the earliest and it sometimes takes one month to obtain a work permit due to the convenience of the Thai side. One laborer who came to Thailand without a passport and now works at a plastic factory said that he had paid 10,000 bahts to a broker as passport and work permit fees last February but he only received a passport in July and the procedures for a work permit is still underway. His temporary passport says it was issued on July 1, 2013. The visa stamp of Thailand also says July 1, 2013, not the date he entered Thailand two years ago. Under the visa stamp, an employer's name must be written and a guarantor must sign, so a worker cannot change his/her workplace freely. Compared to the official fees designated by the Embassy, brokers charge twice or three times more fees and also process them leisurely in a lump.
10% income tax to pay to the Embassy which had been unpopular among Myanmar's workers abroad was abolished last year. Before the abolition, they were tax-exempt by showing a tax payment certificate when buying a real estate or a car inside the country but this system was also abolished. They now have to pay a tax at the time of purchase in a form similar to a consumption tax. For a life-threatening trouble of a person who has a work permit issued by the Thai government or a payment slip issued by a Thai company regardless of one's status, Kyaw Kyaw Lwin asks the Social Welfare Agency of Thailand to provide welfare services same as for Thai people.
Mutual Help in Distress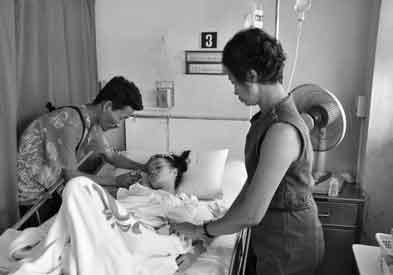 I visited Rajvithi National Hospital located in central Bangkok with Thet Thet Oo. In a bed by the window of a hospital room for six, we found Macey (19 years old) standing pain by drawing up her knees. This is a public hospital which basically offers free medical care for Thai people. A nurse who came to check a drip says, "Because she still cannot eat, she probably needs to stay here one more week." One year has already passed since Macey came to Thailand. Two months after she started working at a screw factory in Mahachai, she developed appendicitis and had an operation. Since then, she has not been able to work. When she sought medical care at a hospital when she developed appendicitis, she was found to have a problem in her kidney and a tube was inserted into her body.
Macey's mother died when she was a child and her father who was a monk also died one month ago. She is the only daughter and has no relatives to depend on in her hometown. She came through surgery well and left the hospital once but she can't work due to a lower back pain caused by calculuses. She met Dindun (24 years old) from Myanmar who is engaged in jewelry polishing in Thailand and started to live with him. Dindun was attending to Macey on this day, too. The tube in her body was going to be removed in four months but his income is also low with a daily wage of 400 bahts and couldn't save money for the surgery. Her pain got stronger with two calculuses as large as a thumb which appear on an X-ray image. Last June, it finally became difficult for her to even sit and they asked the Embassy for help. The Embassy then asked BAT to help Macey. BAT had her go into this national hospital and Thet Thet Oo signed a guarantee that she would pay 30,000 bahts for the next operation and hospital expenses.
Thet Thet Oo is engaged in volunteer work for BAT because she helped people while she was in Burma and she wants to support nameless workers in Thailand, too. BAT supported all parties equally including the democratic camp, so right after its inauguration, their relationship with the Embassy was an adversarial one. However, it is now obvious that BAT activities are very valuable for the Myanmar government. Since Ambassador approached Representative Myo Naing in June two years ago, their mutual relationship has become friendly rapidly. Thet Thet Oo who is from a minority ethnic group and belongs to the democratic camp is considering to telling her contact address and e-mail address to the Embassy.
After the hospital confirmed that the Embassy had paid 14,000 bahts as part of the medical cost, they conducted an operation, two days before my coverage. The remaining 16,000 bahts will be charged when the patient is released from the hospital. If the medical cost is not covered by the Department of Social Welfare of Thailand, the Embassy is to pay it.
Unrecognized "Compensation for Worker's Accident"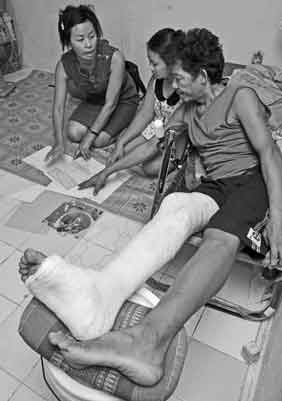 Kyaw (42 years old) is from Mit Chia, Mandalay. He is a good plasterer with an experience of joining construction of a bridge crossing Salween River. On July 13 this year, he fell off a fourth floor at a construction site and broke his right leg and what is worse, he had more than 10 stitches on his head. Although two months have passed since then, he still has pains in his left side and lower back. Most workers at construction sites in Thailand are migrant workers from surrounding nations and those wearing a helmet and a safety belt are rarely seen.
On the day of the accident, a Thai female boss around 35 years old took him to a hospital. Medical costs were 40,000 bahts including expenses for hospitalization. Because he had serious bleeding from his head and other workers were afraid that he might die, the boss said that she would cover all the medical expenses in front of all of the workers. Nevertheless, she paid only 20,000 bahts, half of the total cost, and has never visited him at the hospital nor offered compensation after that.
Kyaw came to Thailand six years ago. He paid 10,000 bahts to a broker to arrange a job and started working at a construction company. He got to know Ta Buy (32 years old), a woman from Myanmar who was working at a key factory in Thailand, and they have been in a de fact marriage state since four years ago. They have a one and a half-year-old son and she is currently pregnant with her second child. They submitted a birth certificate of their son to the Embassy and entrusted him to his sister in Myanmar. Kyaw quit the construction company last April and got a new job at a furniture factory. But because of his good skills, he was brought back to the previous construction company by his former boss, just when the accident occurred.
Kyaw lives in Bang Bon District of Bangkok City, a factory area with many small and medium companies of canned fish, shoes and sewing. Because of the closeness to their workplaces, many Myanmar people live in this area, with the total population reaching at least 20,000. He says, "While considering going back home, I have just kept on living here for the whole six years. This area is not nice. The police try to accuse me falsely and I have no freedom although I have a passport. "Though he has a passport with a red cover valid for any country and earned 9,000 to 10,000 bahts per month, aside from living expenses, he spent most of his income on drinking and eating or going out with friends and couldn't save money.
Kyaw's wife was dismissed from the factory last month because she was often absent from work to look after her husband. Now they manage to get on by borrowing money from neighbors from Myanmar but they have to pay 1,500 bahts every time they visit a hospital and he has to go there every other week. Thet Thet Oo gave a marriage registration form to the couple and recommended them to submit it to the Embassy. She told them that they could receive a salary or compensation if either one of them dies. It cannot be a black joke for a working environment where safety is a secondary matter.
Although his plaster will be removed in two months, Kyaw is determined to go home if a disability remains and he is not able to work. Either way, he has no intention of staying in Thailand for a long time. That's because they want to raise their children in their home country and now they have a prospect of earning 170 US dollars per month. A clothing factory was completed in his hometown and his wife can work there. In addition, construction projects have been increasing in Myanmar and skilled laborers like Kyaw with an experience in Thailand are in great demand.
The Myanmar government is now under bilateral negotiation with Malaysia about the agreement similar to the one with Thailand. The government plans to conclude an agreement in the order of the countries with larger number of migrant workers from their country. On the other hand, since the end of March 2011 when Thein Sein became president, the number of issuing temporary passports has been on a declining trend and the number of people returning home has been increasing. Although infrastructure projects in Myanmar have yet to start in full swing, jobs are being created in markets and factories in a free trade zone on the Myanmar-Thailand border.
Myo Naing says, "Because this is a work-related injury, we will charge his boss the treatment cost." However, even if Kyaw has been hired by this female boss for a long time, he calls her only "Je (elder sister)" and doesn't know her real name nor contact number. BAT Representative says he will find out her name and address from her car license plate number before Kyaw goes home after being compelled to give up.
Five Years after the Declaration on Workers' Rights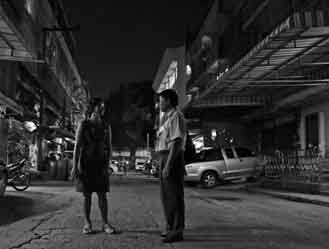 If Burmese people who fled the county escaping from persecution and scourge of war report to the Myanmar Embassy, are confirmed to be able to speak Burmese and can tell their birthplaces, they will be issued passports (nationality), not taken into custody as political criminals just like the old days. They will be issued passports even if they have lost a passport or an ID when they left the country. It seems that inviting leaders of the democracy camp who had fled to foreign countries to Yangon and Naypyidaw and treating them well last September was not just a gesture to appeal progress in democratization.
As the Thai government issued a work permit valid for six consecutive years to Myanmar's people, the Myanmar government also set the expiration date of a temporary passport at six years accordingly. However, last August the Thai government suddenly changed the period of continued stay to four years and decided re-entry would be only possible after one year after returning to Myanmar. Because it caused confusion not only among Burmese workers but also Thai companies dependent on them as labor force, it was immediately revised from one year to one month, and then again changed to require migrant workers to stay for only one day after returning Myanmar before re-entering Thailand. This shows how workers from Myanmar have become indispensable for the Thai economy.
The Association of Southeast Asian Nations (ASEAN) adopted the "ASEAN Declaration on the Protection and Promotion of the Rights of Migrant Workers" at the 12th Summit. It advocates "providing migrant workers, who may be victims of discrimination, abuse, exploitation and violence, with adequate access to the legal and judicial system and social welfare, and also promoting fair and appropriate employment protection, payment of wages, and adequate access to decent working conditions for them". Five years after the declaration, a part of it, albeit small, has finally started to become a reality.