Laos & Vietnam
Hot Wind Blowing Across the Mekong
May 1994
The tree-clad country
"The Mittaphap (Friendship) Bridge" over the Mekong River on the border between Thai and Laos was opened to traffic in April this year. This bridge named Friendship enabled overland passage between the two countries. Its impact on Laos, the only inland nation in Indochina, is immeasurable. I crossed this Friendship Bridge to see the response of the people to the opening of the bridge and the changes that it had brought about in the tree-clad country of Laos.
Enlivened Thailand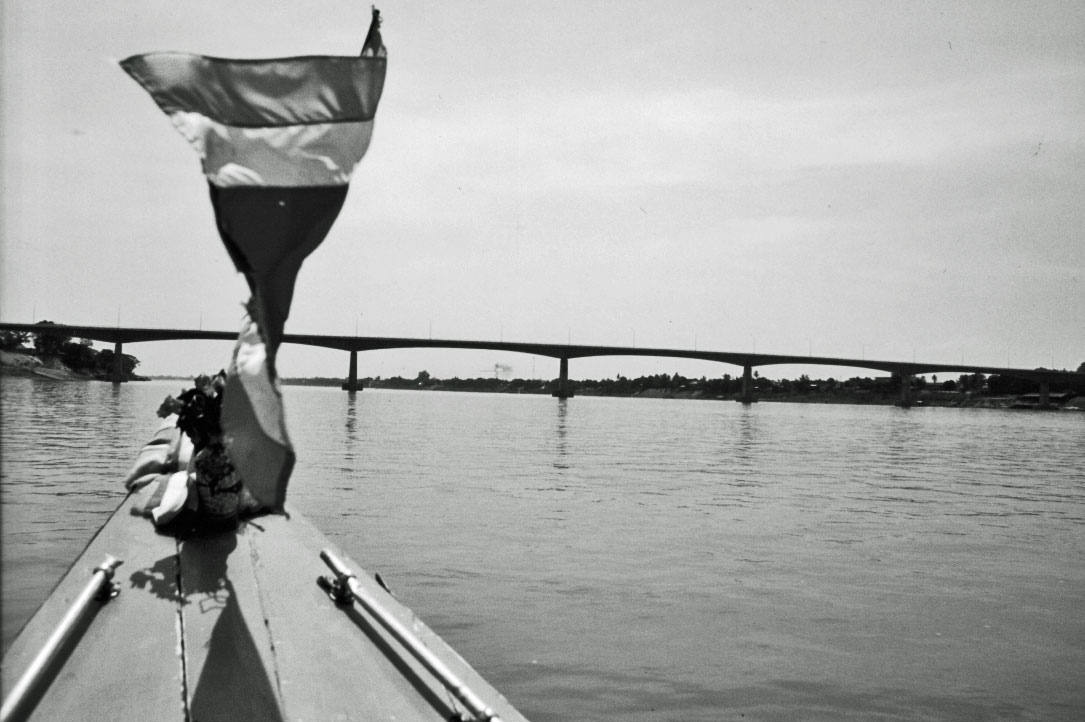 A two-lane expressway bridge with a length of 1,200 meters, which was constructed with an Australian aid of about three billion yen, links Nong Khai on the Thai side with Vientiane on the Lao side. It was on April 26th, four days after general vehicles started crossing the bridge that I was on the bank of the Thai side. It was at the end of the dry season, the hottest time of year. The wind over the Mekong River was lulled, but it was so hot as my thermometer read 35 degrees.
Australia won the construction aid of this bridge in competition with Japan five years ago. It was in the days of the Administration of Thai Prime Minister Chatichai, who made wise remarks of "To turn battlefields into market places". On the Thai side there was a signboard with congratulations on the opening of the bridge by the National Development Party led by Chatichai. Across from the signboard, a new market was opened for Thai tourists. Lao handicraft products such as homespun textiles and silver products were displayed for sale. But I noticed there were also many other products displayed like chinaware, lacquer ware, toys and electric appliances, which were made in China or Vietnam. And such products exceeded Lao products in number. Laos had closed the door to the West for more than twenty years from 1975, when the socialist revolution was brought about, to 1986, when Laos resumed borderline trade with Thailand after the model of perestroika in Soviet. Laos has been half self-sufficient and hardly has any industry. The intermediary trade is an important "industry" to acquire foreign exchange as well as the trade of agricultural and forest products such as timber and coffee and the hydroelectricity trade.
In front of the immigration office, which was hanging out a sign saying "22 km to Vientiane," long-haul trucks were standing in line to go through the formalities. Trucks bound for Laos are carrying a full load of goods, but most return trucks are carrying nothing. While the Lao exports for three full years were 130 million dollars, the imports were 230 million dollars close to twice as much as the exports. The deficit has barely been made up with foreign aid. When the bridge is used as a channel of distribution on a large scale, the trade deficit will certainly swell up.
After the socialist revolution, not only Hmong people who were engaged in anti-communist guerrilla activities but also other many Lao people who pursue wealthiness crossed the Mekong River and became refugees. The number of those people amounts to 10 % of the total population of Laos that numbers 4,170,000 at present. I couldn't believe from this scenery that the two armies had confronted each other across the river.
Tourists getting off a bus were standing in line at the visa application agency to enter Laos. Even if they make a short-term tour, they need visas, because Laos takes precautions against the rapid influx of people and goods, and Thailand takes precautions against the increase of refuges and illegal workers. Despite that, the number of Thai people who crossed this bridge to enter Laos was about to exceed 2,000 only for four days after the bridge had opened to traffic.
On the other hand, a conventional ferryboat is still fully used as a means of transportation by the common people. I talked to a Lao woman accompanied by her child, who had been declaring her shopping on Thai side such as detergents and tableware at the customs. She said, "The boat comes to the central part of Nong Khai and the ferry on the Lao side is convenient for the bus from Vientiane." She hasn't crossed the bridge yet. She added that she would use the ferry in future to go every two months' shopping and to go to the hospital. According to the Thai bus company, whose buses shuttle between both banks, only about ten Lao people cross the river to the Thai side a day. The name of the bridge, "Mittaphap", means "friendship" in both Thai and Lao. However, the actual condition of the passage was as if it were one-way traffic. It poses us a question of whom this bridge was built for.
Cross the bridge to Laos
It takes the bus less than one minute to cross the bridge to Laos. In Thailand vehicles should keep to the left the same as in Japan, but in Laos they should keep to the right. Thai and Lao hadn't reached an agreement upon where the boundary line between the two countries should be drawn and where the switchover point of the road traffic acts should be. But just before the formal opening of the bridge, they finally decided the borderline should be drawn in the middle of the bridge and drivers should switch over the lane to the right or to the left at the Lao immigration office.
The bridge runs to the place about 20km east of Vientiane. The first scenery of Laos I saw through the windshield of the bus was extensive field. I could see buffalos grazing in the field. Our bus passed some vehicles made in Soviet, and went into a countrified city, where the signboards of Japanese companies were prominent. The city was a capital of the Lao People's Democratic Republic, Vientiane, with the population of 440,000. Although Laos has the socialistic form of one-party rule by the Lao People's Revolutionary Party, it introduced the market economy.
Under the deep-blue sky, cars and motorbikes made by Japanese companies are running on the street lined with yellow Golden shower trees. The traffic was not so heavy, but the environmental pollution by exhaust gas and noise was worse than in Tokyo, because the cars and motorbikes were used ones that had been made when the Japanese environmental standards had been ease or ones that were assembled in Laos where the environmental standards were easy. In the market plastic goods in garish colors were prominently on display and driving handmade baskets out of the market. Regardless of whether they were high-tech products or not, every industrial goods ranging from chemical fiber to household electric appliances were imports. If they were not made in Thailand, they must have been made in China or Vietnam. It is not too much to say that all goods made in Laos are perishable foods and handmade products.
The starting salary of a government employee for a collage graduate in Vientiane is 16,000 kip (about 2,300 yen), that of a private enterprise employee is about 40,000 kip and the daily wage of a labor is about 300 kip. The price of glutinous rice, Lao staple food, is prevented from rising more than 230 kip (about 30 yen) a kilogram, but the prices of daily necessaries, the most of which are imported, are higher by 20 % than those in Thailand. Foreign tourists are surprised to find that everything is expensive in Vientiane, Laos, whose GNP per capita is 220 dollars, less than a seventh of Thai GNP.
I looked in at a public department store. Cigarettes made in America where the people tended to stop smoking were piled up here. At the front entrance music tapes were on sale. They said that the ratio of the sales of Lao-made tapes to that of Thai-made tapes was 2 to 1 and that they sold 500 tapes a day. According to this shop manager, all Thai-made tapes are pirated editions because the government prohibits the import of Thai music. The authorities make a search for illegal tapes once every three months, and the illegal tapes are seized. At the electric appliances department dozens of TV sets made by Japanese manufacturers were on sale. The department was just like a store specializing in TV. According to a clerk there, there is a great demand for TV sets. There are two TV stations controlled by the government, but there are five Thai TV stations that can be picked up. Since Lao language is originated from Thai, the Lao people living along the Mekong River understand Thai language completely. And the Thai stations offer a variety of programs with relatively free contents, so that the Thai programs are popular among those Lao people and fitting into their daily lives.
But on the other hand there are some young people who cannot distinguish Lao and Thai languages. The national library has almost no books in Lao. It has only books written in French, English, Russian, Vietnamese and Thai. Conspicuous are its colonial style building, which was refurbished recently, and bookshelves and buses for mobile libraries that Japanese government gave as a part of ODA in 1991.
The Information and Culture Ministry, however, has carried on a project for compiling old documents written on palm leaves which are called "Bai Lan" equivalent to Japanese "mokkan," a narrow strip of wood on which official message is written, to preserve Lao language and culture since five years ago with assistance from Japanese NGOs and so on. Since temples have served as a school as well, the documents written on palm leaves with a stylus contain a wide range of contents including the Buddhist Scripture, literature, history, medicine, law and the wisdom of practical life. "If a content of the documents holds good even in our day, we will translate it into current language and publish it. Then Lao culture will not be extinguished but be inherited in future," one of the stuff explained about the significance of this project.
A government official, who had been to East Europe to study, came with me when I toured Laos to collect materials for this article. He expressed his dissatisfaction, "Even if I want to study in Lao language, there is no textbook written in Lao. All are written in Thai. And for technical knowledge, I have to look to Western books. Every student reads Thai books, covering them with Lao jackets." The selling and reading of Thai books is still prohibited in Laos, but an English weekly magazine "Vientiane Times" was published for the first time in April when the bridge opened to the traffic.
While I was going around at that night to see discos that opened in the past two or three years, I gradually understood the way for this country to ease restrictions. I heard that before about 1992, if a person was wearing jeans or a skirt, he / she was warned by police, and if a man and a woman were walking together, they were taken to the police station and admonished. When I asked young people when such restrictions were removed, they said, "Well, nobody knows, I think. Maybe a brave man did that and didn't get a warning, so that people are following suit one after another." Without making any clear public announcement, the Lao government seems to ease the restrictions little by little.
The young people were rock'-n'-rolling to the 70s' rock numbers, lining up in a grid pattern. All of them did the same steps and made a turn at every fourth measure all together. A Thai sitting next to me made fun of them. "This is the well-known Lao "socialist dance."
I met a Lao young writer, Leader (41), at a hotel in Vientiane. "If Laos goes on like this, Laos will lose its identity." He worried about the endless influx of foreign cultures. Leader, who wanted to be a lawyer, told me why he became a writer. "When I was a student, mercenaries from (South) Vietnam, Thailand and Taiwan swaggered in Vientiane, and the bad side of American culture such as prostitution and drugs was rampant. The law was completely powerless against murder and loss of Lao identity." He talked energetically like a youth. It seemed to him that present Vientiane overlapped with what it had been in the days of the Vietnam War.
"I have fought for 30 years before the revolution to defend our status of being a Lao. I'm afraid that what we have fought for might break down." He entertains misgivings about the future of Laos. The corrupt government regards him as an anti-Establishment writer. "Laos coexists with nature?this is what she should be. In the northeast region of Thailand trees were cut down and nature was destroyed. If such things happen in Laos, Lao culture will die. Thailand became an industrial country and unfortunately her old culture died out. That goes for Japan too, doesn't it?" He kept on talking as if he was impatient at the interpreting time. "In Laos there is a custom of giving a visitor hospitality. Villagers offer a lodging and food. But when I visited Soviet and East Europe, I wasn't given such hospitality. It is a real pity for such thoughtfulness, which every body is endowed with, to vanish from the mind of Lao people."
Scotch whiskies I offered urged him to pour out what had been pent up. "I heard that a hotel, a casino and a golf course were going to be built in Pakxe, where there is a beautiful waterfall. A man of power gave construction permits to foreign countries. The residents who live by fishing don't need such things, don't they? Do the people living in a village where a beautiful river runs need tap water? Besides, electric supply requires a lot of money. What they really need are salt and clothes."
He gave his opinion to me, a Japanese reporter. "The foreigners who come to Laos now aim to make money, but I wish the people in developed countries to come here to take a breather when they feel oppressed in their countries. But it is impossible for the Lao government and the people alone to make this country such a place for a recreation and relax. We need assistance from big countries such as Thailand, America, China and Japan to preserve nature in Laos."
But after I had closed my notebook, he vented his grievance, which still stays in my memory. "Actually, I cannot live by writing alone. To make our living, my wife works and I write the words for advertisement and arrange concerts." The market principle that a writer cannot earn a living by his pen without a demand for his writings seems to have already penetrated into Laos, a socialist country.
Strange Scenery? At the Nam Ngum Dam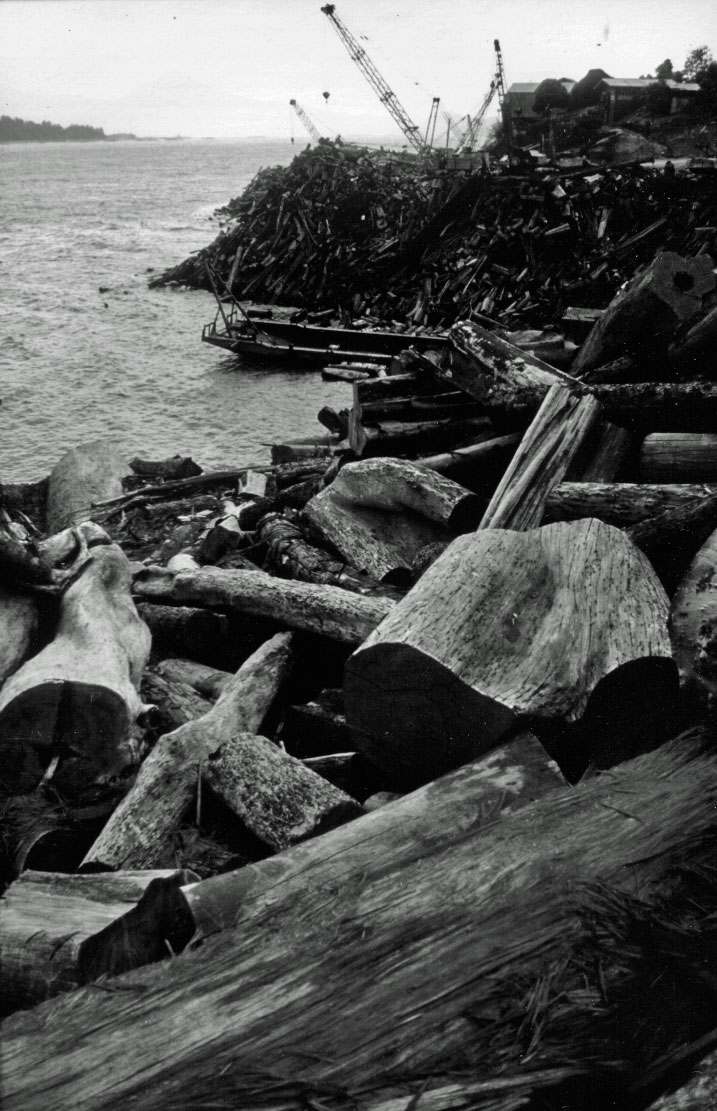 Electricity ranks second in the export items of Laos. On the following day, the 27th, I visited the Nam Ngum Dam, the biggest of three dams that have been already in operation. In 1959 the examination and design for this dam started with postwar quasi-indemnity from Tokyo, and in 1972 the first section of the work finished with foreign aid including 1,786,000,000 yen that was given by Japan through the World Bank. After that Japan provided official development assistance (ODA) three times for its maintenance work. The dam lake was immense, measuring over 400 square kilometers. I heard that the present electrical generating capacity was 150 MW and 80 % of the electric power was exported to Thailand.
After driving north for two hours from Vientiane, we arrived at the shore of the dam lake. I was surprised to see huge logs piled up as if economical matches were thrown out. These logs were cut down from trees on the bottom of the dam lake not from trees in a mountain.
On the lakeshore a big sightseeing boat was moored. But it has been used as a hotel named "Big Boat" since three years ago. It is a government-managed hotel and sometimes used by leading figures of the government or national guests when they hold a party on the lake. But on that day there was no guest except us.
For dinner turtle soup and deep-fried fish were served. Both of turtles and fish were caught in the dam lake. A fish shopkeeper in Vientiane said that fish in the dam lake didn't taste nice because there was no current. A hotel worker who finished setting dinner on the table was absorbed in a Chinese love comedy on video. The Lao government aims to attract one million tourists a year to this artificial lake with a catch phrase of "Environment-Friendly Tourism."
There was a signboard illustrating the underwater tree felling by the hotel in order to arouse tourists' curiosity. I saw something like the grass far away from the hotel. The next morning I went near to it by boat, and then I found it a forest of dead trees standing out of the surface of the lake. I saw a steel working ship going to and fro. When it approached a big dead tree, a young man in wet suit full of patches jumped into the water. A worker putting down a lifeline said, "This part of the lake is 15 meters deep." That is, a dense forest of tall trees measuring about 20m is submerged as it was. Bubbles of air from the compressor on the ship are forming around the dead trees.
A man in the rank of leader explained this strange sight. "We have cut down trees since we had heard about the dam construction plan. But the construction work went on so quickly and water came before we finish felling. It will take another 20 years to cut down all of the trees. They get 3000 kip (about 450 yen) per tree and they cut down 25 trees a day in a group of four. Their work in the water is dangerous but the trees that have soaked in water for a long time warp so easily that they don't fetch a good price. Nevertheless, the dead trees provide jobs to hundreds of people including these men, and bring foreign exchange to their country.
"O.K. It's a good tree," the young man came up to the surface and signaled. Less than a minute after a power saw went down into the water, a dead tree started to tilt and float. Towing the tree they cut, they moved quickly to another dead tree, as if they didn't want to spare a minute.
"O.K. It's a good tree," the young man came up to the surface and signaled. Less than a minute after a power saw went down into the water, a dead tree started to tilt and float. Towing the tree they cut, they moved quickly to another dead tree, as if they didn't want to spare a minute.
When I returned to the lakeside, tourists from Holland were recording the dam on videotape. "I feel as if I were back to twenty years ago. This country holds attractions that Japan and Thailand lost." The tour conductor gave his thoughts on Laos on behalf of the tourists. I asked him, "Is it better for Laos to remain as it is today?" He said, "This country is very attractive to tourists, but the people living here need development." He had a realistic view on it.
On the way to Vientiane, I stopped by a person in Tara Village along Route 10. He had lived in a village that went under the dam lake. "As soon as we signed on the paper, we were forced to go down the mountain, even though we hadn't finished reaping. We had only three days to prepare for a move. A military truck came and moved out us. We left the village with nothing but clothes we wore as if we escaped from the battlefield." Wankam (70), who was forced to leave Nakua Village in 1969, told me about the removal, clenching his fist firmly. To construct the Nam Ngum Dam, 753 families in twenty-odd villages had been forced to move since 1967.
I stopped by another person, Un (60). According to him, the government made arrangement for his place of residence in Pakuchen as a substitute, but he had to clear the land first for cultivation because the place was a jungle. In 1975 the cooperative system (Sahaco) was introduced, but he didn't meet with success. So he moved here two years ago. "To make a daily living is all I can do. I'll never be rich." He farms 4 rai (1 rai=1600 ), but he has eight children and he needs 2,000 kip (a little less than 300 yen) a day at least. "Since there was no market in the village I lived before, we had to make our clothes by ourselves. In that respect, this place is convenient. But before we could get many foodstuffs in the nearby forest such as deer, squirrels, wild birds and edible wild plants. Of course, they were free."
According to these two old men, the Lao people who had lived on highlands and forced to remove went further up-country for a place to live in and the people who moved to the villages along the national road like them have begun to go back to the mountains around the dam lake. Two or three hundred families have already gone back to forest life since around 1980. The driver listening to our talk broke in, "But actually you like living here because you can watch TV." "Yes, on that respect, I like here," said the old man with a laugh.
Samuran Chudoangarn, a Thai representative on the UN Mekong Committee, whom I met in Bangkok, said to me, "To be frank with you, we didn't take an influence on environment into consideration seriously at the time of the construction of the Nam Ngum Dam." They started the environmental assessment around 1981. "But the people living on the lower reaches of the Mekong River are poor, earning about only 200 dollars a year on average. It's natural for them to want to improve their living standards. There are many people who don't oppose development. Therefore, the environment is sacrificed."
According to him, "Parmo Plan," a project for constructing a gigantic dam on the main stream of the Mekong River 20 km above Vientiane is on foot. "Amazingly, 70,000 people will lose their farmland. The Mekong Committee will give them hearings to their hearts' content. We are planning not only to provide them with substitute farmland but also to give them job training, because most of them will not make a living by farming."
It was before the revolution that the Nam Ngum Dam was constructed. At that time this country was completely relied on assistance from the western countries. Then in 1975, three years after the dam was completed, Laos closed the door to the West. The Lao government, however, announced "a program of the social economic development for the year 2000" last year, and with 8 % of an annual growth target, it has already started to construct eight dams larger than this Nam Ngum Dam within the whole country to generate 2000 MW before the next century.
At the site under development
Not only assistance from foreign countries, the World Bank and other international organizations but also investments from foreign enterprises have increased noticeably, concurrently with the construction of the bridge as if the investors had waited for their opportunities. The revenue in 1992 was 157,000,000 dollars, while the foreign investment in that year was 159,000,000 dollars, exceeding the revenue by 2,000,000 dollars.
The reason for that is the Lao government, which is caught in dilemma of increasing demands from the citizens and financial trouble, made agreements with foreign enterprises on development for business, not on development assistance. If the agreements were for development assistance, the influences on the environment would be taken into consideration. They agreed on the system called BOT (Buid-Operate-Transfer), in which after the facilities are completed, the developer shall run them until he recoups his invested capital, and then the facilities shall be passed to the contractor.
Although gratis assistance is criticized for being with some strings attached, it has been given to even nonproductive organizations such as hospitals, libraries and fire stations, while BOT investment is intended only for a profitable project because it is agreed with a private enterprise whose purpose is pursuit of profits.
I visited the projected construction site of Nam Theun second hydroelectric dam, which would generate 600 MW. This project will be the biggest one of development projects by BOT system in Laos. The site is the Nam Hai Basin itself, which is located in the southern part of Laos, halfway between Thailand and Vietnam, and in which the Nam Theun River runs. The river rises in the Vietnam Border. Judging from the map, this place in the lower reaches seems to be the best terrain to construct a dam, because the mountains on the both sides of the river will serve as dikes. This project has a history of being refused financing by the World Bank four or five years ago on the grounds that the blessed environment on the high plains would be destroyed.
However, private enterprises in Australia, Thailand and France are planning to finish examination within this year and begin to construct the dam. Japan is planning to provide generators by ODA, not by private enterprises.
To go to there, we first drove to Thakhaek, the provincial capital of Khammouane Province, about 350 km southeast on Route 13 that runs almost parallel to the Mekong River, and then drove 150 km toward the Vietnam Border on Route 12. It was 14 hours' drive in total. But we were never bored at all; on the contrary we met with a train of surprises.
A several kilometers' drive from Vientiane was comfortable because the road was already improved with aid from Sweden. Most of the bridges are temporary ones. They were only box-shaped steel frames across the river. Concrete bridge pillars, however, were standing on their sides and waiting for bridge girders.
Once in a while, we met heavy-duty trailers carrying a full load of logs. The surface of the mountain rising sheers was smooth as if a lawn was laid all over. There was no high tree, but there were some landslides. When I looked at the shoulder of the road, I found discarded branches and roots lying about.
The above-mentioned governmental official cracked a joke, "We patrol the forest preserve in a battered old car made in Soviet, while a lumber trader comes to buy a forest in a new air-conditioned car. That discourages me." Since the salary of governmental officials is less than half that of private enterprises, there seemed to be a limit to their morale and patience.
Incidentally, Lao refugee camps in Napo Village and Binai Village in Thailand where I visited seven years ago are situated in the area on the counter side across the Mekong River from here. Binai Camp was closed at the end of 1992 due to the U.N. policy. I stopped by Targon, a village for the returnees from refuges. I talked with a young man, who went to Thailand with his friend in 1978 and returned home after 14 years' absence. "There is no discrimination against the returnees from refuges or oppression on the people who hanker after foreign countries."He didn't seem to gloss it over for fear of the authorities. "I heard we would have chances to become rich in America. But I was unlucky in a UN interview." He seemed carefree.
Then he murmured, "If I were rich, I could buy anything with money even in this country. For example, video and …" But in reality, without a bulldozer he can't even pull out the roots of trees on the land he was given by the government. He somehow manages to scrape a living by making charcoal and weaving and with help from his relatives and the United Nations. Glancing at his wife whom he married at a camp, he said that he would like to go to America if he had a chance. He added, "If I could secure my living and live a happy life in Laos, of course I never want to go to America." He knew the news about the opening of the bridge. "I hope that aid including goods and jobs will come through the bridge," he said with a faint smile.
From places on the hill about 100m off the national road smoke was rising. The people living there are making land arable by slash-and-burn method for sowing in the rainy season which starts from June. The slash-and-burn farming method is prohibited by the government on the grounds that it will destroy environment. However, the riches of nature still abound despite the longtime use of this traditional method, because, I think, the population didn't increase sharply and the forests regenerate sufficiently after the farmland is slashed and burned. 43% of the national land was forestland in the 1980s, but now it is estimated that the figure has dropped to the level of 30%. Forests have been destroyed in the last few years after the economy was opened up.
About 100 km before Thakhaek, our car started clattering up and down on the undulating road and went into the side road, which meandered through the big trees. This was nothing but the former national road, Route 13. Apart from the former national road and the forest, heavy machines were roaring; a new road was constructing. From the middle of the new road measuring more than 10 meters in width, I could see the mountain and the forest cut out into the shape of V and the road run straight to the horizon. Road construction, one of the two props of "a program of the social economic development for the year 2000," seems to be being carried out as scheduled, and this high way will be very useful to the other prop, hydroelectric power generation, because this road will make it possible to convey volumes of construction materials and equipment in a shorter time.
Through the car window we could see a long row of shrubs tinged with rose by the sunset. Those shrubs were eucalyptuses planted for afforestation, but this forest will not bring the villagers any foodstuffs. According to the Japanese report "ODA and its problems" issued by the Ministry of International Trade and Industry in 1993, Japanese International Cooperative Association (JICA) already sent a research group to assist with the development of farmland in the south part of Laos, and the Lao government made a request to the Asian Development Bank for financial assistance of 10,900,000 dollars in tree planting for industrial woods (mostly eucalyptuses). Eucalyptuses are reduced to pulp. But there is no paper factory in Laos yet. Eucalyptuses are planted on the premise that the pulpwood should be sent to a certain paper factory in Khon Kean, Thailand. The Thai paper factory, which was operated under the national policy, was punished with a shutdown of operation for one week on the grounds that it had polluted a river by discharging its wastewater into the river, which killed innumerable fish.
When dusk was gathering, we arrived in Thakhaek following a truck loaded with logs, which went down to the ferry on the Mekong River. Those logs were hastily cut down from trees in the projected construction area of the second Nam Theun dam, before the trees go under water. We are going to visit that place tomorrow. Nakhon Phanom on the bank of Thai side was lit up with countless electric lamps. By contrast Thakhaek on the bank of Lao was dark. Even through the dark, I could see seven or eight Thai trailers parked. Each of them was loaded with two Japanese-made bulldozers or road rollers. This is consistent with "the program of the implements maintenance for the construction of Route 8," on a yen-credit plan in the above-mentioned material. Route 8 that leads to the projected dam area is another national road along the Nam Theun River.
Benefit from the forest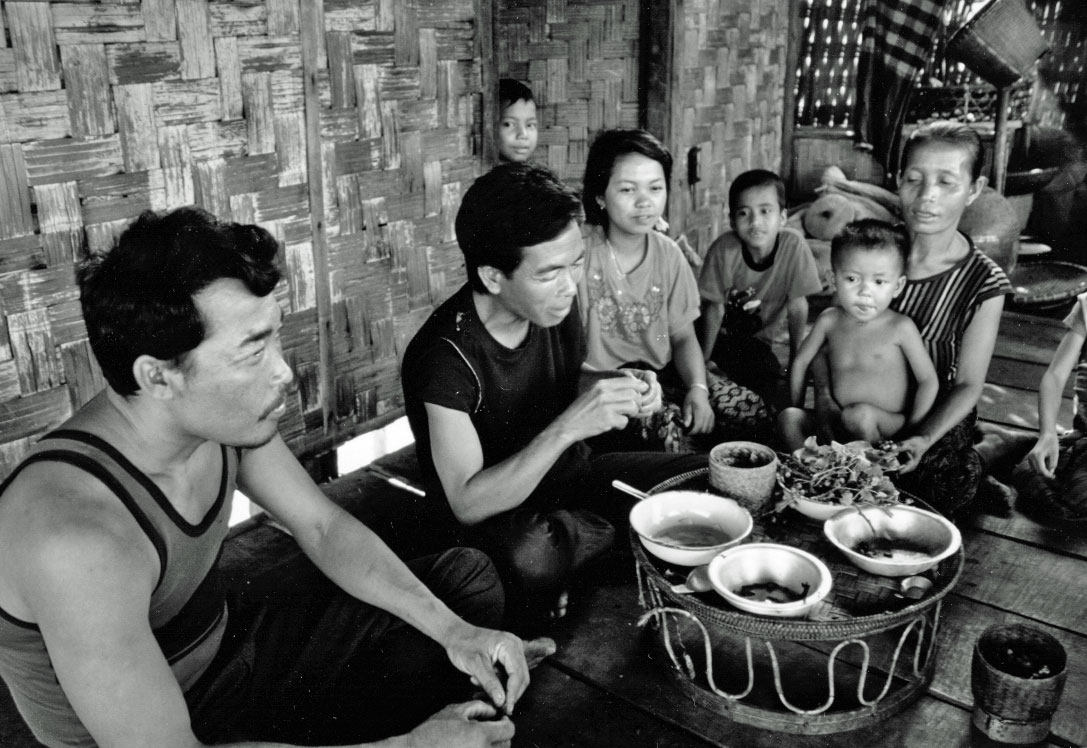 The next morning we left Thakhaek for our last destination, the projected second Nam Theun dam area. After passing through the spindle-shaped mountains as seen in Guilin, China, we saw thickets on the shoulder of the road cut away and telegram poles being planted. Along the route, there were only small villages at few-kilometer intervals. I was surprised at prominent diffusion of electric appliances such as TV, stove, and refrigerator in Vientiane, but in this country even a village that has no school or hospital, is abruptly supplied with electricity.
Our car met heavy-duty trucks loaded with logs very often. Each truck carried seven to ten logs with a diameter of about one meter. I was counting the trucks we met from the morning, but I stopped when we met the 16th truck, because I thought it absurd to count more.
Before the Nam Hai Basin, the road became zigzag and very bumpy. Now we were in the depths of the mountains. The forest extended lushly under our eyes. When we stopped the engine of the car with four-wheel drive, we could hear monkeys calling "Hoh, hoh, hoh," together with the singing of birds. But soon the noise from a truck drowned them, so we started again. Even along this road we saw trees cut down. Four hours after we left Thakhaek, we finally arrived at the front base of dam construction. The foreign-owned prefabricated office looked bright among all other buildings, which were made of only "natural materials." When we entered a restaurant to have an early lunch, the restaurant owner greeted us in English. "This is a new village named Nakkaimai. First Australian came and then Thai, Chinese, French and Japanese started to come here to buy lumbers. Do you know Mr. Tanaka?" He said the Lao cypress was in great demand in Japan, because it was similar to the Japanese one, but Japanese companies came to buy pine too.
When I asked him where he had learned English, he said, "I studied English for a long time on the Vietnam border." But he added with a suspicion of black humor that his fluent English brought him a mishap; he was put into a conversion camp after the revolution. On the shelf of the restaurant there were bottles of high quality whisky for foreigners. He started his new business, making good use of his English. "I welcome development," he said, smiling all the time.
We passed the construction site of a Chinese lumber mill, which would hopefully offer jobs to the villagers according to the restaurant owner, and entered Nakkaitai Village. "Na" means field, "kai" means far and "tai" means south. Therefore, to put it differently "Nakkaitai" Village is "Far-south-field" Village. It is a farm village with 130 families of 660 people and the villagers produce glutinous rice, the staple food of Laos. The village is on the mountainside of the national road that runs halfway up the mountain, and the fields are on the valley side. At the back of the village there is a forest. The village is surrounded by forests. The village headman, Nin (41) said, "We don't buy foodstuffs. Someone goes into the forest to get some ingredients for a dish every day." I was curious to know about their way of living and asked him a guide to the forest.
Nin, who had been naked from the waist up, put on a shirt, a folk shoulder bag and a hatchet in a rattan sheath. And then he went to a house behind his to borrow a slender gun. After that he started to walk briskly to the forest at the back of the village. "When I have time, I also come to the forest to find foodstuffs like this," he said and pulled out an about 50cm bamboo shoot among the undergrowth. I couldn't recognize it at all, because it was buried under the grass similar to the bamboo shoot in color. Then he bent a shrub and nipped off the shoots. "These are 'Pakuteeyu.' They taste sour. We eat them uncooked."
He pointed to a branch. There was an ovoid gray object on it. It looked as if a rugby ball was standing on its end. "That's an ant nest. Around February it'll be full of white eggs. They are very tasty. Now there are only adult ants inside. They are not so tasty, so let's leave them alone."
He said they ate cicadas fried, but he missed catching a cicada by a hairbreadth. Nin kept walking, always looking up. He was looking for a squirrel and a bird on a tree. But tall trees in this forest are also getting thinly spaced. I found tire marks on the path, and I saw many pine logs waiting for a truck in an open place. This forest is, however, located closer to the mountainside than the village, so it is supposed not to go under water when the dam is constructed.
Nin sat on one of the logs and loaded the gun. It was a single loader. First he pushed explosive like moxa into the gun with a long stick, and then put a small bullet of less than 1cm into the gun. He has an AK47 automatic rifle, which was used during the civil war. But he uses this special gun for hunting not to spoil small game. He fixed the gun barrel on a trunk of a tree and held his breath. Bang! The report of the gun reverberated through the dense forest.
Although every family raises pigs or chickens, the villagers never eat them except on a special occasion such as a festival. They raise their farm animals to sell when they need money. The dishes for dinner were made with the foodstuffs of today's take. A roast squirrel, soup with bamboo shoots, a salad of edible wild plants including 'Pakuteeyu', relish of pepper and boiled glutinous rice were served. Nin has a wife and four children, six members in his family. His wife held their youngest child on her lap. The child seemed to be malnourished and his stomach was swollen. She fed him with small pieces of squirrel meat.
The villagers came together to welcome me, a foreign reporter. Nin served us local wine, 'lao hai'. We sat around a jar of 'lao hai' and talked, sucking 'lao hai' through a straw in the jar. I asked some questions. "Do you sell rice?" "No, we grow rice just enough to live on." "What do you do when you need money?" "I go shopping in the town on the villagers' behalf, and with that reward I buy what I need," said a middle-aged woman.
A man in the prime of life said that he earned cash income by collecting information about trees that stand decayed and guiding a lumber dealer to the trees. According to him, only dead trees are allowed to be cut down as a rule. As for tree felling at the projected dam site, "It's a pity, but we have nothing to do with it, because the government is doing that," he said coldly. However, he didn't conceal his anger when he talked about the cutting down of the trees in the forest at the back of the village. "They are wrong, so I and Nin brought a complaint to the village office."
I asked the village headman whether he approved of the dam construction or not, "Well, I should say I'm for it, but actually I'm not very happy about it, because I live in this village. But it was decided by the government, so… Anyway, if the rice fields and the forest go under the lake, we can catch fish and sell them instead, so that we'll be a little better off than now. And living will be easier because we will have water near at hand and the road will be improved." His explanation was convincing. Since the well of this village is in a depressed ground about 100m away from the village, the villagers including children have to go there and return several times, carrying water containers on a pole. And it takes them several hours to get to the provincial capital even in dry season. When the rainy season comes, the village becomes an isolated island and people have no choice but to walk to get there.
Under the floor of the house next door, a girl who seemed to be 10 or 11 years old was threshing. When I talked to her, she said, carrying on with her work, "I don't know how old I am, because my parents are dead." She lives with the family her sister married into. Since her sister has just given birth to a child and the family is short of workers, she has to thresh everyday. "I've never attended school," she said. The elementary school attendance rate of Laos was 38 % on average (UNICEF report). I wonder the villagers calculated the profit and loss of the dam construction before they consented to it. If they did so, then it's their choice. But I presume what comes after the development would surpass their imagination.
The Lao representative of Japan International Volunteer Center, which aims at development of agricultural villages in Laos, Satoru Matsumoto gave emphatically his clear opinion about help. "Help doesn't mean merely giving money or things. We should help them by teaching skills how to develop their own villages by themselves." For the present he is planning a study tour for the Lao villagers to visit northeast Thailand where harmful effects by development can be seen noticeably.
During this my stay in Laos, the above-mentioned English weekly paper "Vientiane Times" carried an account of this–"The Nam Theun Dam construction authorities agreed with the farmers in the vicinities of the dam site on constructing an irrigation canal. Incidentally its title was "Dam construction will not be a menace to environment" and the article said in the latter part, "The dam will obtain three times as much foreign exchange as the Nam Ngum Dam does, when it operates."
Next morning, when I was waiting for a ferryboat to cross the Mekong River to Thailand, I caught sight of a conceptional drawing of a hotel at its completion on a signboard in a vacant lot in front of the ferry. I heard a rumor on a street of Nakhon Phanom on the Thai side. They said that first plan of building the second bridge had been to build it between Savannakhet and Mudahan, but recently to build it between here Thakheak and of Nakhon Phanom became more probable because of land-rolling by a politician. A classy hotel has already opened on the shore of the Thai side.
In a bustling city, Bangkok
The airplane for Bangkok flew over the fields of northeast Thailand, whose forestland has diminished and now only accounts for 13% of the whole land. At the Environment Summit Conference held in Rio de Janeiro two years ago, global scale environmental preservation was proposed by industrially advanced countries, and at the minister-level conference held in Marrakesh this year, international labor standards were proposed. But dissatisfaction with them spurted out from developing countries that might be forced to slow their development. The developing countries claimed that they were selfish proposals by the countries that were already industrialized by exploiting natural resources excessively and by sacrificing environment and human rights. To see Professor Sekusan Prasacle, a dean of the department of politics, I went to Thammasat University, plowing my way through Bangkok's notorious torrents of automobiles. "The world has already been industrialized well, and products can reach to all over the world. The beautiful nature in Laos is the precious nature that rarely remains in the world. I personally oppose the industrialization of Laos."
And he put forward a suggestion. "Laos should develop tourism very carefully without damaging environment, and open up her matchless beautiful nature to all over the world. Then, with incomes from tourism they can build roads, hospitals and schools." Then he added a severe condition, "But it will not be realized, unless Japan, Australia and Thailand recognize the importance of nature in Laos and restrain their investments in industrialization."
However, as far as most of tourists like those of "eco-tour" in the latest fashion prefer to stay at a luxurious hotel and enjoy leisure activities such as playing golf in a golf course and swimming in a pool, although they ask for being close to nature, the development of tourism spells environment destruction.
Professor Sekusan was a leader of an anti-Establishment student group during the Vietnam War, when Thailand was just like what Laos is today, and he had an experience of entrenching himself in northeast Thailand and Laos to escape from crackdown by the authorities. "In the Cold War, the West won a victory, but it doesn't mean that capitalism is faultless. A problem lies until it is solved. We should discuss it until it is solved." He is a dean of a national university now, but I got a glimpse of his onetime fighter's spirit.
In Thailand, which lost forests in exchange for rapid growth, repeated droughts and floods impoverished farm villages, so that the villagers, unable to make a living, rushed into Bangkok and became low-paid workers. And what is worse, the land was polluted and "a smile land, Thailand" has become a hard country to live in.
He said in the knowledge that Lao people's living will be easy and comfortable after development and that most of the people want development, "If you are a leader of Laos, you should decide your own future with foresight. I believe Lao people can understand it. I want them to learn from our negative examples. We can offer as much information as they want."
When we parted, Professor Sekusan said, shaking my hand firmly, "Today we can discuss like this without being called a Red siding with communists. In that sense, times get better, don't you think?" I believe that the time when economy is liberalized and people can have free discussion on development will come to Laos too.