Burma(Myanmer)
Opening Seen on the Border
September 2012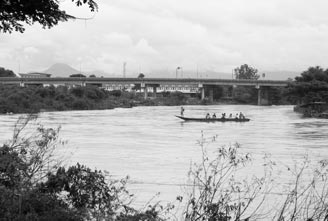 It was 15 years ago that the Thai-Myanmar Friendship Bridge "Saphan Mittaphab Thai Burma" was constructed over the Moei River which serves as a border. Until then, people had temporarily built bamboo bridges just for themselves. They had sometimes floated oil drums and covered them with boards. They only built unstable bridges. Mae Sot in Tak Province is the gateway to the external world for the minorities and the democrats who have been fighting against the military government. It is also the hub for refugee assistance. The Burmese military cracking down on anti-government forces used to cross the border and fight against the Thailand military there. It was the city in Thailand's territory where a burning smell drifted through the air because of the cannonball explosions caused by the Burmese military. I have seen this bridge every time I visited Mae Sot. Finally, it was time for me to cross it this September.
My First Time to Enter the Country by Land
"When you come back, your visa would be valid for 2 weeks. Are you OK with that?" I am Japanese. A Thai immigration officer at the entrance of the bridge asked me and made sure it was really OK with me. I flew into Thailand and was granted my permission to stay for a month. If I cross this bridge and come back, it means my permission to stay will be shortened to half of what I have. The toll on this border bridge is 250 bahts for a pickup truck. A local journalist advised me to put my single-lens reflex camera and camera vest in my bag. But it does not seem like the officer is going to check my stuff. I got an exit stamp and crossed the bridge. It is a two-lane highway. It is about one minute drive to Burma. I deposited my passport at the Myanmar immigration check point across the river and I am officially in Myanmar. They sealed just an entry stamp on my passport here in Myanmar. They did not seal a visa stamp with the expiration date or anything like that. "Don't go too far. You understand that, right?" That was pretty much the only warning the officer gave me.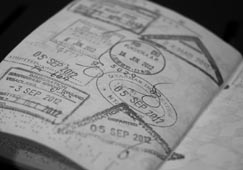 Since it is a place where you can use electricity and your cell phone, it could be possible to detect fake passports on the computer. But such an immigration check or any other inspections are not even done. Miraculously, six days ago on August 30th, the Myanmar government announced on its official website the removal of 1147 names from its blacklist that had blocked foreigners from entering the country. It was difficult to get a visa for Myanmar before. But it was my first time to enter the country by land except when I visited the areas liberated by the anti-government forces. I knew that the bridge was completed in 15 years ago. But the bridge was shut down so many times by the Myanmar government. So I could really feel a big change because it was way too easy to enter the country.
The Reason I visited the Border Area, not the Center of the Country
The Myanmar government began issuing visas for foreign journalists around April this year. In June it started issuing what is called visas on arrival which you can apply at Mingaladon Airport in Rangoon (Yangon). Just like business people around the world are flooding into the country as "the final frontier in Southeast Asia," many journalists are heading to Burma to cover its internal affairs because it was very difficult to do so before. I picked the border area to visit in order to check the quality of its liberalization and measure its democracy. There are so many ethnic minorities. People, products and informations come and go in this area. First of all, I crossed the friendship bridge and went into the city of Myawaddy.
You can walk across the Moei River in the dry season. When you step into the other side of the river, you'll find signs with round Burmese letters that look like insects. There are banks. There are also grocery stores, clothing stores and light industrial product stores. On street corners you will find tobacco stands that sell chewing tobacco "Kun" made of areca and lime wrapped in betel leaves. Once you go off the main street that leads from the bridge, you are on the rough road. The regular people mainly use pedicabs for transportation. Since water pipes are not laid, trucks carrying water stand out. These trucks are loaded with tractor engines just as they are. They only make roaring noises and run slowly. I feel I am in a completely different time when I think of the city in Thailand I saw 15 minutes ago.
I stopped by Bangkok on the way to the border. I had a chance to drink beer with a Burmese who spoke Japanese. Mr. Myo Naing (52) had been running a used car store after graduating from the Rangoon University Mathematics Department. But he escaped to Thailand right after the coup d'etat led by Saw Maung. "Because I didn't think I could do anything I wanted to do in Burma and I was afraid that I would be put in jail if they found that I did something." In the following year in 1990 on the way to go to Korea, he was recommended to stay in Japan by Burmese people there. He entered the country through Narita on a transit visa. He overstayed his visa, remained in Kanto and lived there for 10 years. "What happened in June last year was the beginning of democracy this time." He looks back, thinking of the turning point of his life. When the Myanmar government held a business meeting for foreign companies in a hotel in Bangkok, the Myanmar Ambassador to Thailand Mr. Aung Thein came up to him and invited him to the embassy. The ambassador said to him, "I would like you to help me." Of course, he was aware that if something had gone wrong, he could have been deported to his country and put in jail. However, he now shows Japanese politicians' secretaries and businessmen around Myanmar and introduces them to Myanmar VIPs, using Japanese he learned in Tokyo.
I checked out the prices in the Bayint Naung Market, the biggest market in Myawaddy. The price tags say both in kyats and in baht. Of course, you can pay in baht. Unlike before, you are not forced to exchange your money for foreign exchange certificates at an unreasonable rate. Burmese polished rice costs 35 to 62 yen depending on grades. A pair of Thai rubber rain boots is 360 yen, a Thai backpack is 770 yen, a Thai one-piece dress is 2400 yen, a piece of lungi (Burmese traditional waistcloth) woven in Korean factories in Burma is 280-600 yen, a Chinese hoe is 510 yen, and so on.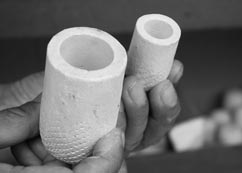 Mr. Passan, a hardware store owner said with a happy expression, "It became easy to purchase from wholesalers just because the country opened to the world. We have more customers. After the rainy season when farmers can take a break, more and more customers will probably flood into the store." There were unglazed crucibles of all sizes on display in the corner of the store. These crucibles are called "loun." They say that people melt precious metals like gold in these crucibles and accumulate their wealth. In the past, paper money suddenly became worthless several times. It seems that the people remember they got burned so badly that they still do not trust their government's paper money.
I entered the typical Burmese caf? "Morning Star." They serve coconut noodles of "ohn-no khao swe," Burmese diet. They also serve tea with milk and sweet pastries as a legacy of British rule in Burma. The waiter, Maung Aye told me that he came to this border area from the suburbs of Yangon 5 months ago to work in this caf?. He says, "If I had stayed home, I would have had to spend most of the time helping with fishing. That would have been boring. At that time I was interested in this area and wanted to see it." By the way, his monthly salary is about 3200 yen. A plot of land with about 15 meter frontage and 20 meter depth is 5.6 million yen at most. You can build a restaurant facing the market across the street on the spot. Even though the land prices of business districts in urban areas are between one-fourth and one-tenth of what they are in Japan, the salary of workers is less than one-thirtieth of that of the workers in Japan. In the country where people just began to move towards democracy, prices and salaries are still unfair.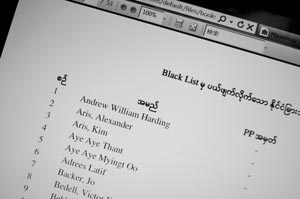 A Burmese Journalist
"Two weeks ago the Commander-in-Chief Min Aung Hlaing requested the Thai government to hold joint military exercises." In May 2011, two months after President Thein Sein took office, the government lifted bans on news websites in Burma. Now you can read about 20 newspapers including American and European newspapers as much as you like. I talked with Mr. Suhtu (48), a staff writer of "The Irrawaddy," a newspaper whose headquarters is in Chiang Mai, Thailand. In Myanmar people want to read the news the government officially doesn't disclose such as the news on their corruption, their imported weapons and their relationship with North Korea. And there is still no censorship so far. He is an Hpa-an, a minority race. He has been living in Thailand for 25 years. He was always reminded that it was especially hard for journalists to "go back home." However, this January three-month visas were given to journalists including the Norwegian media who is definitely anti-military. He said that they were able to cover Myanmar. They attended the press tour on the first two days and traveled freely to all parts of the country. The president gave a press conference. Mr. Suhtu had chances to interview some members of Parliament. He went all over the country including Naypyidaw which is the new capital of Myanmar. As you know, President Thein Sein said, "He has to remove conservatives who are reluctant to accept his reforms." He has replaced Information Minister. And then he has also replaced Electric Power Minister who was supporting the construction of a Chinese-backed dam. Mr. Suhtu says, "As long as President Thein Sein who has strong will and power stays in power, it looks like there will be freedom of press. But he has announced that he will not run for the next election (2015) because of the concerns about his health. So the future prospects for Myanmar after his term are still uncertain."
On September 1st, when I was covering the border area, the Myanmar government invited Mr. Htun Aung Gyaw, a student democratic leader who sought political asylum in the US ("Return of a Freedom Fighter" reported in 1996 for details) and other exiles from different countries to Myanmar. The government welcomed them as they were heroes. Those were the ones who would have been put in jail as political prisoners if they had remained in Myanmar.
The Ethnic Minorities. The Karen People are…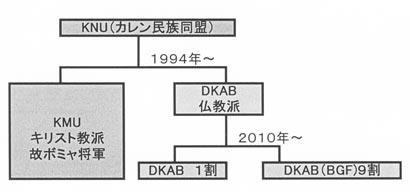 "Although I recognize that change has come, I still cannot trust the Myanmar government." I had lunch with Mr. David Takapaw (72), the number two of The Karen National Union (KNU) in Mae Sot. Most of the Karen people who were good at foreign languages have migrated to other countries. Mr. Takapaw is especially fluent in English even among other KNU officials. "The Myanmar government signed a cease-fire agreement just to speed up development. And the development has made people corrupt. Mineral resources and forest products have been exploited. It is only destroying the environment." The construction project of a hydroelectric dam is under way on the Salween River. There has been concern that this might lead to ethnic cleansing again by the military government ("Freelance Worker Heading for Battlefield" previously covered and reported in 2007). Because of the dam construction, foreign companies have come to Myanmar and the citizens have made small amounts of money temporarily. But at the same time the environment has been destroyed and they cannot continue to live pleasant lives. Development has to be sustainable. Burmese ethnic minorities form about 30% of the country's population. Mr. Takapaw wants the country to have a federal system like Switzerland where ethnic minorities are equally respected.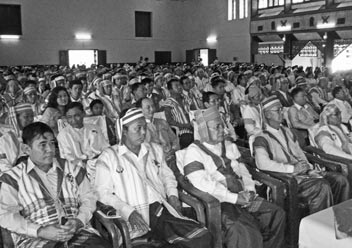 The Karen people are an ethnic group living throughout northwestern Thailand and southeastern Myanmar. The Karen National Liberation Army (KNLA) of the KNU once created liberated zones in Manerplaw as its operation base. They have been fighting for independence from the Myanmar government for more than six decades. However, it was reported this January, "They entered into a historic ceasefire agreement." The reason this came true is that the KNU has split into factions led by religious or political leaders and is no longer a monolith.
First of all, I was listening to Mr. Takapaw in the leading faction. "The current map of Myanmar is the same as the map under British rule and the result of expansionism. There is no time for the ethnic minorities to blame each other. We all need to be united," said Mr. Takapaw. I asked him if he thinks the change is different this time compared to the ones before. He answered, "I think Thein Sein is a good guy. But Myanmar needs to be in a hurry to create the legal framework. The most different point this time is that Western countries such as the U.S. and Australia are promoting positive policies towards Myanmar's development because they are concerned about China's policy of southward expansion." He expects foreign pressure. It is kind of a cynical analysis.
Progress in Peace Talk
The KNU has already had peace talks with the Myanmar government three times. But the progress of the talks has stopped at the point where both sides agreed to a ceasefire. I heard President's Office Ministers Aung Min, Soe Thein, Immigration and Population Minister Khin Yi and Karen State Chief Minister Zaw Min who is in favor of the government have been attending the peace talks. The first round of peace talks was held in Hpa-an on January 12th, this year. This time both sides only signed on a ceasefire agreement. Minister Aung Min said, "The next 2 years will be crunch time for us. We do not know what kind of government it will be afterwards." They say he was hoping to bring the negotiation to an end as soon as possible. The second round of peace talks was held on April 6th in Yangon and Naypyidaw. Although President Thein Sein appeared for greeting, both sides signed 6 out of 34 clauses they were trying to reach agreement on. The most important clause among them was "the security of residents in KNU controlled areas" and the second most important clause was "observing ceasefire rules." The third round of peace talks was held on September 3rd and 4th in Hpa-an again. They could not reach further written agreement. And yet the KNU demanded the following three conditions. ①The Myanmar government military camps should be relocated from the Karen Villages. ②The Myanmar government should not build their military camps in the Karen Villages in the future. ③The Myanmar government should build new roads outside the villages.
Around the time when they had the third round of peace talks, the KNLA General has handed the government Commander in Chief a request document saying the government military should cut down on its camps in Karen State from 300 to 200 sites. They say it is because the 100 sites are in the Karen Villages. At a series of meetings, the Myanmar government has taken the position that armament remains and the military service members stay and live in government military-controlled areas. At the same time the government allows people in these areas to perform free economic activities. I heard President Thein Sein said, "Our armed forces are not engaged in economic activities. The KNU should have laptop computers instead of guns." The KNU side said it is unrealistic and laughed it away. Since the important producing districts such as mines and forests were controlled by the government, the KNU is saying to the government forces, "Get out" in the current situation.
Moreover, Mr. Takapaw does not think peace negotiations are part of the domestic issues. It seems like he was not satisfied with the fact that a neutral third country has not attended the negotiations. The KNU has its own President Padu Tamla Baw and holds its parliament in Papon, the most northern area of the Karen State and the base of the KNLA 5th Brigade. Their administrative, legislative and judicial branches function and besides, the KNU is saying the KNLA has its own military academy, ranking system and so on. The KNU boasts about its military strength, saying we have a regular army, not a guerrilla force.
However, in December, 1994, the Democratic Karen Buddhist Army of the Karen's Buddhist group made an alliance with the Myanmar government side. In January, 1995, Manerplaw fell into the DKAB's and the Myanmar's military's hands. After that, the leading faction occupying 90% of the DKAB has accepted the plan to transform the DKAB into the Border Guard Force (BGF) and actually the DKAB soldiers have been part of the Border Guard Force. Even though all the members of the DKAB come from the same ethnic group, they split into two groups. One group began applying the strategy to follow the KNU which believes in self-government. They have already become pro-Myanmar government which prioritizes the economy. The other group is the 2nd and the 5th Brigades. They are hawks among the 7 KNLA Brigades.
What kind of self-government will it be after the peace process?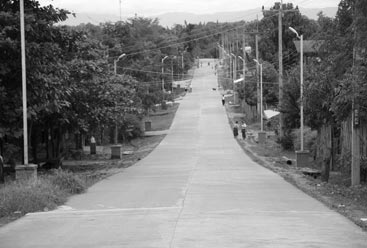 Mr. Takapaw says that the DKAB does not have their individual vision and policies. I visited the DKAB leading faction. They used to oppose the Myanmar military administration and carry out several attacks. They now have become the Myanmar government's Border Guard Force. I was in Wang Pha located about 100 miles north of Myawaddy. There was a steel floating pier ready on the Moei River on the border. A decent boat with an engine and a roof comes and goes across the river. When I reached the other side of the river, a Korean van came to pick us up. These are all for casino customers. According to Mon Win (40), Deputy Commander, who leads about 1500 soldiers of four BGF battalions out of all 12 battalions, the casino is open 24 hours and about 100 people are doing shift work. He says that the casino gets an average of 50 to 60 customers per day. Although casinos are prohibited in Myanmar, they are allowed here for community development as an exception. He said the casino that is open now is based on Thai capital and the second casino under construction will be based on Japanese capital. The business fee for the first year is 350 thousand bahts and it is going to be 500 thousand bahts each year after the second year.
"Although peace talks are not 100% finished yet, there is no problem here." Just as Deputy Commander Mon Win says, other development is underway besides the casinos. The main street of the village which stretches about 2 miles from the wharf is paved with concrete. It is wide enough to allow large trucks to pass one another. It has a big traffic circle. Magnificent school, hospital and other buildings were constructed 4 or 5 years ago one after another. They all line up along this street. There are a grade school, a middle school and a high school in the school buildings. 30 teachers came from DKAB and 30 teachers came from the central government. He looked back and said, "The biggest problem was whether we should transform to the BGF or not," because the Myanmar Government pays salaries, provides accomodations and uniforms for the BGF staff. "If we start a war, the local residents will have a hard time. The public facilities we made an effort to build will be destroyed instantly. We have to start from scratch again, you know," said Deputy Commander Mon Win. However, they do not receive government subsidies for development. He said they have to do it by themselves just like they have been doing it. Tariffs on lumber, minerals and agricultural produce and casino revenues are their sources of revenue.
Deputy Commander Mon Win said clearly, "There has been nothing we lost during the peace process." His group has been keeping in touch with 10% of the DKAB who are still making a strong stand against the government. He says, "I know they do not trust the Myanmar government. It is up to them to decide whether they will be incorporated into the government forces." He is taking a position of watching from the sidelines.
"The 10%" Who Continue their Resistance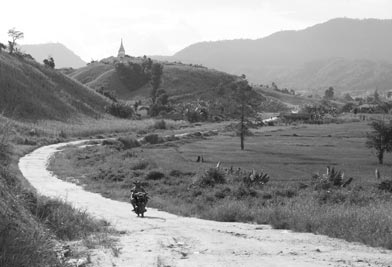 This time I came down about 40 kilometers south of Mae Sot along the border. I passed a pickup truck with its bed piled up with red roses higher than the roof. Sugar cane fields and corn fields stretch out. It is a rose producing area around here. I was on a boat on which the engine was removed. I pulled the rope across the Moei River and landed on the other side. This is a Burmese territory although it doesn't seem like it. This is a liberated zone by the DKAB faction which keeps making a strong stand against the government. They have not been incorporated into the BGF. This is the group which occupied Myawaddy temporarily and showed resistance right after the last general election in 2010. This place is where there was Camp Chit Bamaw of the All Burma Students' Democratic Front (ABSDF) I visited 24 years ago. Most of the students either surrendered to the military government or fled to third countries. But I was able to see Tawng Tawng in the headquarters who used to be a student in those days and is now the Lieutenant Colonel of the DKAB. He is already a middle-aged man with a big belly.
There are some areas where they share with the KNU. A little less than 400 thousand people live and speak Karen in their city. "The Karen New Year Festival," is held every year with traditional songs and dances to celebrate. Although there are no laws on frontier trade, the city receives "tariffs" at the checkpoint. In Sonzemian Village where they have their headquarters, a concrete bridge called "Mingalar Dada (=Hello Bridge)" was built by themselves and completed in 2008 at 100 meter high. The construction of a 150-bed general hospital started 4 months ago and this has been suspended. You see the utility poles without electric lines installed along the main street of the village. They say the power plant was destroyed as well because of the fight. A small number of wealthy people only generate household electricity now.
It was Major General Nakamue (51) who welcomed me. He is called "Nokkaue (a bearded man)" by people around him. In September 2011, they signed a new ceasefire agreement with the Myanmar government. But they have not been disarmed. Since then, there were senior officials meetings twice. But he says we have come "only half way" on the peace process. I asked the reason why. He said, "There have been too many personnel changes in bureaucracy. We do not get their responses."
The first peace talks took place in Hpa-an, the capital of Karen State in November 3rd, 2011. It was held between 5 people from the government and 6 people from the DKAB. What they assured then was the following five items: ① Both sides should accept the ceasefire. ② The DKAB would keep living in this area as it has been so. ③ The DKAB would set up its office in Myawaddy. ④ Both sides would notify each other beforehand when either side moves with weapons. ⑤ Both sides would continue peace talks until the conclusion of peace and both sides would mutually arrange the date and place for the next round of peace talks. The second peace talks took place in Hpa-an just like the first time. They reached agreement on the following six items: ① Both sides would obey the rules they agreed on the last time. ② The Karen State is the significant portion of the territory for Myanmar and would not gain independence from the country. ③ Both sides would recognize the most important idea, "Myanmar is the one." ④ The DKAB would be allowed to live in Sukkuri and Duhmoeki (the place names.) ⑤ Both sides would cooperate each other to eradicate narcotics and stimulants. ⑥ This is the same as the last item on the first talks.
Although the government forces are stationed each 3.4 km north, 8 km west and 20 km south of the DKAB headquarters, there have been no more forced labor and rape since December, 2011 when they had the second peace talks. The DKAB has not either received administrative services or has not been provided public works at all. The DKAB has been ruling the area, concerning administration just like it has been doing. The DKAB has found that it is OK for ethnic minorities to teach their own languages in schools. But they heard the news only on the radio and the government has not directly told the DKAB anything about it. They have taught the Karen languages and English. However, "they are afraid that they might be oppressed again if they seriously tackle language teaching." So they find it difficult to believe the government. Senior government officials who signed at the second talks have been transferred. They have not had the third peace talks. The DKAB has sent the letter on August 24th this year saying, "Since we would like to talk with the President, please set the date and time." There has been no response from the government. "The government may be now busy negotiating with the KNU because no progress has been made on the peace process with the KNU." Major General Nakamue guesses and his assumption coincides with that of David Takapaw of the KNU. Although the DKAB faction thinks that peace is needed in the first place before economic development and wants to continue negotiations, the government has been ignoring it. "It is difficult to judge if this peace process is real. Because as the previous peace talks disappeared, the talks this time have been interrupted again."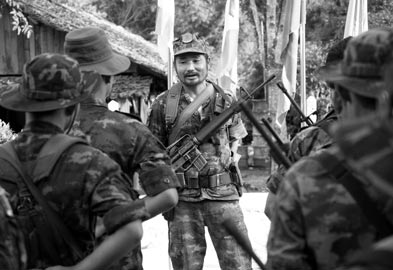 When I was about to go home, I saw the DKAB leaders taking the roll call of its members in the garden in front of the headquarters. About 50 soldiers in camouflage clothes with the M16 rifles and other firearms in their hands were reporting to their leaders that all members were fully equipped. The military forces have about 1600 personnel. I do not think they are going to fight against the government forces seriously. But they maintain their own armed forces for self-defense and they want to use the military as a bargaining chip in future negotiations.
They are not Returning Home Because of the Same Old Suspicions.
Here I am in Mae La Refugee Camp filled with huts with the roofs covered in broad leaves on the valley sides. This camp was established in 1995 and has been absorbing six other camps. Those other camps were closed down and the sites became part of jungle again. Currently in September, 4762 households, with 26,293 people, are sheltered. I heard they became refugees because 64% of them fled from the war and the rest of them had their homes and land seized. The refugee population reached a peak of 40,000 in 2004. The Thai government and the United Nations High Commissioner for Refugees (UNHCR) had been interviewing and granting refugee status together. However, they say that no one has been granted refugee status since the ceasefire in 2004.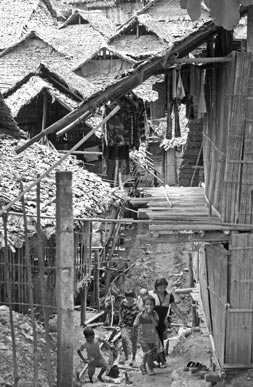 The Burmese began to immigrate in 2006 to third countries. 32,162 people have left Myanmar for the United States, Australia, Norway, New Zealand and so on in descending order. And 45 people have immigrated to Japam. Although the Myanmar government is saying that it supports democratization, UNHCR has not begun a repatriation program because safety cannot be confirmed in the area. Currently in mid-September, we still see about 200 people leaving the country every month for third countries. This is the same pace as before the "democratization" coverage. But since it is about 10 km from the Camp to the border, some people actually walked back home voluntarily.
On the survey conducted this March, ①187 people wanted to return to their home country, ②10,319 people wanted to go to the third countries, ③10,737 people wanted to live in Thailand. The number of 10,737 is about the same as 10,319 which is the number of people wanting to go to the third countries. Each reason is as follows: ①They have their own farmland in hometown. Since Myanmar is in transition into democracy, it is better to live in the town where they were born and raised than the town where they do not understand what the locals are saying. ②It is because of education for their children. They believe that they will be better off. There will be freedom and chances. The third country they chose is a peaceful country. Their relatives have already settled down in the third country. ③The administration system is better in Thailand than that of Myanmar. There will be chances. They were born in Thailand. Thailand is a democratic country. The Vice Minister for Interior Chartchai who works in the refugee camp says, "Everybody knows about the change of their home country. But at the same time since they know the fact that the peace talks with ethnic minorities are not going well, they will still see how things are going. I think these people will go back home when it is completely safe over there….."
By the way, no photography is permitted inside the camp. There are grocery stores, barbershops and restaurants side by side on the main street. They look like part of a wealthy village. The Thai government supervises the refugee camp and it does not want the public to take pictures of the main street. Even though it is a refugee camp, it has its own history for 17 years. It is natural that the camp has transformed into a village. Just because it is a refugee camp, its people are not allowed to go to work in the cities or the farming villages of Thailand. Beans, salad oil, salt, soybean paste and charcoal other than 12 kg of rice are distributed every month per person. Besides, NGOs have been supplying second-hand clothing, stationery and so on. Vocational training couses including the poultry industry course and the hog farming industry course have been offered as well. It is because of such assistance from Europe, USA and Japan that even the refugee camp looks wealthy. If they find the pictures and the images that might give a wrong idea that the economy of the refugee camp is strong enough, those pictures could be the source of reduction or cancellation of assistance. So they could be taboo photos.
I barely managed to get a photography permit in Mae La Secondary School. There were 478 students ages 5-16 and 24 teachers. Many children were born in the camp and remain stateless. Mr. Niwa (22) was born in Myawaddy and came to the camp at the age of 10. He has been teaching 7th and 8th graders. "If I have a chance, I want to go to either Australia or America. I want to study english and geography more and want to be helpful to people in my hometown," said Mr. Niwa.
Going Home or not Going Home Depends on the Next Election.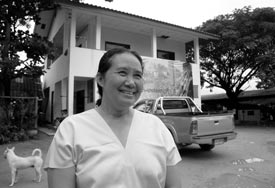 In order to welcome Member of the Parliament Aung San Suu Kyi who went out of the country for the first time in 24 years, a banner with a big picture of her remained hanging on an external wall of Mae Tao Clinic Building. Suu Kyi MP visited Mae La Refugee Camp on June 2nd. But she only stopped on the street in front of the clinic and after all, she probably did not look at this banner. This medical facility was established in 1989 by Dr. Cynthia Maung and 5 other students in those days who believed in democracy and escaped to the Thai border. At first, it was a field hospital overwhelmed by casualties and malaria patients. Now it is a general hospital. However, there was no hospital or clinic nameplate even at the entrance gate just because they are concerned about the relationship with the Thai government.
200 beds are always full. 80-100 beds are supposed to be for pediatric patients. But malaria and diarrhea patients use them. 60 beds are supposed to be for obstetric patients and the patients are expected to be discharged 24 hours after delivery. And 40-50 beds are for surgical patients. Accidents injured patients have been hospitalized there. About 400 people on average see the doctors each day. They are Burmese. About half of them cross the border and come here from Myanmar. The other half is the residents of Mae Sot. Although there are hospitals in Myawaddy, people do not mind the trouble of crossing the border and come to this clinic because there are no ophthalmological and otolaryngological clinics in Myawaddy. Besides, there is lack of medical staff and the medical facilities are poor there. Dr. Maung says, "When I think of working with hospitals in Myanmar, I know this is going nowhere because Naypyidaw has not given any directions to us. They have been suggesting a ceasefire so many times, and yet they have been producing refugees. On the other hand, they have made a new constitution and want to have it in their own way. They want democratization….." She cannot hide her confusion.
Dr. Maung believes in the protection of human rights and increasing social welfare rather than economic development. She has been making efforts to improve education besides medical care. She won the Magsaysay Award in 2002 and this clinic became well known. She mainly works in this clinic and has been taking care of about 3000 children after she established schools and orphanages in 5 areas for the Burmese who came to Thailand. Besides, she has trained nurses and opened clinics in 5 areas in Karen State. "In the future, whether I will stay here or go home depends on the Burmese administration. Right now 25% of MPs are still military personnel. Anyway, I'm expecting something good might come out of the next general election," says Dr. Maung.
"We are facing a budget deficit of $600,000. We need your help." Although Dr. Maung did not mention anything about their financial problems, I found this emergency appeal on the clinic bulletin board in English. The operation of this clinic is part of a health care and education project and had been stable with financial aid. However, donors are shifting their priorities to inside Burma after the Myanmar government opened up.
Even in the Sudden Wave of Democratization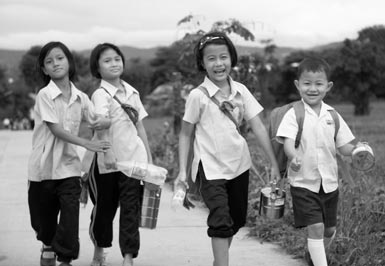 There are about 70,000 Burmese migrant workers in Mae Sot, Tak Province who are legally registered to work in Thailand. It is more than 300,000 workers including unregistered workers (City Hall of Mae Sot Survey). Mae Sot City Mayor Teardkiat (55) admits that the city is already in the situation that its economy would not be stable without the Burmese. It is true. When you walk inside the city, you'll see restaurant staff, drivers and physical workers. They are almost all Burmese. More Burmese are born in Thailand year after year. Although the Thai government accepts the reports of birth, it has not given Thai nationality to them. Of course, they do not have Myanmar nationality and therefore are stateless. There is no industry other than conventional farming on the other side of the border. However, there is a good education system on this side. Therefore, they settle down on this side in Thailand.
The third generation is currently born in Thailand. The number of "Myanmar School" in Tak Province has gone up to 74 including the school Dr. Maung supports. In these schools they adopt a curriculum based on Thai public schools in order for their students "to adapt to Thai society and live on their own in the future." They teach Burmese and the students' native language other than Thai in those schools. There are summer courses where the students can learn ethnic minority languages. There are also events to pass down the traditional culture. If you consider the ratio of the Karen as 10, the Bamar would be 4, the Pa-Oh would be 2 and the Mon would be 1 in the ethnic breakdown of these school children.
I visited one of 40 schools in Mae Sot. Principal Manchuaimin (50) says, "There are 500 children in her school. It had been receiving the annual budget of 7 million baht for labor costs and material expenses. But I had to cut down the budget by 40% this year and it is going to be difficult to hire teachers." This school was built with Japanese aid. The construction and operation of Myanmar Schools have been conducted with support of foreign NGOs and individuals. However, there is also a drastic decrease in the aid here since democratization of Myanmar was reported.
"We already have the buildings and equipment. So as long as the wages for migrant workers go up and we can receive donations and tuition fees from the parents and guardians, the school may be able to sustain. If not, children need to be transferred to Thai public schools and our school needs to be closed," said the Principal with a stern expression. On the other hand, Mayor Teardkiat was saying that the authority could support the children who had ID cards and would be ready to accept stateless kids if the parliament passes a law on special economic zones.
I asked seven of the 12th graders who were in their classroom and would graduate soon about their hopes for the future. Four of them wanted to get teaching jobs, the most poputar profession within them. Among the rest, one of them wanted to be a doctor. Another one wanted to be a cook. The other one wanted to work in the construction industry. But even if they graduate from the Myanmar School, they will not be able to obtain Thai nationality. If they want to go on to college, they have to take international courses for foreign students. This is disadvantage and discrimination. "Yet we can enjoy safety and freedom even though we are allowed to stay only in Thailand. I am afraid that we cannot enjoy them in Myanmar….. I don't know how much the quality of education has improved in homeland. The plan to return home is a blank slate," said the Principal. It seemed like this time the Burmese in Mae Sot did not care about the democratization and all. They seemed to be hoping to receive their education and work in Thailand.
"Democratization" Seen on the Karen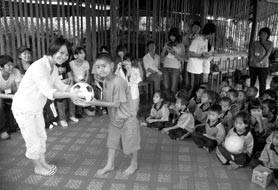 When I was collecting information for this coverage around the border, I ran into study tour members from Japan. There were 19 students led by Professor Tatsuya Hata (53), Faculty of Applied Sociology at Kinki University. The main reason Professor Hata chose this area this time is that it is now safe since there are no more clashes between ethnic minorities and the Myanmar military government. Another reason is that he wanted his students to see the reality of this area with their own eyes. The Karen, one ethnic group has been divided on the border. Their nationality and living environment differ, depending on which side they are living.
Some people of the Karen in Burmese territory want to protect their own lives and culture. Others want to stay in refugee camps and open up new fields in the third countries. The others want to go into mountains in Thailand and make a living.
Those university students visited Mae La Oon Village School in the mountains. This school is for first grade through twelfth grade with a total of 1045 students. Most of the students are Karen. 20% of them have recently immigrated to the area and they still do not have their Thai nationality. Ms. Fumika Ito (22), Student in the Faculty of Literature, Arts and Cutlural Studies says, "Since I was picturing poverty in my own way, I was surprised to see home appliances in their lives." This village receives time limeted power supply for two hours from 8:00 at night. They can watch TV and talk on the phone via satellite. Ms. Haruka Fujita (20), Student in the Faculty of Business Administration said with deep emotion about the Karen's zest for living, "Even though there are so many problems, a lot of people said, 'We are not worried.' I felt that in Japan it is rather hard to judge what is right because there are too many choices in our country."
Professor Hata says, "It is understandable that the students who do not know about the conflict era do not appreciate this peace in the area. I would rather want them as the future generation to see the fact that the residents can now travel back and forth much more often than before. I hope they will also see the apparent economic differences between the two countries." He expects his students to learn something from these situations.
Ethnic Minorities Who Became Wage Workers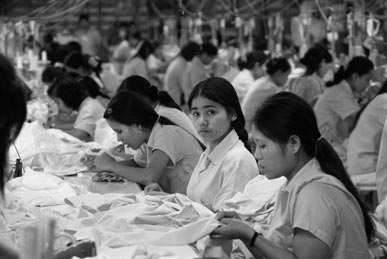 I am now at "T.K.Garment," the biggest garment factory in Mae Sot. Although it is in the Thailand territory, 1700 people are Burmese out of about 2000 employees. "There were no jobs over there," says, Mr. Uhm (37) from the Pa-Oh who has been working in this place for 16 years since the factory was founded. He is from Kawkareik, Karen State. Four out of his nine brothers and sisters were working there at one time. Three of them have already gone back to their homeland other than him. Now his older brother is running a motorcycle repair shop, his younger brother is a public servant and his sister is a hairdresser.
The daily wage in Tak Province is 226 baht under the minimum wage law. But skilled workers like Mr. Uhm earn more than 300 baht per day. There are quite a few of them who earn more than 10,000 baht a month. "I want to work about 5 more years. If I can save 400,000 baht, I am going to open a general store in my hometown. Even though Thailand is convenient, I want to go back because I have my family over there," says Mr. Uhm. Among the changes in the democratization he has actually experienced are the distribution of free school textbooks by the government and the decrease of the number of checkpoints. There were 5 checkpoints before on his way home. Now there is only one checkpoint. He had been just obtaining his entry permit issued by Thai Immigration Bureau until last year. Now he has his passport officially issued by the Myanmar government and has a work visa stamp from the Thai government on it.
President Chaiwat of this garment factory thinks although their wages are higher than that of Cambodia, they are slower learners at work than Thai people. But anyway, Burmese people are patient. When his company was established, Prime Minister Chartchai had adopted a policy of "turning battlefields into market places." There was tax relief on investments and foreign workers were permitted to work in the border area. He used to pay a deposit of 5,000 baht per Burmese worker to Thai Immigration Bureau and needed to take the Burmese workers to the Bureau every three months. Several years later the Bureau canceled this procedure. "I can feel positive signals in Myanmar, yet it is probably in 8 years that we will go into their market because the infrastructure such as roads, electricity and communication is still not well-equipped." President Chaiwat, who have been doing business with Myanmar for many yeas, keeps himself cool as investments in Myanmar heat up.
Mae Sot Mayor's Perspective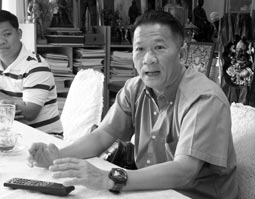 "I am currently asking the Parliament to pass the Special Economic Zone Act." Mayor Teardkiat believes in prospects for Mae Sot City and says that it will use the democratization in Burma as an opportunity and be the Indo-China logistics center. His idea is based on the belief that peace talks will go on for many years to come without failing halfway and there will be perfect peace in the future. The city is about 550 kilometers from both Bangkok and Yangon. It is about 600 kilometers to get to both the Laos border and the China border. The fact that Mae Sot is in a good location geopolitically is the ground that he says Mae Sot will be the center of Indo-China. They are going to dig a tunnel through the mountain that leads to Route 1. They will charge the toll and pay for the construction costs. In the future they expect the tunnel to be an important traffic point where 2 million people a year would pass through the tunnel.
There are about 15 million Burmese living in the border area that stretches about 580 km from Mae Sariang in the north to Kanchanaburi in the south. The Mayor sees them as an attractive labor force. At the same time, he thinks that it would take time to start the construction of the trading port in Dawei after he inspected the site. On the contrary, he proudly says the development in Mae Sot here is fast and steady.
On the Myanmar side, at the beginning of December last year, they established the checkpoint called "One Stop Center" with the functions of both immigration services and customs. They have been already trying to facilitate and secure logistics processes. However, since the road beyond the checkpoint has not been paved yet and it does not have enough room for trucks to pass each other, they travel in the same direction as traffic directions change every day just like a single track railroad.
The Mayor said for certain, "Within two years." The Thailand side will process all the documents at this checkpoint and it will help facilitate and make the processing convenient for merchants, tourists, investors and workers to move smoothly. At the same time he is planning to set up an industrial estate in the special economic zone covering an area of 37 square kilometers and lure businesses such as jewelry, furniture, food processing and so on. He insists that if the special economic zone is approved, even illegal workers can work without any problems. He envisions a bright picture for their future.
The Second Friendship Bridge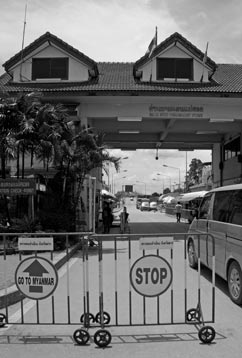 In October when I was writing this reportage, I heard the news that the construction plan for the second friendship bridge has been approved by the Thai government. They say the government is planning to build a new 400 meter bridge across the Moei River with a budget of about 600 million baht and develop an industrial estate with a customs office and a logistics base on the Thailand side. It seems like Mae Sot Mayor's vision will really come true within two years. Even though it is right next to Thailand which is one of the countries in Southeast Asia that has been seeing the most tremendous economic growth, Burma remains a least developed country (LDC) as a result of the fact that the military regime had closed the country for a long time because they wanted to prolong the life of its dictatorship. People, commodities and information are now pouring into Thailand from Burma, and vice versa. In response to "democratization" this time, the World Bank has also decided to start lending to the Myanmar government again for the first time in 25 years and U.S. President Obama visited Naypyidaw. However, clashes between the Kachin and the government do not stop in the north. Around the border between Myanmar and Bangladesh the Rohingya people have been continuously oppressed. The prominent Burmese democracy activist Aung San Suu Kyi MP has not even taken a proactive approach to solving the deeply-rooted ethnic minority problems.
The lives of the Karen and the Burmese in the southeast Burma like the Karen State are now about to change drastically. Even if the ceasefire gets perpetuated and they do not have to flee from the fires, they will not be able to make a living with the same job they have been doing. They will need to move to a new place and look for a new job. Some families will break up. Other families will have an addition to their families. There is obviously political, economic and legal gap between their area and the developed areas because Myanmar has lost half a century. Human rights protection and welfare have not been considered important in this area. Expansion of income inequality will spur environmentally damaging development. It is feared that many different social issues will appear one after another because of the rapid changes. But people have to keep struggling to live in such a world. When we heard the breaking news on "democratization" and "open-door policies," we thought the future would be bright. Considering all the new problems in the society, I can't take my eyes off of the border area.