Cambodia
A surge of depression
March 2010
The small country hit by a surge of depression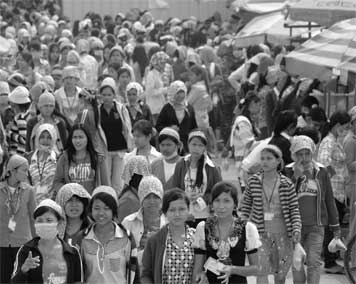 "You must not take a photo in this factory. No photography!" Mr. Ken Loo, an executive director of Garment Manufactures Association in Cambodia (GMAC), said sharply as if there was no room for negotiation. I asked the reason. He said, "When I gave permission for a British TV station to take photos in the factory, they took a picture of a little girl working here and then they broadcasted it. They criticized us for using child labor, but child workers were very few. Only one out of thousands was a child." The broadcast seemed to give another blow to the factory which had already been hit badly by the worldwide depression.
The peak of the Cambodian garment manufacture was at the end of 2007. There were about 360,000 workers in 330 factories. Now the number of the factories decreased to 246 and the personnel of the factories were reduced to about 240,000, two thirds of the workers at the end of 2007. They mainly export their products to foreign countries, 65 % of them to U.S.A, 25 % to EU member states and 10 % to Asian countries including Japan. So their production depends on foreign countries' economic conditions.
A job applicant to a factory should be over 16 years old. That is the only requirement for employment. Neither educational background nor job experience is required. Factories, however, tend to employ physically grown-up people of 18 years and over. According to the GMAC agreement, the workers are entitled to receive $61 per month (i.e. the wage of $50 plus the $5 perfect attendance allowance and the $6 cost of living allowance, which all equal $61). More than 95 % of the factories were started on foreign capital, but their parent companies are not always in the investors' countries and quite a few of them are venture business. According to Mr. Ken Loo, every factory has at least one labor union, so that an advance dismissal notice and a dismissal allowance shall be given in conformity with the Cambodian labor law.
Since Cambodia has no industries except agriculture and tourism, I should say that garment manufacture is a key industry in this country. In this manufacturing industry more than 100,000 young workers have lost their employment in less than three years. Considering the proportion to the population, more than 1,000,000 workers should have lost in Japan. However, the Cambodian government, which depends on foreign aid for half of its budget, cannot afford to put out the public money into the measure against unemployment. They merely cut the corporation tax rate to 0.8%, which will be left unchanged for four years.
Mr. Ken Loo said, "I wonder how long it will take for the economy to recover. The depression prevails too widely to vanish. Economic recovery in Cambodia depends on that in U.S.A. The workers should be aware that if workers went on strike, no buyers would come." His nerves seemed to be on edge all the time.
A former factory worker has been a beer girl for two months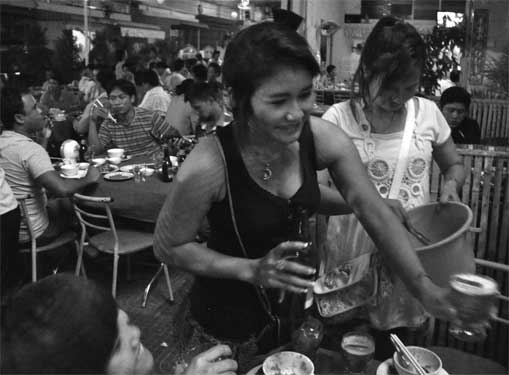 After you pass Phnom Penh International Airport on National Road No.4, you'll see in the suburb a sawing factory named 'QMI', which makes only sportswear with adidas logo. It is the factory that Miss Long Thiarha(19) had worked for a bit more than two years. Her salary in that factory was 45 dollars, which was five dollars less than the wage fixed by the GMAC agreement, but even that payment began to be suspended because the production lines had stopped. Then the factory presented the $30 dismissal allowance, so she had no choice but to accept it.
After being laid off, she heard from her former co-worker at the factory that a beer-girl could earn more money, so she registered herself at a beer dealer and became a beer-girl. A beer-girl's job is to sell beers that a dealer deals in to customers at a restaurant directly. They sell imported beers from Germany, Holland, America, Australia, Singapore and Japan as well as domestic ones, but she sells Hollandia Beer made in Holland. She works from 6 p.m. to 11 p.m. and from 9 a.m. to 2 p.m. including lunch-time.
The Cambodian government encourages children to go to school for 12 years, but only a few children complete the 12-year schooling. Thiarha went to school for nine years, so she got rather high education for a rural girl. Since most parents want to give their sons higher education, some girls cannot finish even elementary school or have to start school at the age of over school age. In this society men strongly dominate over women. They think girls don't need high education, and moreover they are lenient toward a married man who has an affair and neglects his home.
However, it is taboo that an unmarried couple walk hand in hand or have sex before marriage. Women in this country don't expose their skin too much not because of strong sunlight but because of a moral sense and a sense of shame. Nevertheless, beer-girls, wearing a miniskirt and hot pants, wait on chance male customers in a friendly way. It must have been very hard for Thiarha to make the decision to become a beer-girl.
After she opens a bottle, she put the crown cap in her pochette because she is paid on a piecework basis of one dollar per crown cap. The percentage of her earnings by chips is larger than that by piecework. A beer-girl in Cambodia is more like a hostess than a campaign girl. I asked her whether there was a customer who tried to take her out. She answered with an expression of disgust, "A lot."
She has been a beer-girl for two months. When she was a factory worker, she sent her family 30 dollars a month at the most, but she has already sent 300 dollars in the last two months, five times as much as she did in the same period as a factory worker. She had kept it secret from her family to become a beer-girl, but ironically, her mother found out the secret because of the amount of money she sent. She went home and explained how difficult to find a job in Phnom Penh, but she was hit by her mother and she cried. "People think ill of beer-girls and discriminate them, so I hate being a beer-girl," Thiarha said, sometimes wearing a gloomy look.
Ms. Say Sara Vathany, executive director of Cambodian Women's Crisis Center, said that the case of Thiarha was typical. "90 percent of the factory workers who were laid off at the end of 2008 were women. They lived frugally, sharing a room with seven or eight women and sleeping in a huddle, in order to send money to their families. They couldn't stop sending money because they were the breadwinner of their families. That was why they had no choice but to work as a beer-girl or a masseuse, whose work is dangerous."
The masseur is a member of NGO for human right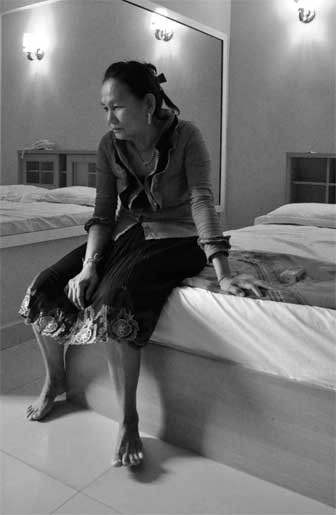 Ms. Keo Tha (52) is a masseuse. She divorced his husband because he was unfaithful to her. She came to Phnom Penh alone 15 years ago, leaving her three daughters in Battambang. For the first several months she worked as a live-in maid, but her monthly salary was only 15 dollars, so she couldn't send any money to her daughters, so she became a hostess at a karaoke bar. Since she was good at singing, she was popular with customers. She became a masseuse six or seven years ago, though she hadn't had any training. Today massage parlors are not allowed to hang up a sign, so most masseuses make an arrangement with a customer at a coffee shop and go to a hotel.
"Any man needs work. I think prostitution is also a job. I sold my body in order to live even in the days of Pol Pot's rule." Generally, the fee for only massage is two dollars but the fee for sexual intercourse is 10 dollars. The three most disgusting customers are a man who uses violence, a man who avoids paying and a man who is drunk. I heard the same in Japan.
"A proud woman may say that she simply can't prostitute herself. But which do you choose morals or starvation? It is a necessary occupation for a woman to love her children, take care of her family and take her sick mother to the hospital." She expressed her opinion clearly. She is a member of the staff of 'Women's Network for Unity (WNFU)' as well. In 2000 Prime Minister Hun Sen ordered karaoke bars to close down, so many prostitutes were thrown out of work. The next year WNFU, a local NGO, was set up for women who engage in sex industry in the country, and it is also in charge of accepting foreign aid. In 2003 it was authorized by the Ministry of Interior.
There is a banner reading 'Prostitution is an occupation' on the wall of the WNFU office. To stick up for the prostitutes' rights to live, they try to raise the literacy rate, and offer job training and health services. These activities are intended for women working at bars, karaoke bars and massage parlors, prostitutes soliciting in the streets or parks and beer-girls. In 2008 they helped 5,079 women in all directly and in 2009 the number is estimated to increase by about 500.
Increasing human traffic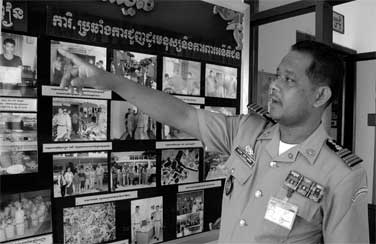 Prostitution is illegal in this country. But according to the authorities, prostitution by prostitutes of over 18 years is overlooked unless they do openly and disturb public order. But the authorities crack down on traffic in children, and especially traffic in children of 14 and under is dealt with as an important issue.
According to the chief of the Municipal Police and Bureau of Urban Affairs, the targets of crackdown are managed prostitution, sexual abuse and agency for adoption and international marriage that covers up human traffic. He said that if they heard a rumor or got information on such illegal activities, they would take immediate action to save a victim and arrest a suspect, showing me the photos of recent affairs. A month ago they arrested a gang of five including an Englishman who had made Cambodian children to sell their bodies to foreigners. And a week ago they arrested the five members of a prostitution organization. They had made 14 or 15-year-old Chinese Cambodian girls sell their bodies to tourists, claiming the girls were virgin. Two of the five under arrest were the girls' mothers.
When the police expose a brothel's managed prostitution, they hold the manager under arrest but they send a prostitute to rehabilitation facilities that teach cosmetology and sewing. If the woman has a family and her house in her hometown, they send her home. In 2009, 165 cases of prostitution were exposed and 907 prostitutes were taken under police protection. 82 of the prostitutes were under 15 years of age; 82 of them were between 15 and 17; 743 of them were over 18 and over. 90 cases were tried and 116 of 231 suspects were found guilty and sentenced to penal servitude. (Publicized by the Prime Minister's Office) There were 111 cases of human traffic in 2008, but the number of the human traffic cases built in 2009 was about one and a half times as large as that in 2008. The increase in the cases of prostitution and human traffic may have something to do with the mass discharge from the factories in 2009.
"It is very difficult to change the job."
Ms. Keo Tha of WNFU ceaselessly goes to the police station or the court. On top of that she helps the families of the women in detention with their housework. Because when a woman is arrested, there is no one who earns money and does housework. She always asks for mitigation of their penalty. Now she is working on the case where the police raided a woman's apartment when the woman was practicing prostitution and the woman was convicted of being a managed-prostitution manager and sentenced to two and a half years' imprisonment. The woman had shared an apartment with some other prostitutes to save money but it was taken as managed prostitution. Ms. Keo Tha said it was very difficult to dispel this misunderstanding.
Prostitutes always want to return to work to make a living as soon as possible, even after they are arrested. The reason is that even if they had learned a trade, they could only earn a meager income just enough for one to live on. "It is very difficult to change the job. If a woman learns a sewing skill, a sewing factory worker's salary is so small that she ends up coming back to this work. She cannot buy any food, and neither the government nor NGOs help. She has no choice but to sell her body on the street. We don't intend to increase the number of prostitutes, but to protect them by teaching how danger this job is."
At a beer garden again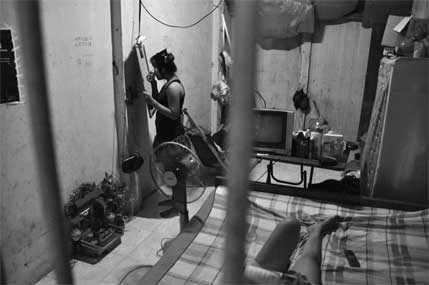 Miss Rong Thiarha shares an apartment, which rents at 40 dollars a month, with two women who had been fired from the same factory. All of them work as a beer girl. One of the roommates Ms. Seinh Scarh (25) came to Phnom Penh, leaving her eight-year-old daughter in her hometown, Battambang. She was a leader of the finishing touches at the factory. As she is the oldest of the three, she is like a big-sisterly. The other roommate Ms. Om Lee (21) was brought up in Kamport by adoptive parents because her real parents died of illness in her childhood. Since she was an orphan, she had wanted to make a home early and got married to her fianc? at the age of 16. But the marriage broke up soon. She hasn't seen her two-year-old daughter, whom she left in Kamport, for more than one year.
Lee wearing a polka-dotted ribbon in her wavy hair and a red miniskirt, doesn't look like a single mother of a two-year-old girl. She has a glib tongue and speaks in a well-modulated voice like a radio disc jockey. She livens up a drinking party by Cambodian jokes. "When a white female tortoise was walking in search of a clean water pond, she met a black male tortoise. She asked, 'Where is the clean water pond?' He said, 'If you make love with me, I'll tell you the way.' Then, when the female tortoise was walking in the direction which the black male tortoise told her, she met a blue male tortoise. They exchanged the same words. Again when the female tortoise was walking toward the direction which the blue male tortoise told her, this time she met a yellow male tortoise. So she asked again and made love with him again. Afterward the white female tortoise noticed that she was pregnant. Now, I have a question. What color will the child be?" Ms. Lee asked. One of the customers said, "Well, a white female made love with a black male, a blue male and a yellow male…, let me see, is it gray?–uh– I don't know. Please tell me." She said in no time, "If you make love with me, I'll tell you." Somehow she makes a customer feel as if he has become a tortoise.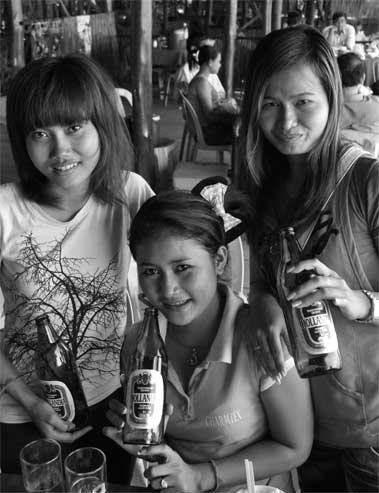 Ms. Om Lee is coquettish and frank, while Miss Rong Thiarha who is two years younger than Ms. Om Lee and never married, is slightly drunk and looking afar with a sorrowful look.Thiarha has one older brother, a younger brother and a younger sister. Her older brother left home after marriage and she has heard nothing from him since. Both of her younger brother and sister still go to school. Her dream is to open a variety store at her hometown, so she is saving money. Her mother (45) married twice and divorced twice. Her and her older brother' father is different from her younger brother and sister's. Her mother, suffering from a disease in which liquid collects in a lung, has been hospitalized. So she goes back to her home town to visit her mother at hospital every week. It takes two and a half hours to go there by bus.
Thiarha said, "I was sometimes advised to learn a trade, but who takes care of my family while I take training? That is a problem. I think learning is important and it will benefit me. But it's not so easy. It will take one year to four years at the longest. I might find a better job after training. But I will not be able to send any money to my family during my training. And I'm also afraid that my mother might die during that time. So I chose my family rather than my future." She likes Cambodian traditional dish 'Prahoc' (fermented fish paste), so she ordered it with a bowl of rice and some fresh vegetables today. "A man who was physically handicapped but rich gave me more than 50 dollars as a tip every time he came, but I didn't want to be a mistress. I just worry about my health, because if I'm down my family will have no income."
AIDS village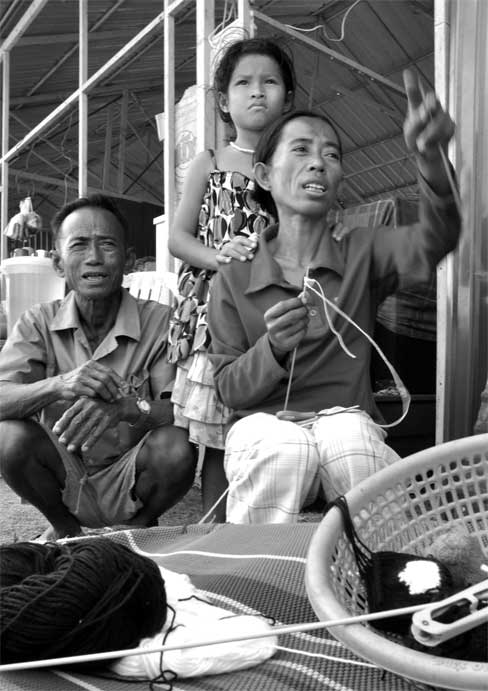 A sex-worker can earn a higher income compared with other jobs, but she is exposed to the risk of HIV infection. There is a village in Dangkor District 17 km south of the capital, Phnom Penh. The village is newly built last June for the people infected with HIV, who were moved out of the slums of Phnom Penh. About 170 people of 46 families live in temporary dwellings with tin roofs.
Mrs. Ven Thy(36) said that she had grown rice in Prey Veng Province, but she couldn't make a living by farming, so she came to Phnom Penh 11 years ago with her husband Mr. Prom Pel(67), who intended to work at a construction site. It was six years ago that Thy found she had been infected with HIV. She went to a medical office because she had had continuous diarrhea, and then she was suggested taking a test for HIV. The test was positive. She claimed, "Maybe I caught it from my husband," but the infection route was not clear.
The villagers go to hospital in Phnom Penh once a month. With NGO's aid, they don't have to pay the charge for medicine. But they need 10,000 riel (about 220 yen) a day mainly for food. Even if they want to do farming, they can't do it because they don't have farmland and they are not strong enough because of being infected with HIV. Thy does the work of making finger puppets under contract with a company named 'Cambodia Knits' and earns 80,000 riel a month. This work is light enough for the weak people infected with HIV to do, so 18 people including her do this contract work. The deficit is covered by the money earned by the people who still have energy to work as a construction worker or a bike taxi driver in town.
Both Pel and Thy are each other's second spouses. Pel divorced his ex-wife because she was alcoholic, and Thy divorced her ex-husband because he was a philanderer. Now Pel and Thy are so affectionate to each other that they have never quarreled. Thy said, "Difference in age? (laughter) He is very patient and has never raised his voice." Then Pel said, "She has never voiced a complaint, if she has one. She always smiles."
Canadia Tower
Canadia Tower was completed in front of Phnom Penh Station, or in the best district of the town, in November 2009. It is a building of 32 stories and the highest in this country. The building overlooks the whole city of Phnom Penh, somewhere in which Miss Rong Thiarha and her friends live. Before the completion of this building this view could not have been obtained unless you chartered a helicopter. A worker of Mega Asset, a building management company, said reproachfully, "With advertisement this place would surely be a new tourist attraction."
This building was built by a Chinese bank, and the bank opened its branch on the first floor. They intend to rent the rooms on the upper floors to companies or restaurants, but only half of them are occupied, and what is more, half of the occupied rooms are kept merely as a speculation by the bank and a few rooms are in actual use.
Not only the real estate agency industry but also the tourist industry is suffering a blow from the worldwide recession. In addition to a decrease in the number of tourists, the tourists are unwilling to spend money, so that hotels, guides and taxi drivers are virtually doing nothing, though they are open for business. A taxi driver, who had earned 20 dollars a day the year before last, earned only two dollars and fifty a day last year. A long-established hotel in Siem Reap was closed down and a first-rate hotel in Phnom Penh has delayed payment of wages.
"There is no money market in Cambodia. As banks do business on their owned capital, social unrest like chain reaction bankruptcies will not be produced," said Dr. Kang Chandrarot, director of the Cambodia Institute of Development Study. He had studied in Germany for 12 years on a German scholarship and obtained a Ph. D in economics from Free University of Berlin.
I asked Dr. Chandrarot about the general situation and prospect of Cambodian economy. "Sewing manufacturers have lost their competitiveness and most of the laid-off workers went back to their hometowns because they couldn't find a job at other factories. But they were just lucky that last year's massive lay-off occurred in August of the rainy season when workers were required in their hometown for farming. At the thought that the recession would be prolonged, they borrowed seed money and started cultivating cassava or raising chickens.
To deal with this economic crisis the government is encouraging agriculture without bringing back a controlled economy under the socialist government. They are giving guidance in manufacturing technique such as how to use fertilizer, improving the distribution system and furnishing funds. As a result, the production of rice has improved both in quality and quantity and we have had inquiries about organic Cambodian rice from Vietnam and Thailand.
This country still doesn't have any industry to protect. For development, importation is necessary and we also need foreign capital. Protective trade will be against the public's interests. It is the fate of capitalist economy to be at the mercy of the world economy. Nowadays, no independent economy exists. Our country will be poorly developed at our pace, but foreign pressure may accelerate the development.
Cambodian economy is still based on agriculture. Since industry has just started growing, people from rural districts work at a factory in a city to get cash income and send the money to their home. The pivot of the economy is still on rural districts. Since every rural district has farmland that provides food and a dwelling place, Cambodian people don't feel a menace of the world recession as strongly as the people in industrial countries do."
Thiarha is going home.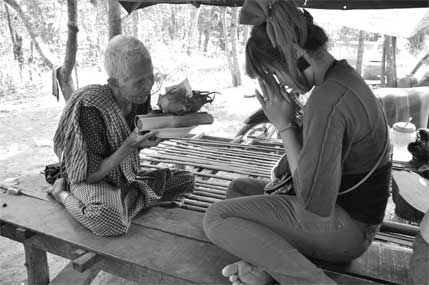 A beer-girl Miss. Rong Thiarha said that she was going home in a village of Tbuong Kmoun District in Kampong Cham Province because her mother Ms. Thung Peelang(45) was released from hospital. The village is located about 35 km northwest on National Road No. 7 after crossing the Kizuna bridge, which was constructed over the Mekong river with Japanese ODA, from Kampong Cham City, the seat of provincial government.
Thiarha used to be a salesperson at a clothing store in her hometown before she worked at the sawing factory in Phnom Penh. Her mother peddles Cambodian-style noodles with soup besides working on a farm as a help by the day during the busy farming season. Most of the villagers here do farming, but her family doesn't have farmland. The Heng Samrin Administration allotted 500 square meters of farmland to each household just after the Pol Pot's rule, but her family moved to this village after finishing the allotment. That's why they don't have farmland.
On her way home she stopped at a market and bought some roast pupae, which were her mother's favorite dish. She also bought some fruit to give neighbors. Since electricity is not installed in her house, her family uses batteries instead. Naturally they don't have an installed telephone or a mobile telephone. So she asked her neighbor to tell her family that she was going home, but the message didn't reach them. When she got home, only her brother was at home. Her mother and sister went shopping at a market. So her brother went to the market by bicycle to tell them about her return, and soon four people of her family got together.
Her mother Peelang weighed 63 kg before she got ill, but now she is emaciated. She has developed rheumatism and complains of a pain in her knees. She needs some help with going onto and down from the raised floor of the house. "Of course, I'm sad that my daughter has been in Phnom Penh away from us. But it can't be helped, because we are poor," her mother said. Nobody except her mother knows that Thiarha became a beer-girl. The villagers think she is still working for a factory. Her family needs 200 dollars a month as the cost of living. Besides that, they needed 300 dollars more because they had to pay the charges for her mother's one-month hospitalization. Rhiarha's income by working as a beer-girl managed to cover those expenses. Her mother can't ask her any question allusive to her job, out of consideration for her siblings, relatives and neighbors. "I don't have a special wish in the matter of what my daughter will be. I can't force my wish on her. It is up to her. If it's O.K. with her, I …," her mother remarked. It implied her tacit approval.
Meanwhile, many relatives and friends of hers came to her house. It looked as if they were having festivities. She greeted her elders including her maternal grandmother Ms. Poak Samuong(82) in the traditional way. Some fruits on the plate and a bill of ten thousand riel placed on the top of the fruits were offered to them. The value of Cambodian currency has continuously decreased from the highest value of 2,000 riel against the dollar, which was recorded just after the first democratic election held under the rule of the United Nations in 1998. When her grandmother got the gift, she started chanting a sutra and Thiarha joined her hands in prayer. Her mother said, "Lakhaon is put on in the village now. The performance will be held tonight. Can't you stay?" Her mother looked reluctant to part from her. Lakhaon is a Cambodian traditional opera. But she works on commission, so she can't get money if she doesn't work. Nobody will help her, and neither will the government. After Thiarha handed 100 dollars to her brother, she hurried back to Phnom Penh so as not to be late for her tonight's work.