Thailand
For their Gender Identity
August 2005
One year has passed since changing sex status in a family register was approved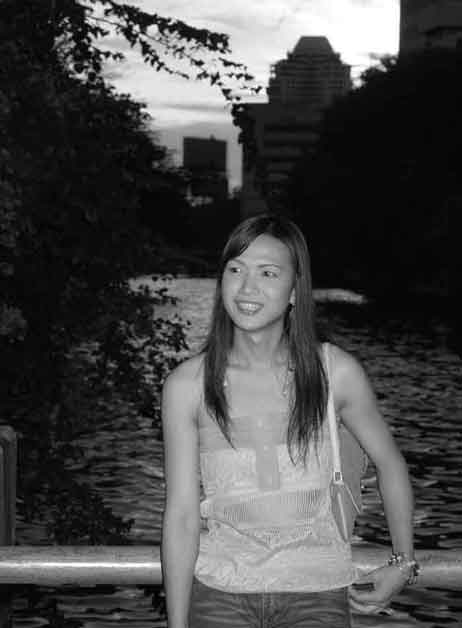 One year has passed since a person with gender identity disorder came to be allowed to change his/her sex status in their family register in Japan. He or she, however, has to meet the requirements to undergo gender reassignment surgery in the country and it takes years and several million yen. It is said about three thousand people are on the waiting list and about thirty thousands want to undergo the operation. Meanwhile, an increasing number of Japanese patients with this disorder are visiting to Thailand, which is medically advanced in this field. So I visited Thailand to see the most recent movement.
"Absolutely impossible!"-though they are accepted among the people
"I want to be acknowledged as a female, but I am identified as 'mister'." Tai (26) showed me his identification card with a photo of himself in female dress. He earnestly asked for a permission to attach a photo of himself as a female to his identification card. His name "Tai" means "rabbit", so he can be called Miss Bunny. Even in Thailand where there is comparatively less discrimination against gender identity disorder among the people, this disorder comes into question in a government office and a person with this disorder will not be able to be an official. Therefore, the marriage of two persons of the same sex is only a common-law marriage and it cannot be registered. Tai said about the amendment of the law in Japan, "It was great, but it will never happen in Thailand." He seemed to have no hopes of it.
Gender identity disorder is a condition in which a person has social and mental problems because his/her mental gender and physical gender don't accord and he/she feels discomforted considerably with her/his own body. One person in tens of thousands is a sufferer from gender identity disorder in Japan. It is said that this disorder may be caused by prenatal hormonal disturbance.
Tai has two elder sisters and one younger sister. He went to a junior high school for boys, where he was regarded as a gay. But he didn't feel uneasy about it because 10% of all the students in his school thought themselves as a girl, and such boys with the same sense of identity form a group. In Thailand most of the people with gender identity disorder live openly as a male or female that is opposite to their registered sex. They keep taking hormone drugs, which can be obtained easily at a small drugstore, to make their figures into the similar ones of their opposite sex.
Gender reassignment surgery is firmly established as a medical treatment in Thailand and a Thai can undergo the surgery at the medical center of Chulalongkorn University if he/she is of or over 18 years old and can pay the medical fee of 75,000 baht (about 240,000 yen). A psychiatric evaluation is not needed. "I'd like to undergo the operation. Some Western men can keep a relationship with a Thai man for a long time, but there is no such an ideal man in Thailand," Tai said and left the canal in the twilight for the downtown to work at night.
The number of Japanese patients has increased threefold year to year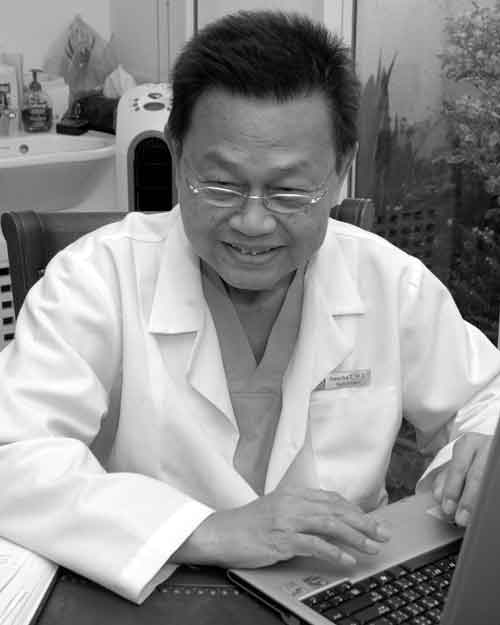 There is a seven-storied building with a fountain and the flags of all nations on the boulevard in the downtown area. It looks like a hotel but it is a private general hospital Bangkok Nursing Home (BNH), 90% of whose clients are foreigners. There is an interpreter for Japanese people on the staff. I visited the head of Preecha Aesthetic Institute (PAI) Dr, Preecha Tiewtranon (63) on the top floor of the building.
The number of Japanese patients who underwent gender reassignment surgery up to the end of July of this year was double what it was last year. If it goes at this pace, the number will triple soon. After the law was amended in Japan, more than 60 Japanese people, a little over than 5 people a month on average, underwent the surgery here alone. Japanese patients account for about 30 percent of all the patients who went this surgery, the largest in number after Americans. Dr. Preecha thinks the law for special rules has raised the consciousness of latent patients with gender identity disorder. He estimates that about 3,000 people want to undergo sex-change surgery. "There are not so many specialists in gender reassignment surgery in Japan because this surgery was illegal. But in Thailand the fee for this surgery is cheaper, hospitals are well-equipped and the medical technology in this field is advanced." The expense for gender reassignment surgery in this institute is 6,500 US dollars and the expense for a whole package including airport pick-ups, interpretation, and accommodation at a posh hotel for days before and after the operation is 12,000 US dollars. Some Japanese patients come just for an operation and they receive preoperative and postoperative treatments in Japan.
"I feel pity for patients with this disorder. His body is for a male, but his brain doesn't admit that he is a male. When he consults with a psychiatrist, the psychiatrist only prescribes a medicine. He wants to have his testes cut off. Dr. Preecha took out an air mail from a Japanese patient, who used to be a professor of a big-name university in Japan. "This man has wanted to be a woman, and suffered from this disorder for a long time without talking with anyone. But he couldn't stand it any longer at the age of 50, so he tried to cut his testes off by himself and bled heavily. He is going to come here to undergo gender reassignment surgery the month after next." He sounded as if he wanted to say that Japanese people of 'high social standing' also came after the enforcement of the law for special rules.
But not every patient can have an operation here. A patient who wants to have an operation should have a medical certificate from a psychiatrist and have been under hormone therapy continuously for two years. On top of that, if the patient is a male, he should have lived as a woman in female dress for the past five years, and he has believed that he is by nature a woman and he would not be able to marry a man. The hospital clearly sorts out people with gender identity disorder from people who have abnormal desires to wear women's clothes, who aim at having sex or who torture themselves by hurting their own sex organs. "I have operated on about 3,000 patients in the past 25 years, but no one wants me to restore the present body to a body of the former gender." He seems to be confident in his preoperative judgment. But he added that female to male (FTM) reassignment surgery still had some problems. Therefore, as for FTM reassignment surgery, he has operated on only about 60 cases so far.
After undergoing gender reassignment surgery, she is still a male in her family register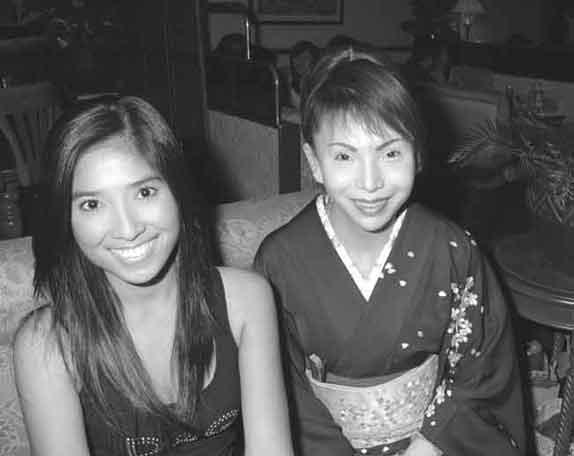 As of July 2005 there are only three hospitals where gender reassignment surgery is officially performed in Japan–Saitama Medical University Hospital, Okayama University Hospital and Kansai Medical University Hospital. So a patient has to wait for more than two years to undergo gender reassignment surgery. Moreover, gender reassignment surgery costs a great deal. Since health insurance does not cover for this surgery and more than one doctor attends the operation, male to female reassignment surgery costs from a million-odd yen to about two million yen, and female to male reassignment surgery costs about four and a half million yen.
"In Japan your turn will not come even if you wait for as many as one hundred years. That's why people go to Thailand or other countries," said Hiroko Kuga, the popular proprietress of a Japanese bar in Bangkok. She underwent a sex-change operation in Singapore in 1993, when the operation was not legal. 12 years ago, when she worked in Kyoto, she took part in a tour called "Tour to Singapore for a sex-change operation." The tour was organized by a male homosexual boss in Osaka. The boss charged the participants about 500,000 yen per head. He didn't tell Hiroko anything except the name of the hospital and the doctor's family name for fear of losing his profit. But Hiroko found out the doctor's telephone number and called him. The doctor said, "Come to see me on Sunday and come to the hospital on Monday morning." Since she could speak English, she could talk with the doctor directly. Her English, which she had learned from her Philippine boy friend, helped her unexpectedly. Following the doctor's instructions, she saw two psychiatrists and got two medical certificates, and she underwent the operation, staying in hospital for two nights and three days, then she went back to Japan. "I felt pain on the very day of operation and the next day, but I had no side effects and I made satisfactory progress after the operation."
Hiroko had run a bar for five years in Singapore, where she had undergone the operation, but the number of Japanese people living in Singapore decreased by half, so she moved to Bangkok. It is four years since she opened this bar. When she was in Singapore, she met a Japanese person who sounded and looked exactly like a man. But the person couldn't talk to people with looking them in the eyes. He asked Hiroko to introduce the doctor who had operated on her. But conversely the doctor asked her to discourage him from undergoing an operation. Later he underwent gender reassignment surgery in Thailand and came to Hiroko's bar. He seemed very cheerful unlike the former impression that he was a very introverted person. He used to cast his eyes down. Hiroko said to him, "Every one has a problem that no one understands. We can't judge people by their appearance, can we? I have to apologize to you for having opposed your undergoing an operation at that time."
A friend of Hiroko's said that she could have changed her sex status in the family register easily at a domestic court. "But I won't change my sex status in the family register," Hiroko said, "because being a male homosexual is my selling point to run this bar, and the procedures for making changes in the title deed of bar, passport and credit card are a nuisance." For the change of sex status in the family register, the law for special rules requires (1) you should be diagnosed with gender identity disorder by more than two specialists, (2) you should be of or above 20 years old, (3) your should be unmarried at present, (4) you should not have a child at present, (5) you should not have gonad or should be in permanent loss of gonadal function and (6) you should have a part of body which assumes the external genital features of the opposite sex.
However, there are not so many people who can meet all those requirements to change their sex status in the family register, even though they are troubled with this disorder. Because as to (1) it is unusual that a person who underwent the operation when this disorder was not acknowledged has a medical certificate, as to (3) some of them got married after they had unwillingly convinced themselves that they had no alternative but to adjust their minds to the bodies of the opposite sex to live in the Japanese society of the middle of the 90s, as to (4) some of them had a child because they thought that their disorder might be cured by having a child, and as to (5) & (6) these requirements make the people with this disorder think that they should undergo a sex-change operation, even though they don't need the operation or they cannot stand the operation for health reasons.
Talk with a patient one hour before the operation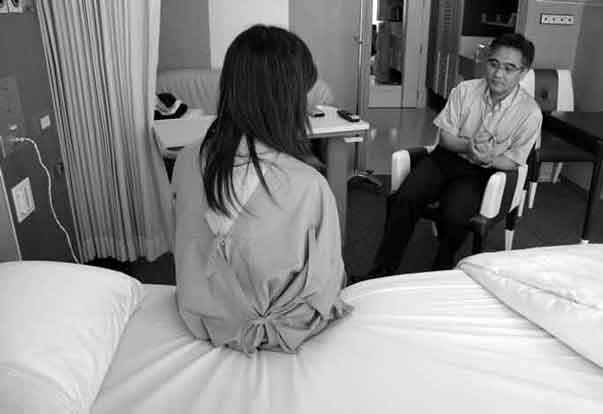 I visited Mr. A (38), who is about to undergo gender reassignment surgery, at Preecha Aesthetic Institute. When I was waiting for Mr. A in his hospital room, a woman with her long hair falling over her slim shoulders, although wearing no make-up, came into the room. It was Mr. A who finished preoperative treatment.
"In Japan there was no hospital where I could have a sex-change operation. There were so many people on the waiting list that I couldn't even make a reservation," she told me why she came to Thailand. Information about the state of gender reassignment surgery in Thailand, which he obtained from the Internet, made him decide to undergo surgery in Thailand, where he had been on business and for pleasure before.
It was in his junior high school days when he noticed that his mental sex and physical sex didn't accord. "I hated wearing a boy's school uniform, and my first love was a boy." When he was a high school student, he worked part-time and bought women's clothes and comics for girls. "But I decided to live as a man, because I was regarded as a pervert and my mother wailed about it. I read magazines for men to learn about men's way of thinking or acting at one time."
After Mr. A had been hired as a male staff of a company, there was a big change in the situation where the people with gender identity disorder stood. The Research Ethics Committee of Saitama Medical University approved gender reassignment surgery as a "proper medical treatment" in July 1996, and the Japanese Society of Psychiatry and Neurology gave the Guidelines on the Identification, Evaluation, and Treatment of Gender Identity Disorder in 1997. In accordance with these guidelines, Saitama Medical University Hospital performed the first officially-approved gender reassignment surgery in Japan in October 1998. The first surgery was female to male surgery (FTM).
The following year, Mr. A began to think-"Is that O.K. to die as a male as what I am? No. I would surely regret it." Since then he has prepared for surgery, buying hormone drugs by mail order on the Net and going to a cosmetic surgeon. But he was disappointed to see that all of the six people with gender identity disorder who had applied to family courts including the Tokyo Family Court for a change of their sex status in the family register in May 2001 were refused.
However, in July 2003 the National Diet passed the Law Concerning Special Rules Regarding Sex Status of a Person with Gender Identity Disorder, which approved of a change of the sex status in the family register, and the law was enforced on 16th of July in 2004. Finally a remedy was offered to the people with gender identity disorder who had been struggling with the absurdity of the situation where they were not allowed to change their sex status in the family register even after they got bodies fit for their minds by taking counseling and hormone therapy and undergoing gender reassignment surgery. When the law became effective, Mr. A had been preparing for the surgery for one and a half years. He had already consulted psychiatrists. "If it had not been for a chance to change my sex status in the family register, I might not have decided to undergo the operation," he said.
Also Mr. A said, "I don't expect that my real life will start, because Japanese way of looking at us hasn't changed at all." There is no difference in job description between men and women in his company. "So far I have been to work wearing a jacket and pants but I'm worrying that my subordinates might not accept me in a skirt personally."
He said, "What makes me most displeased is to be asked about my gender at a public office." Since his appearance didn't fit people's image of a man, his answer aroused office workers' curiosity. When he saw them stop their work and look at him, he panicked. "What I want people to understand is that I don't wear a skirt just for fun and that I have thought my male genital organ is a nuisance. I'm not a pervert. I want people to know that I am psychologically driven into a corner. Undergoing a sex-change operation requires real resolution. You can't do it for fun," Mr. A spat out at a breath. He has one hour to go before the operation. I asked him again how he felt about undergoing gender reassignment surgery that he had wanted to do for a long time. "I feel the time has come finally." "Do you want to marry?" "Yes, I do. I want to marry 'a man'." He smiled wanly and took me to the door.
An increasing number of Japanese are going abroad such as Bangkok, because they cannot meet the requirements of the law for special rules or they are not sure how long they have to wait to undergo the surgery. One of the famous orthopedic hospitals in Thailand started putting the advertisement of 'Sex-change Surgery: USD 1,625' in English-language newspapers. The law for special rules is supposed to be reviewed two years later.