Cambodia
Transplanted Democracy
February 2018
Before the Lower House election in July
In the last Lower House (National Assembly) election in 2013 in Cambodia, the opposition party made a great leap and secured close to the majority seats. However, leaders of democratic movement including foreigners were ordered to leave the country, arrested, killed or escaped to foreign countries. Last year, English newspaper named "Cambodian Daily" discontinued after it was pressured to pay a large amount of tax, followed by the disbandment ruling to the biggest opposition party handed down by the Supreme Court. The party currently in power whose approval rating has been declining is strengthening its rigid control before the Lower House election to be held at the end of July this year. I visited Phnom Pen, the capital city of Cambodia, and interviewed people in various fields to listen to their present situations.
On the street corners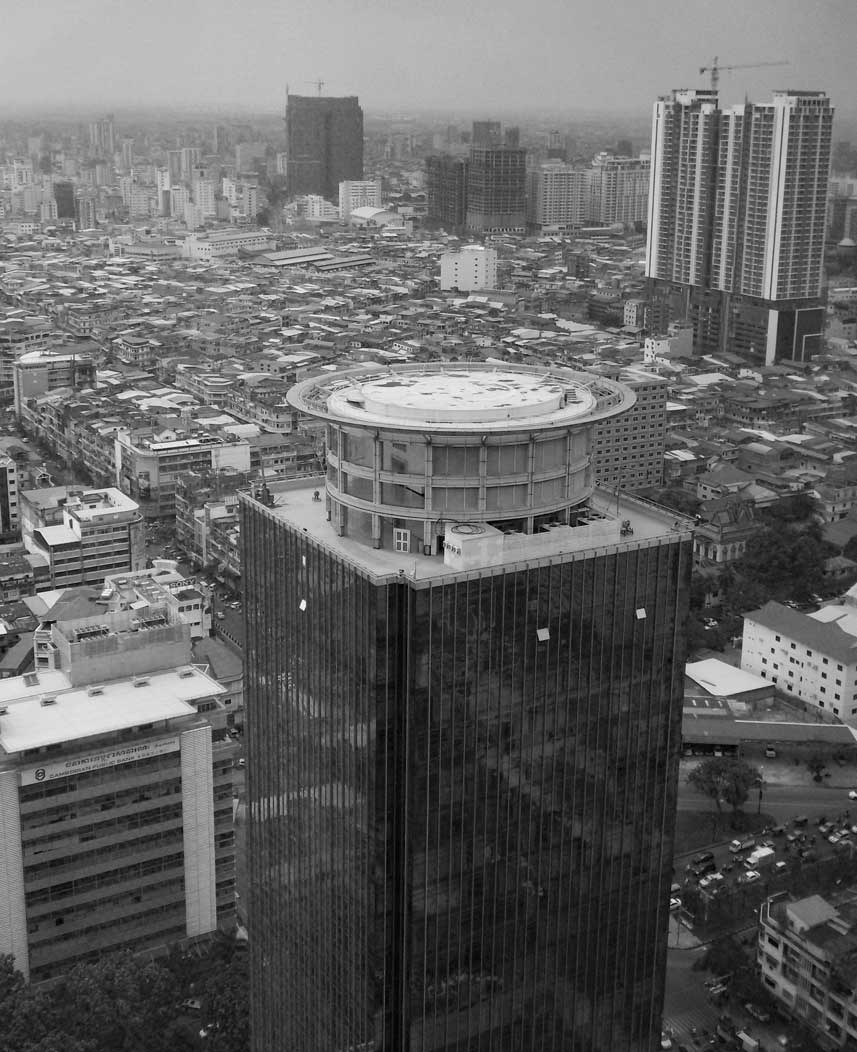 The US government alerted American visitors to Cambodia to avoid crowds and stopped issuing visas to high-ranking officials of the Cambodian government because the opposition Cambodia National Rescue Party was disbanded and an American NGO (non-governmental aid organization), a think tank of the party, was deported. To counter this, Prime Minister Hun Sen of Cambodia postponed cooperation to search for American soldiers in the country and bluntly said, "Is the US afraid of Cambodia?" in his speech.
Although the relationship between Cambodia and the USA is rapidly deteriorating, the capital city Phnom Penh seems to be calm and even vibrant for the reporter maybe because I am not an American national. To the question "What do you want the government to do?", how will people on the street answer? A tricycle driver (44) who was reading newspaper in the guest seat says, "I want the government to support and leave these taxis made in Cambodia. The number of the imports of tricycles from foreign countries such as India is rapidly increasing. They run on gas so ours on expensive gasoline are no match." An owner of a general store (52) near the Palace which many foreign tourists visit says, "Now it's peace and I can manage to do my business. But I cannot save money so I would like to ask them to do something to make my business more prosperous." A casino worker (21) who was buying a drink at a street stall on her way back from work says, "I want agricultural products grown in this country to be sold more expensively. Sometimes imports are cheaper and fertilizer and pesticide are expensive." She told me that she had moved to Phnom Penh about one and a half years ago to work from a farmer's family in Kampong Cham province.
Last Lower House election and after
The Cambodia National Rescue Party had occupied 55 out of the 123 seats of the Lower House. The ruling Cambodian People's Party had 68 seats. It was the first time that the opposition party made such big advance after the multi-party democracy began in this country. However, last November, the Supreme Court handed down a disbandment order to the Cambodia National Rescue Party which had been sued for plotting subversion with foreigners such as Americans and forbade a total of 118 lawmakers and party members to do any political activities for the following five years. After that, the government didn't hold a by-election but took the following measures. The government granted 41 of the empty 55 seats which had been gained by the Cambodia National Rescue Party to the FUNCINPEC Party which had lost in the last election and had no seats, two seats to the Nationalist Party and one to the Khmer Economic Development Party. And the 11 seats which had been rejected to accept by the League for Democracy Party and the Khmer Anti-Poverty Party were filled with lawmakers of the Cambodian People's Party. As a result of this, the ruling Cambodian People's Party has 79, FUNCINPEC, 41, the Nationalist Party, 2 and the Khmer Economic Development Party, 1. Adding the FUNCINPEC Party which the ruling party once had a coalition with and does everything as it is told, the Cambodian People's Party completely secures the two-thirds majority necessary to change the constitution. In the Lower House without any counterbalancing powers, laws restricting freedom of speech, creed and association are passing the Parliament one after another.
Prime Minister Fun Sen used to be generous to the opposition parties, media and NGOs under the situation when his party could surely secure an absolute majority. However, as the approval ratings declined and his prospect for staying in power became threatened, he demonstrated iron-fist rule also in the past. Most of the supporters of the Cambodia National Rescue Party were young people who didn't know the Pol Pot era and factory workers whose number was said to be around 1.5 million. Now that he crushed the Cambodia National Rescue Party, Prime Minister Fun Sen visits workplaces where young people and women work almost every weekend and promises support for wages, house rents and maternity allowances, trying to alleviate backlash from the supporters of the Cambodia National Rescue Party. This country also has an election campaign period of one month before the election but Prime Minister is an exception.
On upcoming July 29, an election to compete for 125 seats of the Lower House in 25 electoral districts nationwide is planned. Its seat number increased by two and electoral district by one because of the division of Kampong Cham Province due to a population increase.
For free and fair election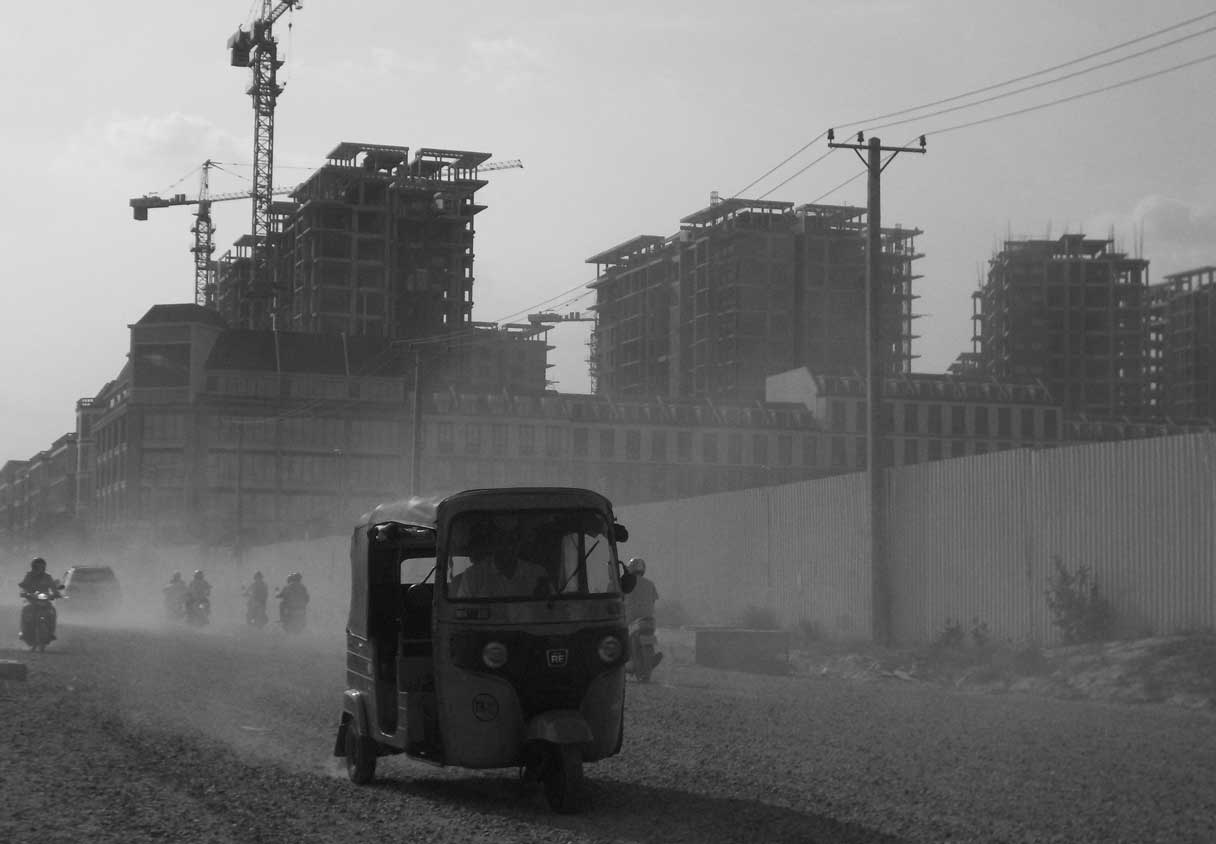 In a huge vacant lot made by reclaiming Boeung Kok Lake which used to be an urban oasis, China is constructing a new town. On a corner of a residential town which has existed since before across this vacant lot, approximately 70 people have gathered for a meeting of the Grassroots Democratic Party (GDP) from the morning. On the front street, there are five plain-clothed officers who came by motorbike but they apparently don't try to check participants' identities or prick up their ears for their talk maybe because this party is minor. Sam Inn (45), Secretary General, says, "We have been obstructed. We cannot put up our party's billboard, or even if we put it up, it is destroyed." Recruiting party members and candidates is based on a human wave tactics by word of mouth.
The party clearly summarizes its policy pledge in the title of "5S". It lists five slogans which start S in the Khmer language; (1) economy and employment, (2) education and youth, (3) health, (4) social welfare and (5) administration. The pledge in the economy and employment category says that the party will realize a loan with an annual interest rate of 5% to farmers and processing companies and export businesses of agricultural products and a grant worth 1,250 US dollars to young people who have started businesses.
On this day, they are having a meeting to decide rankings of a list of candidates for the capital Phnom Penh district participated by representatives from across the country ranging from Battambang Province in the north to Svay Rieng Province in the south. For the Lower House, all the voters can vote directly but it is a proportional representation system where voters can cast a ballot for a party they support.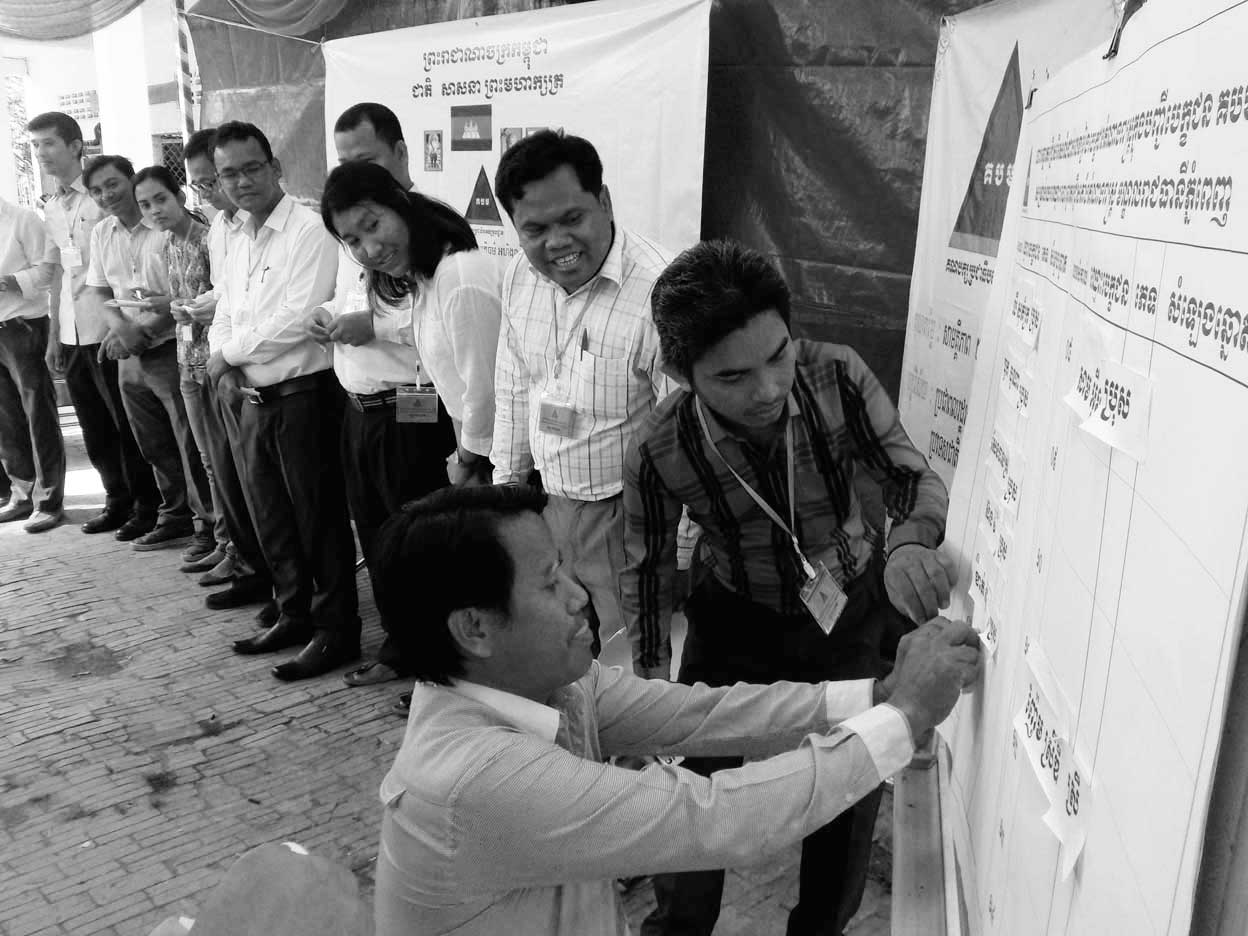 Sam Inn, Secretary General, who is also going to run for the election says, "Gaining 84 seats, namely more than two-thirds, can change the constitution, so we aim to secure 42 or 43 seats to prevent it." However, there are only 11 candidates for the fixed number of 12 for the Phnom Penh district. "We need one more, no, 13 in total because we also need a substitute. If you want to run for the election, please come," he is urging the participants.
Although the rankings of the candidate list of the ruling Cambodian People's Party are decided by Prime Minister Fun Sen, this Grassroots Democratic Party decides them by voting in a stubbornly honest way. The order for speeches is decided by drawing and everyone has up to 10 minutes. In a U-shaped tinplate fence used at a polling station, members tick five names out of 11 written on the ballot paper with an official seal of approval and drop it in a locked ballot box. Ballot counting is conducted in front of everyone. First, they count to check if the number of the ballot papers is the same as the number of the voters, then read out names of the ticked candidates and raise a ballot paper one by one for everyone to see. It looks as if I was watching a scene of social studies at an elementary school. Secretary General Sam Inn explains, "Our policy is characterized by this democratic and fair way when we decide something in the party. In addition, we ask a representative of each province who come here today to make their candidates' lists in the same way as this."
Eleven candidates are in young generation ranging from 29 to 45 years old and have a variety of occupations such as farmer, office worker, self-employed, social worker for the disabled, IT instructor and radio announcer. In the speeches before the voting, each candidate expresses his or her aspiration "if I am elected" after self-introduction including academic and career history. "I am aiming at society where justice is done and everyone can live under the fair law", "society without discrimination and violence", "allowances from the government should be given to everyone without discrimination" and etc. These aspirations are just the signs that they have not been realized in present Cambodia and highlight the social issues.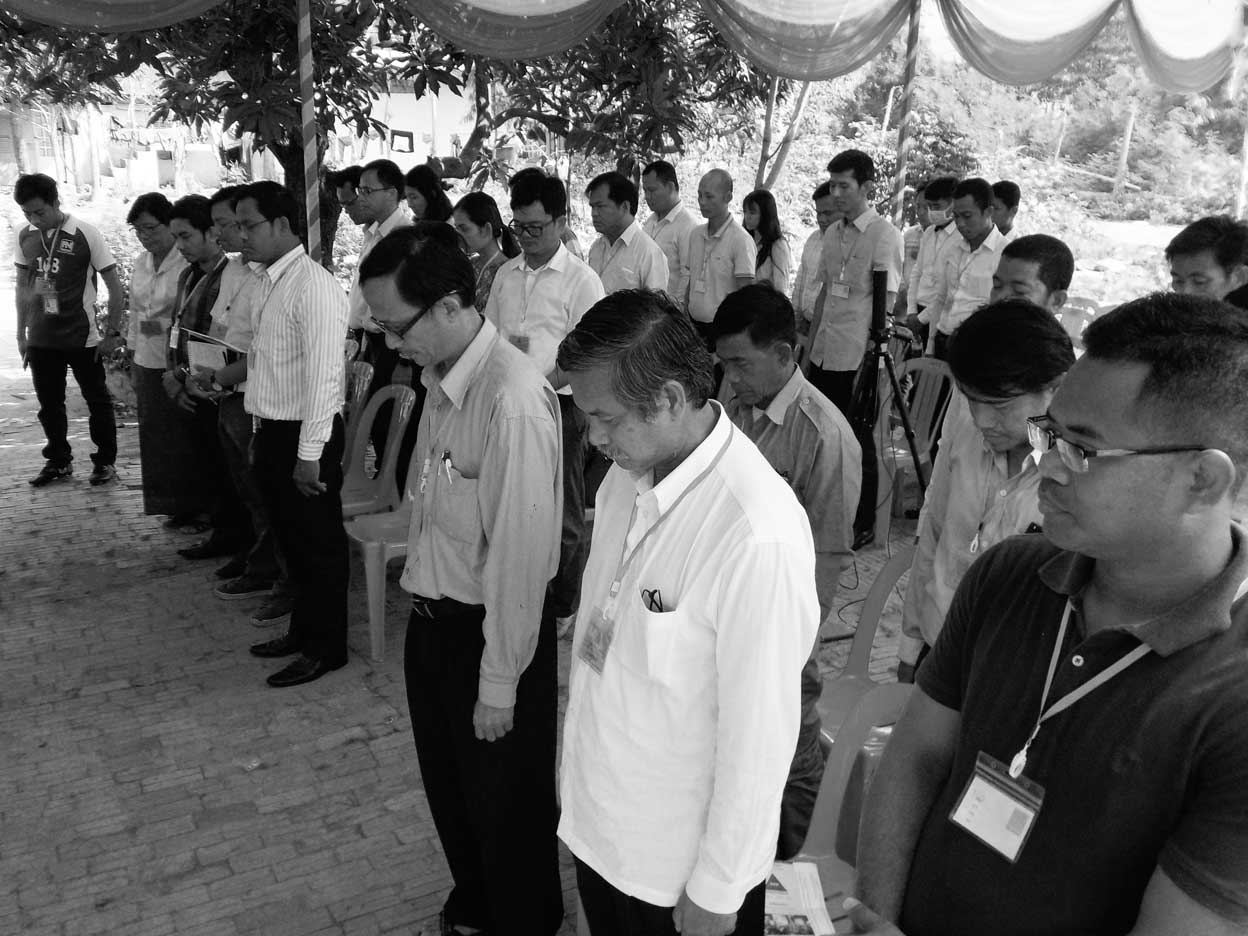 Sam Rainsy, the first party leader of the disbanded Cambodia National Rescue Party, had been prohibited from returning home before the dissolution of the party and Kem Sokha, a party leader who succeeded Sam Rainsy was arrested for subversion last September and he is now placed in a detention house near the border with Vietnam. And the founder of this Grassroots Democratic Party is Kem Ley, a political critic. He was assassinated on the street of Phnom Penh right after he publicly spoke about revenues of Prime Minister Fun Sen' s family in July 2016. The meeting on this day began with a one-minute silent prayer for Kem Ley after singing of the national anthem.
While I was covering this candidate list creation process, a newsflash jumped into my smartphone at hand. "Kem Rithysith, a brother of late Kem Ley, founded the 'Kem Ley Party'." The reason he didn't joined the Grassroots Democratic Party his late brother founded but started a new party is "to eliminate extreme left-wing activists who use his brother's name." Sources say Rithysith received an offering of several thousands of dollars from Prime Minister Fun Sen as a fund to build a tombstone for his brother and it seems that he was completely taken in by the ruling party's tactics to divide the opposition camp into small parties and keep them from being united.
During the speech after the rankings of the 11 candidates were decided, Sam Inn said in front of all the members, "Let's respect and welcome the Kem Ley Party because it is a free, fair and open election." Nevertheless, he also added, "Unless it is a free, fair and open election, we are going to make a decision at the end of March, including an option to boycott the election." That means in that case the Cambodian National Party would secure the absolute majority, which will be apparent even before the vote-counting and holding an election would be meaningless.
Self-serving Senate election
During my stay in Cambodia, the Senate (national Assembly) election took place. Unlike the Lower House elected directly, the Senate members are elected by indirect voting by councilors selected in each area last year and members of the Lower House and they decide 58 out of the 62 seats (two appointed by the royal family and two by the Lower House). Therefore, there are no election campaigns on the streets and the town seems to be normal as a crackdown on protests has become tightened.
However, behind this situation, due to the forced dissolution of the biggest opposition party, approximately 3,000 opposition councilor positions out of 11,695 councilors and Lower House members combined become vacant and the ruling Cambodian People's Party appointed their supporters to the vacancies. Also, about 1,000 opposition councilors switched to the People's Party by prioritizing their positions as the councilors. As a result of this, 91% of the councilors have become the ruling party members or supporters. As is obvious from the result announcement by the election administration committee that there are 25 abstentions on the voting day, the voting rate was 99.79% and all the 58 seats are given to the People's Party lawmakers, the election was tailor-made to suit the ruling party's interests.
According to the constitution of Cambodia, a bill which passed the Lower House is deliberated by the Upper House formally and enacted after the King finally signed it. However, former King Sihanouk who died in 2012 sent back contentious bills to each party to discuss again and didn't sign immediately. During my coverage tour this time, current King Sihamoni was visiting China for a regular health check and when the King is away from home, President of the Senate is supposed to sign bills on his behalf. Therefore, if the government wants to legislate as they like, they need to dominate the Senate with the ruling party members.
The Cambodia National Rescue Party voiced an absolute objection to the results of the Upper House election on the same day with the following three reasons. Firstly, the election administration personnel violates the constitution. Secondly, councilors and lawmakers are not selected representatives. Thirdly, lawmakers selected by people including the National Rescue Party's members are absent. In addition, they request intervention by the United Nations and friendly nations to rebuild democracy in Cambodia. As people concerned with the National Rescue Party are arrested if they conduct activities inside the country, the contact number for this statement is the one in the USA.
"Election administration is no longer neutral"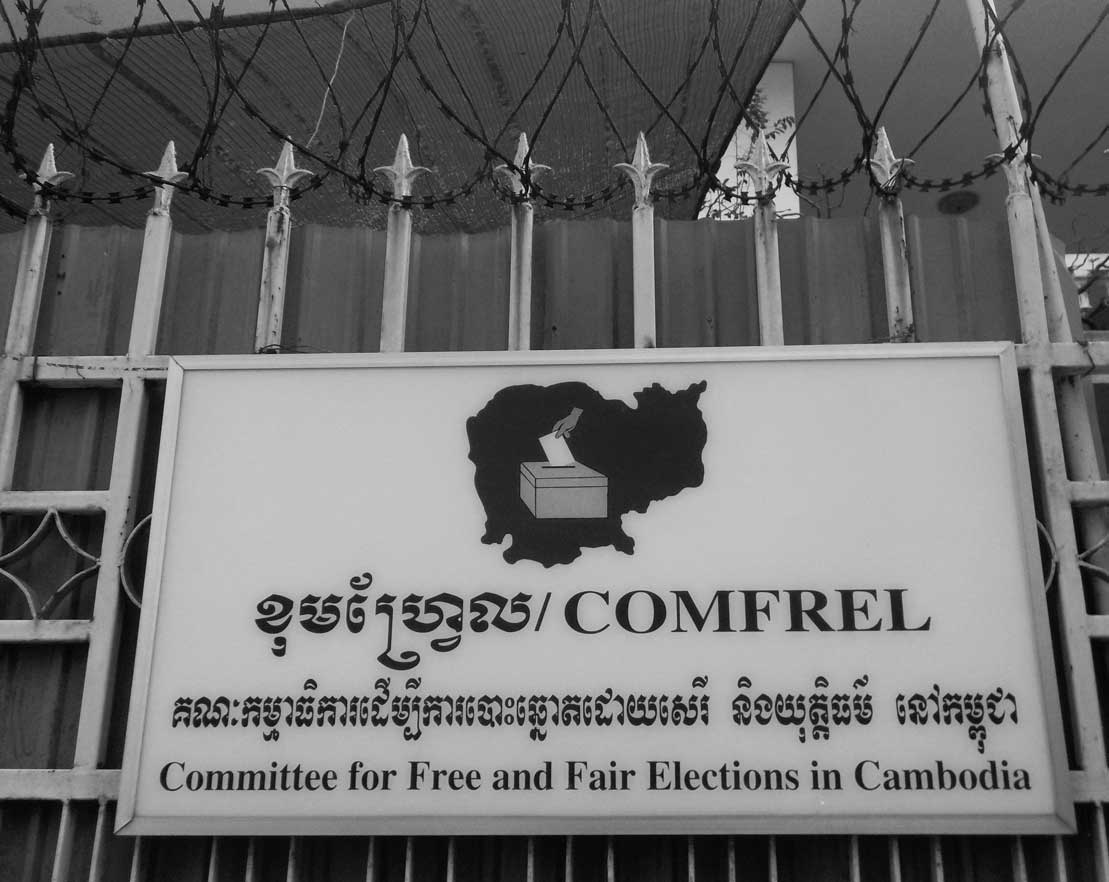 "We once had an obstruction that when we were having a meeting in a local city, an ice cream vendor came and kept ringing a handbell in front of the meeting room for the whole day. Yes, the local chapter of the ruling party bought out an ice cream vendor and … " COMFREL (Committee for Free and Fair Elections in Cambodia) is an NGO which has been cooperating with the election administration committee of the country to implement free and fair elections as the name indicates since the establishment in 2009. However, Koul Panna, Executive Director, fled from the country for fear of his physical safety last December and is appealing Cambodia's plight in foreign countries like Thailand, Canada and Australia. In place of him, Kim Chhorn (44), Senior Program Coordinator, explained a situation at the central office of the committee.
After the Western countries withdrew from election system reform saying that if they support elections which they already knew that they are not fair elections, it means they approve such elections, the Japanese government announced to offer 7.5 million-worth voting equipment such as ballot boxes to the election administration committee of Cambodia. Kim Chhorn gives a candid opinion on this matter, "It is OK if Japan supports purely technical operations of elections but does Japan know that the election administration committee is not a neutral organization anymore?" The election administration committee is composed of nine members and it used to have a balanced structure, four from the ruling party, another four from the opposition parties and one from NGO. However, since last November when the disbandment order was given to the Cambodia National Rescue Party, the four from the opposition parties were replaced by ruling-prone members from small parties and presently eight out of the nine members are supporters of the current administration.
For the Lower House election to be held in coming July, COMFREL is surely making an activity plan; (1) study election procedures, (2) research polling stations' facilities, (3) make a check list to monitor casting and counting votes, (4) station about 10,000 special observers at polling stations around the world and (5) count votes by themselves at 2,000 polling stations. However, they will decide whether they will implement all of them or partly, or cancel everything, considering the situation of the beginning of April when all the running political parties and candidates will be announced. I asked, "In what case, will you cancel everything?" He answered, "It is difficult to answer. You know?" That means if it is found out that the election will not be fair and justice, all the activities will be meaningless. "Unless the election administration committee is trusted by all the parties and voters, election results will not be trusted either." When I thanked him after the interview, Kim Chhorn said, "It is as if the situation turned back to before UNTAC (United Nations Transitional Authority in Cambodia).", making a forced smile.
Government taking a strong attitude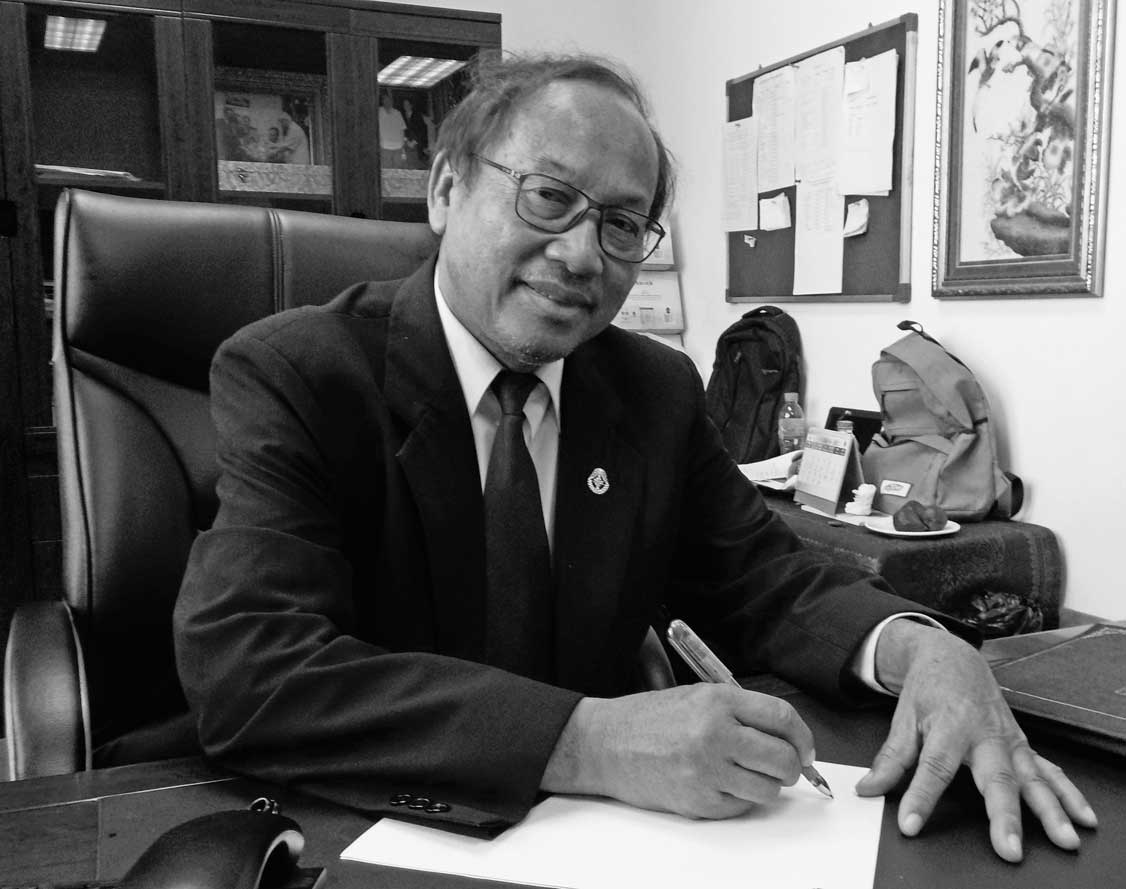 Western countries stopped support, thinking continuing support means admitting election results. Spokesperson Siphan Phay who accepted an interview at the Office of the Council of Ministers raised his voice, "The election administration committee operates an election under the law and whether to admit the election results or not will be decided only by the Cambodian government so foreign countries including western countries should not say anything about it."
He seems to have his own opinions about democracy and Japanese history and talked back. "What countries, including Japan, had democracy before the Industrial Revolution?" He speaks as if there have occurred no modern industries in Cambodia yet, but the Cambodian People's Party emphasizes that the country has kept an economic growth rate of 7% for the past two decades. Even so, the ruling party says the country needs foreign capital to rank with other ASEAN countries. "Prioritizing peace and stableness (investment environment) (than democracy) is what this country chooses."
The government expresses a strong antipathy against the former Western bloc countries' intervention into the democratization process as interference in the domestic affairs and even made a new law. On the other hand, however, Chinese language can be found everywhere as is shown in the fact that not only at toilets around town but also those in the Office of the Council of Ministers have Chinese signs. This country has been strongly influenced by China as if it were a Chinese colony. After 2010 when Cambodia and China signed a strategic economic development cooperation agreement, country building by China has been spurred on and the influence by China has been further strengthened. "Japan lost the war against the USA and has been under the US umbrella but the country has kept its own culture. So is the relationship between Cambodia and China. Money has no (Chinese) smell," he says unabashedly.
According to the government statistics, the national budget for 2017 of Cambodia is 5.04 billion dollars and accumulated debts to foreign countries and international organizations amounts to 6.2 billion dollars. Out of them, China occupies 47.5%, close to the half, and the Asian Development Bank, 18%. Japan accounts for only 3.9%, which is less than Korea. Although the government began announcing debt amounts at the request of the opposition parties, if the one-party dictatorship continues, obtaining the statistics will be difficult again and a path to democratization will be again far away.
"Situation will be even worse"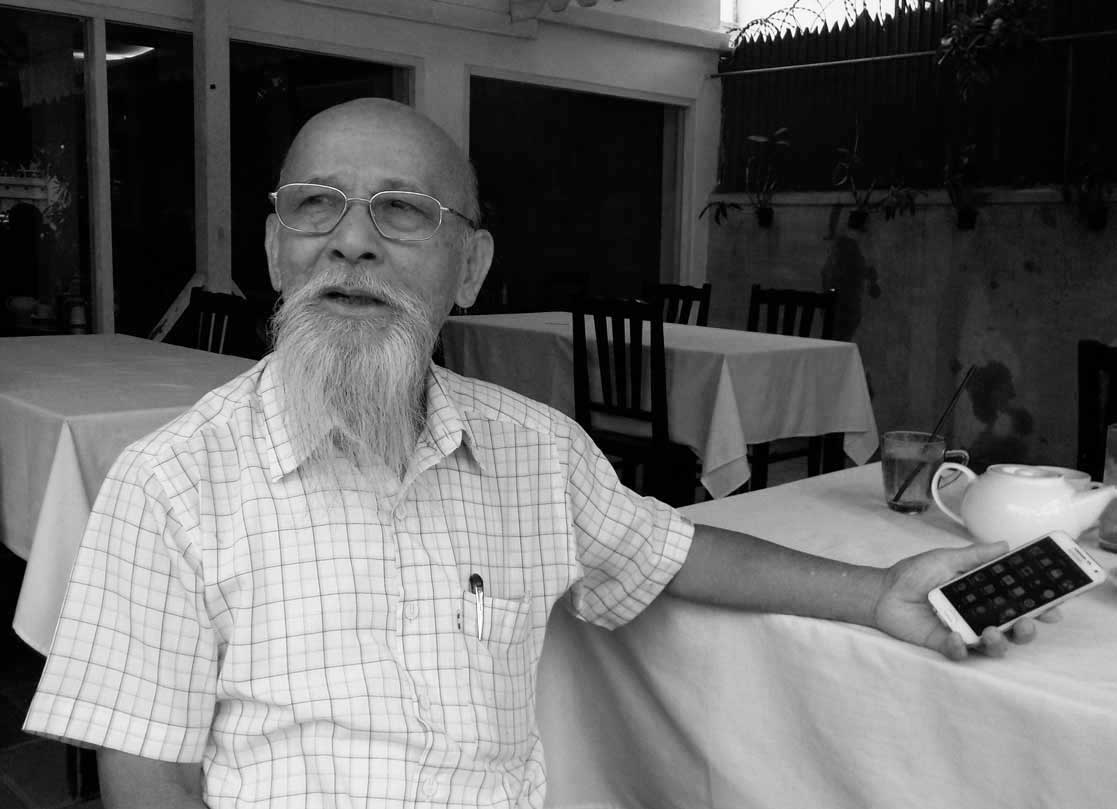 "A country of communist dictatorship does not complain like western countries and people can amass personal fortunes with that country," says Mong Hay Lao (72) who is one of the few media figures to accept an interview by foreign journalists. When he was in England as a government-sponsored student, Pol Pot came to power and he could not return home. In 1979, he came to a refugee camp in Thailand. "As I am not criticizing individuals and speaking in light of the constitution, I am not arrested. It means stronger and younger tigers have appeared in front old tigers." Cambodian people have become more educated and healthier over the quarter of a century. Present administration is completely corrupt from top to bottom and nothing goes along without paying bribes. People have come to be aware of such social unreasonableness of society and in short, people have come to criticize the government. Thus, he explains a change in Cambodian citizens.
He has been in Japan for 11 times and calls Prime Minister Fun Sen "Shogun" of Cambodia. He compares present Cambodia to the Age of Provincial Wars of Japan around the 16th century. Especially since two years ago, he has often worn a military uniform with five starts on the shoulders. He makes the army pledge loyalty to him as Commander-in Chief and sends army personnel to the police and the security police to suppress criticism against the government and anti-government activities.
The present administration tries to maintain just a form of a law-abiding nation but revises laws, make new laws and tries to contain young tigers. That is how the old communists did, which cannot keep up with the present times. In order to pretend a multi-party democratic politics, the administration wants to make powerless new parties to the extent that the ruling party can secure an absolute majority. If an election takes place in the situation without freedom of speech and an (powerful) opposition party, the political mess continues and will be even worse as the public opinion of mainly young people has not changed. Although Mong Hay Lao expressed his candid observations and prospects, we talked in a private room of a café, just the two of us.
Japanese businessman welcomes stability = dictatorship?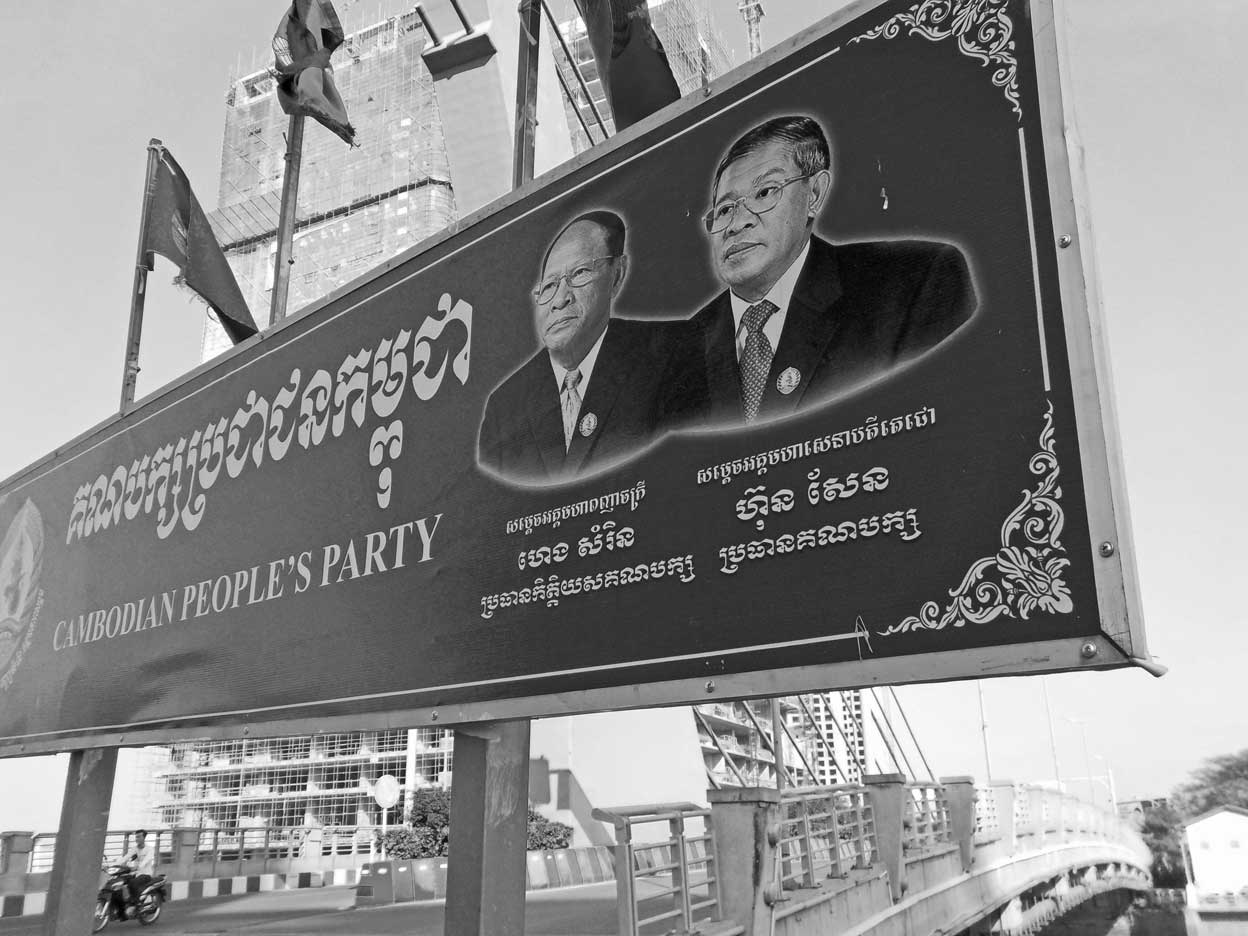 "Members of the Japanese Chamber of Commerce and Industry thinks stability is more important." Living in Cambodia for more than 20 years, a Japanese man operating a local trading company basically supports Fun Sen's dictatorship. The place he chose for the interview is a redevelopment area called "Diamond Island" whose right and interest are held by Prime Minister Fun Sen's daughter. His self-introduction on the website reads, "I could grow up with the economic growth of Cambodia. I am very lucky to be in a high-economic growth country, not in Japan with shrinking trends. It is a sandbank of the Mekong River. On the former farmland, European-style convention facilities and a park have been already completed and high-rise building construction by Chinese companies is proceeding with big hammering sounds.
"I understand the western way of thinking that a mistake is a mistake. But in the world where the USA is not an only power, I wonder if making such a black or white judgement is good. Rather, Cambodia is taking an interesting position."
He studied development economics at a Japanese university and worked as a student volunteer for the United Nations High Commissioner for Refugees (UNHCR) and says, "If I were a student and come to this country, I would be angry and take some actions. But now I am in a different position. By the way, I think the National Rescue Party's lawmakers are chickens." More than 200 people including family members and supporters took refugee abroad and he thinks if they had remained in the country even if they had been arrested, they could have attracted more attentions of the international society to this abnormal situation and a new development might have taken place for the democratic camp.
"Western countries would not take the same response if a country which shifted to anti-democratic policy were a big country, not a small country like Cambodia. An arrogant attitude making light of Cambodia makes this country cling to China." Although he is a Japanese, he lives in this country for many years and speaks for the Cambodian people's pride.
As the American Government regrets a series of anti-democratic movements and decided to stop or reduce government aids following the suspension of visa issuance to high-ranking officials of Cambodia. The White House cannot be unaware that these measures will further strengthen Cambodia's dependence on China. If the Lower House election in July is not conducted fairly, Western countries will be even ready to impose economic sanctions. If taxes are imposed on clothing and shoes which can be exported to western countries without duties now, factories in Cambodia will lose in international competitions and be forced to close, dismissing hundreds of thousands of workers. Most of those factory workers are women who come from rural areas to work and support opposition parties so it will score a direct hit at a life of citizens who place a future hope on democratization.
Gap with international report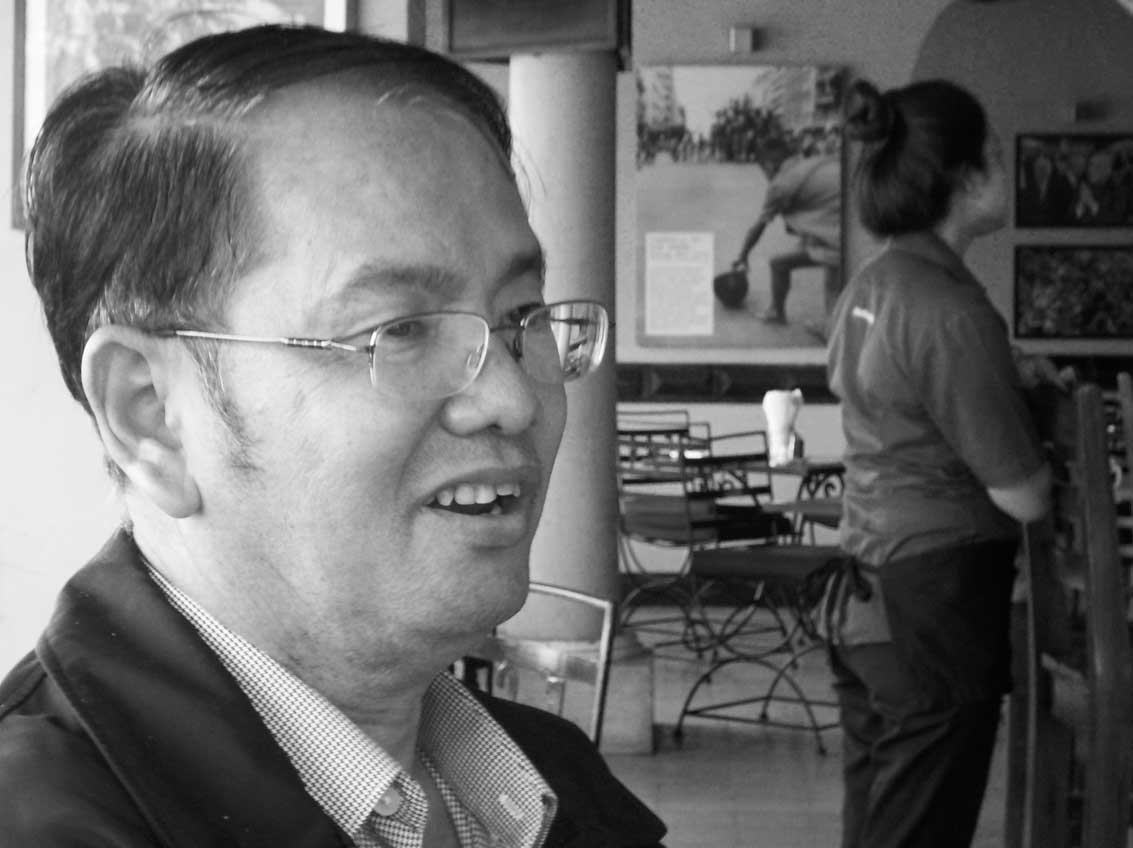 Along with the discontinuation of the "Cambodian Daily", closure of "Radio Free Asia" last September made international headlines as "regulation of freedom of speech and retrogression of democratization". Um Sarin (58) became a newspaper reporter right after the end of the Pol Pot era and served as a reporter of Radio Free Asia from the launch in Cambodia to 2015. He tells me the truth, "Reporters had been informed of the closure two month before. Although it was a voluntary closure, it was changed into a news story that the station had been ousted by the Cambodian government."
American Senators started Radio Free Asia with an annual budget of 2 million dollars and broadcasting equipment was carried to the local station from the US Embassy with guards in 1997. When foreign media opens a local station in this country, it has to submit a report to the Ministry of Information. However, the authorities didn't come even for inspection, maybe because they could not come out of regard for the US government, according to him.
When a monthly salary of local media was 300 to 500 dollars, Radio Free Asia paid 2,000 dollars. An old friend of mine told me, "To tell you the truth, I was invited to work there, but I said no because it was too dangerous." It is said that Free Asia had a basic premise that "there is no freedom in this county" from the beginning and reporters were always forced to write negative and critical articles about the government and policies, and they were sent to cover dangerous affairs with a risk of being killed such as illegal logging in lawless jungles. I heard that they often incur interviewees hatred and are revenged. One of the 30 Cambodian reporters is still suffering from a mental disease after he was crashed by a car and another one finally died after long hospitalization because of an injury when he collided into a car door which suddenly opened while he was riding a motorbike.
Um Sarin says, "The reason of the closure is as the propaganda broadcasting could not prevent Fun Sen from continuing to stay on his position, Washington cut the budget, thinking "no effect". He quit Free Asia two years before the closure and now is a producer of CNC, a local TV and radio station. He said the station could report the Upper House election without any obstruction. However, only the results affirmatively. They could not mention the statement by the National Rescue Party which the Supreme Court decided illegal. Even so, if they could gather evidence, they can write a critical article, for example, forceful requisition of land for a development project by a billionaire or wrongdoing by an official as long as he is in a low rank. "But not a high-ranking official. Without life, there is nothing", he says in self-depreciation. In this way, he could keep being a journalist for more than 30 years, from the Heng Samrin administration era, UN governed era, People's Party and FUNCINPEC coalition government era to the current Fun Sen dictatorship era.
Transplanted democracy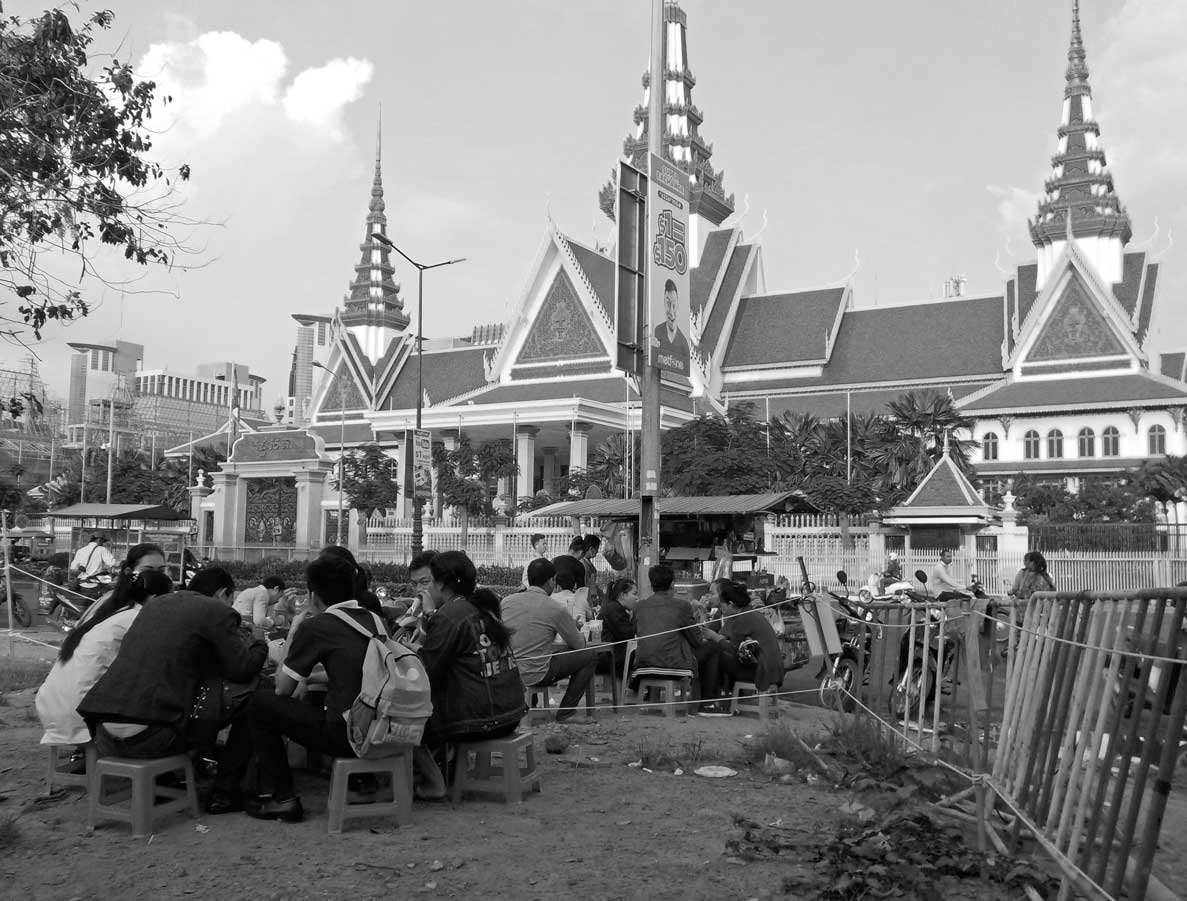 In 1991, Cambodia ended the Civil War and following the United Nations Peace Keeping Operations which Japan also participated, transient government was inaugurated in 1993. While I was covering the process, I translated a draft constitution into Japanese and vividly remember it was a model democratic constitution.
I once interviewed Yasushi Akashi, Special Representative of the United Nations Transitional Authority in Cambodia (UNTAC), right before its withdrawal. "We just planted a seed of democracy and watering and growing it is Cambodian people's job. Even for England, France and the USA, it took more than 200 years for democracy to take root and it is not perfect yet. Each country has its own process. Democracy in a Cambodian way is OK." He reflected the significance of Cambodia PKO with this comment which can be interpreted as either respect for independent self-rule or escape by limiting his responsibility.
Intellectuals of this country whisper even if democracy is distorted, no foreign countries will interfere politically as long as economic society is stable. That is easy to imagine because Thailand on the north under the military rule and Vietnam on the east under the continued communist dictatorship are achieving stable economic development. Nonetheless, like the last Lower House election in 2013 if Prime Minister Fun Sen and the King grant a pardon to Sam Rainsy and he, with potential popularity, returns before the election, we cannot tell what will happen.