Laos & Vietnam
From Glass-root Development Scenes
August 1997
"Sustainable,"this is the keyword
When the asphalt-paved road built by the U.S. army to transport placation supplies turns to the unpaved road of red clay, plains in white stretch on the both sides of the road. The white should not be snow because the thermometer reads 38 degrees centigrade. Here is Hue Province in the central part of Vietnam. The white sands and the mountains close to the coast are peculiar to the central part of the country. Scattered round-shaped tombs gave me the impression that this was barren land. On the mountains, which were defoliated to annihilate guerrillas, nothing except grass grows even more than 20 years after the defoliation. The exposed surfaces of the mountains are abnormally smooth. If street children in towns are shadows cast by Doi Moi, villagers in the middle part of the country haven't seen even its light.
The foreign NGOs (nongovernmental organizations) that are giving aid to Vietnam amount to 500 at present. But most of the aid goes to Hanoi and Ho Chi Minh in the shape of money and goods without posting their staff. There is, however, a daring Japanese NGO that is in operation in the middle part of Vietnam. The area lags behind in development and hasn't received much help. I spotlighted that NGO.
A cloud on Doi Moi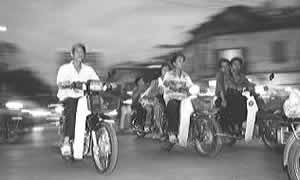 It is at the end of the year 1986 that the Socialist Republic of Vietnam introduced Doi Moi (Renovation) policy formally. Vietnam is hurrying to industrialize the country with the aim of supplying electricity to every household in all parts of the country by 2000 and being recognized as an advanced country by 2020. The country had been growing at high level of 9 %, but the number of tourists for the first half of this year decreased for the first time, and undoubtedly the economic growth is slowing down. This country has been suffering from chronic trade deficits and financial difficulties. Such a country's policy to introduce foreign capital is not attractive to foreign companies. There is no privilege of exemption from taxation for a startup period, but there is a severe limit to the amount of money that a foreign branch office sends back to its head office. On the top of that, the government imposes income taxes on employees assigned to the office in Vietnam, so that not a few foreign companies have started considering withdrawal.
On July 20th this year, the 10th election for the members of the National Assembly (450 seats) was held nationwide all at once. Hoa Ran (27), an office worker, said, "Expectation? The persons who will be elected are already decided before the election. The election is just a performance. Even if the three top-level executives retire, the advisers will remain." She said she couldn't put her hopes on politics. Under the election system candidates are designated by the National Front, a support organization of the Communist Party. For all a drop of 6 points from the last time, the number of candidates from the Communist Party for this election amounted to 83 % of all the 663 candidates. The independent candidates were only 11, out of whom three were elected. But this number was far from affecting the Establishment.
The results of this general election showed that the dictatorial regime by the Communist Party was firm, but the party is Communist only in name. The government hastens to privatize local services of medicine, education and welfare to reduce the social administrative budget. Moreover, under the policy that local communities should bear the expenses to control and maintain the irrigation canals and roads within their own villages, the government collects taxes on more than ten items from the communities. In May of this year, the farmers suffering from heavy taxation rose in a riot in Thai Binh Province, where the executives of the Communist Party built luxury houses, and where a corruption scandal over the reserved land for the cooperative society was brought to light. Also in Hue Province where I visited this time, there was talk that a quarrel between a tax collector and a local former soldier developed into a murder case.
The grass-roots assistance by the pioneer NGO
The Japanese Voluntary Center (JVC), a pioneer of Japanese NGO, has provided assistance for the Vietnamese people in villages along the coast in Hue Province since June 1993. Many of the dwellers are the Pa Co, Ta Oi tribe, an ethnic group, and people having lived on the water before. Their gross domestic product (GDP) per capita is half the national average DGP of about 300 U.S. dollars. They are in the poorest bracket of the Vietnamese people half of which live below the poverty line of the World Bank index.
The population of Vietnam is about 75,000,000. 90 % of them are so-call Vietnamese and the rest 10% are 50-odd ethnic groups living on mountainous lands, which account for two thirds of the national land. After the Vietnam War the traditional life-styles of the ethnic groups have changed. The main causes are that 1) the Liberation Front provided rice or something to win ethnic groups over to their side during the Vietnam War, 2) forests essential for their living were destroyed with defoliant sprayed by the U.S. Army and 3) after the war the government moved surplus population of the cities to the "New Economic Areas" in remote corners of the country to cultivate lands.
However, the people who migrate from forest to forest have lived on the blessings of nature and don't know how to farm in a fixed place. Glutinous rice used to be their staple food but now it is food for a special occasion or for a guest. They usually eat cassava, nonglutinous rice or greens. They sell bananas, firewood, cassava and pineapples and buy dried fish, salt and seasonings. They are deficient in calories and nutrition. I heard 60 % of the children in this country were undernourished. Following the former Ho Chi Minh Trail I visited two villages in Aluoi County. They are typical villages of such ethnic groups. In Hongbac Village there are 1,345 villagers living in 210 houses. In Dongson Village the number of villagers has increased because people in a mountain village about 50 km away from Donsun Village have moved in since 1991, and now there are 986 villagers in 173 houses.
Mr. Tatsuo Ito (46) has involved in agrarian development activities in those impoverished villages from the early stage of preparatory research up to the present. He has resided in Hue as a representative of JVC for five years with his wife, whom he met when he was a member of the Young Cooperation Corps. When he was in his third year of high school, he learned of starvation in Biafra and thought he would never be short of a job wherever in the world he was with knowledge of farming, and then he went to Tokyo University of Agriculture. He joined an assistance activities club at university and went to Korea and Bangladesh. The experiences there brought him to this work. After graduation from university he went to Laos where the social revolution had just carried out successfully. He taught there for two years how to cultivate rice. He also went to Ethiopia where the military was in power, and helped with agrarian development for three and a half years. But then he came up against a brick wall. In developing countries the dictatorial governments are prone to make much of large-scale or quantitative aid projects to show their authority to their citizens but make light of educational projects that are less noticeable but essential for development. Before he came to Vietnam, he had studied development in Holland.
If some assistance is given to a government agency, it doesn't always reach every part of the country. If money or goods are provided directly to ethnic groups and poor people, they are not prepared to use them effectively. Through the experiences JVC thinks the key word for development assistance is 'sustainable.' After a feasibility study on a projected site for agrarian development, JVC asks the villagers to organize a "village revitalization committee," and then it also asks the committee to propose their requests and plans. All JVC does are to provide information and starting capital and to teach how to manage the business. They are trying to stick to their principle that villagers should make a plan and carry it out by themselves. JVC's aim is to make villagers develop themselves on their own as soon as possible.
The deputy governor of Aluoi County, Boo said, "The genuine assistance is not to give fish but to teach how to catch fish. If the villagers are not capable of doing something by themselves, nothing can be done after all." He seems to sympathize with JVC's principle. The projects that JVC has carried out for over four years in mountainous Aluoi County and in coastal Phu Vang County are too many to mention, including the construction of infrastructure such as farm roads and irrigation canals, the cultivation of various kinds of crops, the teaching of farming methods such as the contour farming method to prevent soil from flowing down slopes and the high-yield duck farming method without any agricultural chemicals, afforestation to improve soil in the sands, the introduction of a new breed of pig, training for veterinarians, lending money to expand farming, and so on.
Trial and error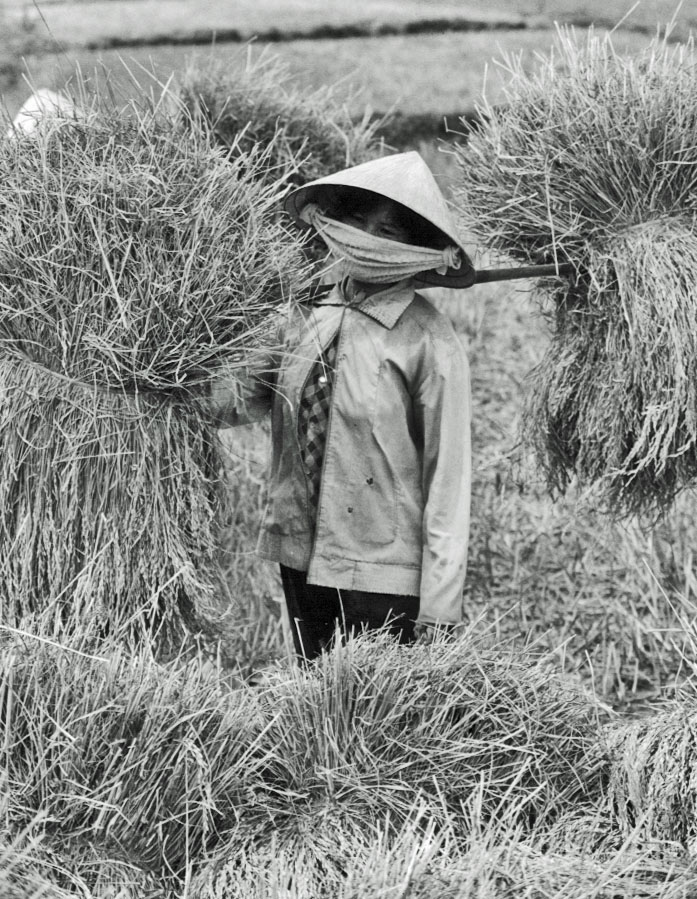 Nguyen Tee Ruck (50) in Vinher Village on the white sands said with a smile, "I'm so happy that peace has returned. Nothing is better than peace. Doi Moi doesn't concern these remote country places."
Her husband was a soldier of the Liberation Front and injured many times. As he is pensioned by the committee for wounded soldiers, he is engaged in farming. According to him, his family budget was tight, but their living is improving gradually because he can raise pigs with the help and guidance of the committee to animate villages. Now he can send his six children who had to help their father with the farming. Although he needs one million dong (about 9,000 yen) a month to support his wife and six children, he can even save money to give his children higher education.
Kan Be (37), who is a member of the village revitalization committee in Hongbac Village and a mother of three children with a 17-year-old child at the top, said, "We want books on poultry to teach women how to raise chickens. Also we want to repair roads so that our children can go to school in rainy seasons." Her comments were connected directly with their living. But she didn't mention that the villagers wanted to be served with electricity and to have a TV, a refrigerator and an electric fan at home. Maybe she knew NGOs couldn't grant such requests. I wonder NGOs have captured the hearts of the people through their grass-roots assistance activities. Six kilometers away from the village is the central part of the county, where the county office lies. To that area electricity has been supplied since three years ago.
According to the report completed by Hue University in June this year, 100 % of 133 family respondents said that JVC's agrarian development projects were useful; 63 % said their living became stable; 33 % said their family income had increased. Not to speak of the village revitalization committee, the county government speaks highly of JVC's projects. But every project is not always going well.
Examples of unsuccessful projects are as follows. Villagers started to raise cattle on loan, but many cows died. The deaths were caused by snake venom, a lack of proper fittings in cowsheds and a lack of villagers' understanding of protective inoculation. Villagers introduced a fleshy new-breed of pig, but the pigs died. Because the pigs ate the same food as the villagers did, so that feed for the pig ran short. Then the committee made a rule that if a pig died within two months, the owner's payment would be cut down to half. But some villagers cannot pay even that money because they barely manage to survive one day to the next. JVC gave some assistance in constructing infrastructure such as sinking a well, but some of the works were not successful. Since in the village there was no one who knew how to use cement, they had to place an order with an outside building contractor. As a result, the work proved to be poor cost-efficient. A village built an improper-sized irrigation canal because of a tight budget, but it was too small. In the rainy season the water flowed out and eroded a road. A day-care center was set up, but it has been closed because the county has not paid the nurses enough.
There were some other unsuccessful projects caused by a difference of values between JVC and villagers. For example, villagers are willing to plant mokumao trees because they are salable as firewood, but the villagers have no interest in planting acacia trees because they bring no immediate profit, though the acacia trees change the condition of sandy soil gradually to the soil useable for farming. There were some members of the village revitalization committee who had been selected but quit when they found their income would not increase. There was an accountant whose character had changed since he started to handle a large amount of money. Also there was another accountant who ran away with the committee's fund. A question rose in my mind whether villagers were thinking that such assistance was given by rich people as their charity or they just didn't have a clear conception of contract. Anyway, the NGO's purpose is not to find the answer to that question.
Mr. Ito would rather change the tendency for villagers not to propose any concrete plans unless the NGO takes the initiative and the tendency for the NGO to ignore an idea proposed by a villager even if it's a good one, but accept the same idea when it's proposed by an outsider. It is very difficult to make a new plant take root in infertile land, and so is to make autonomy take root in the minds of villagers who are suffering extreme poverty. He evaluated his past activities in Vietnam as 60 points out of 100. The reasons for deducting the points are 1) the activities were not always carried out in accord with the NGO's theory of development because many of the village revitalization committee members were also the members of the People's Committee, 2) villagers' attention turned to the amount of the money when another NGO provided financial aid with a lot of money, and 3) ecologically friendly production projects didn't make any progress because they were attended by management risks.
Even a staff member of NGO has to make his own living. The word "volunteer" means "of one's own accord", but its true meaning is apt to be forgotten and the word is often interpreted as "without pay." Compared with company or government employees assigned to their foreign offices, NGO staff are poorly paid and treated badly, so not a few members have given up getting married or having a child. If they are not of their own accord, these conditions are too severe to accept. If you want to take part in those volunteer activities, you have to be involved in the project thoroughly from the early stage of preparatory research to the completion. Just providing money or goods doesn't produce fruit. You cannot do such volunteerism only during your vacation. So "professional volunteers" like NGO staff are required. In passing, JVC's budget for activities in Vietnam for a year is about 4,900 million yen, including activities in other places. The total amount of budgets is far less than an ODA (official development assistance) budget for constructing a big hospital. However JVC has been able to carry out their grass-roots development activities extensively like this. That, I believe, is due to volunteerism.
A new style of assistance for restoration
♪We came here, you and me, two times here to Hue, All sweet memories live in Hue
A night breeze with a suggestion of sweet fragrance was blowing pleasantly over the Perfume River (the Huong River). The pleasant breeze dismissed the scorching sunshine from my mind. On the boat, a musical band in native costume was playing ancient music. When I tipped generously, taking advantage of the economic disparity, I had an illusion that I was invited by a royal family of the Nguyen dynasty. Meanwhile, people on the bridge were looking down enviously at the grand dinner on the boat.
Ten-odd kilometers up the river, there is an imperial mausoleum of the second emperor of the Nguyen dynasty, Emperor Minh Mang, who reigned from 1820 till 1841. The mausoleum and the former palace have been designated as "the World Cultural Heritage" by UNESCO (United Nations Educational, Scientific, and Cultural Oganization). The restoration of this mausoleum has been under way since last August with the help of the Toyota Foundation, the Ministry of Construction and the Japan Foundation. Under a covering in front of the temple Sun An, Yutaka Shigeeda (43), who teaches architectural history at the science and technology department of Nihon University, was measuring one of the exposed foundation stones of a temple which had been taken down.
He has concerned himself in Vietnam for nine years. He spent 220 days in researching Minh Mang Mausoleum since 1994. The number of the Japanese staff members is four, including him. "After dismantling started, many articles in various eras have been found. So we put each of them on record. We sometimes dare to put off the restoration works, because we have to examine the materials carefully," he said, wiping perspiration from his brow.
Doi Moi has been successful, and cultural assets are drawing people's attention. But I cannot say it's gratifying, because the restoration works haven't done properly. Quicker restoration is demanded to attract tourists as soon as possible." He was worried.
So far for restoration foreign countries have born the expenses and Vietnamese have worked. In that way, it was difficult to make a scientific investigation, while carrying out restoration works. But for this restoration of Minh Mang Mausoleum the Vietnamese government provided funds. "Vietnamese technicians are very earnest this time. I hope that this work becomes the touchstone for restoration and that a system for scientific restoration and preservation will be formed on the Vietnamese side," said Shigeeda. But he emphasized that he wasn't doing this for the government. "I'm now making an investigation with Vietnamese people who have the same desire to restore the cultural assets as I have. I'm not thinking of transferring our technology to them. I just want to investigate Vietnamese techniques of building and restoration in cooperation with Vietnamese people," he added.
During this stay in Hue, I had an opportunity to talk with a Japanese group on a study tour. One of the members asked the NGO staff, "Aren't schools sufficient in number?" If there are budgetary limitations, a higher priority should be given to the supply of textbooks, teaching materials, lessons in two shifts and training for teachers in remote places than the construction of a school building which costs a lot of money but is just for form's sake. Another member remarked, "I don't want this country to be like Thailand" They criticized this country for not being civilized. I doubted they were prepared to put up with inconvenience in undeveloped regions. They never ate a piece of ice on the grounds that it was unsanitary. Shigeeda said, "If they have an opportunity to work hard together with local people in Asian countries, they will make friends. But if they come with the aim of only cultural exchange and friendship, they will never know Asia at all." During a chat with him, he implied his admonition to that Japanese study tour.
Complementing each other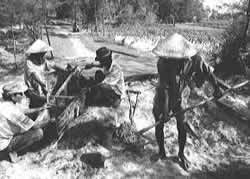 I accompanied Mr. Tatsuo Ito when he made a round of villages. He said in a jolty car with four-wheel drive, "In Vietnam many people are still struggling to keep body and soul together, worrying about the next meal, while in Japan motiveless murders are increasing in number. Japanese young people never think of the hardships of their predecessors or give the slightest thought to such basic questions as what man lives for. I believe exchanges will help two countries to complement each other. The Vietnamese government is making an effort to maintain socialist morals and social justice to check harmful effect of development. I'm worried that Vietnam will become too enthusiastic about economic development. Vietnamese people may be better off materially but they may degenerate morally. I don't want Vietnam to be a warped society like Japan."
There is an argument that has often been put forward after the Cold War between the East and the West was over. The people in industrial countries claim that however often they give their advice to the people in developing countries from their bitter experiences, the people in developing countries will not take notice of it until they are in trouble themselves. On the other hand, the people in the developing countries claim that it is the haves' egoism. Mr. Ito, who spent half his life on helping developing countries with their development, said, "It is them who have the right of choice, not us. But advance information may affect their choice, so I'll inform them what they should know. When they stand at the crossroads, I hope they can bring it to mind. That alone satisfies me."
The government of a developing country usually wants expensive and fruitful aid projects of short duration, but JVC's grass-roots development project has been under way for more than five years with the approval of the deputy governor of Hue Province and the chief of the Agricultural Bureau. It is, however, a prerequisite for success in assistance activities that a NGO should withdraw from a project site when villagers are ready to stand their own feet. Mr. Ito has decided that JVC's activity in Hue should finish within two years. "I'm only an unpractical farmer. I want to take up farming for myself soon–somewhere in the countryside of Japan." He wriggled his grizzled mustache.
Vinher Village is on the white sands, which looks like a snowfield. The village headman's assistant, Chan Ton (37) said in a crisp tone, "The government doesn't help us when we have trouble with a private matter such as a loss of livestock. But within the village we help each other. If someone loses his/her house by a typhoon, each villager contributes his/her own share. Our village also has a system for a reserve fund. We want to increase the number of kinds of crops, expand stock raising, eradicate polio, build irrigation channels and roads, and …we have a lot to do. So we will ask everyone's opinion on the order of priority before we decide. We don't decide by the top-down approach." Chan Ton, holding two posts of the village headman's assistant and a member of the village revitalization committee, grows rice, sweet potatoes and lemons for himself. His words are like those of a democrat, but he is a member of the Communist Party, so is Boo, the deputy governor mentioned before. Even though political principles differ between democrats and communists, their aims are the same. The results of the general election didn't bring any remarkable changes, but it seems certain that there have been changes inside of the Vietnam Communist Party. Whether the changes resulted from the grass-roots development should be left to the judgment of the authorities.