Taiwan, Hong Kong, UK & Japan
Taiwan as the Motherland
January 1992
I landed at C.K.S. Airport with anxiety that this trip might end up with a mere sightseeing trip, because I was advised by a Taiwanese living in Kobe. He said, "It would be better not to bring up the topic of politics. Everyone doesn't want to talk about it."
The same as in Tokyo?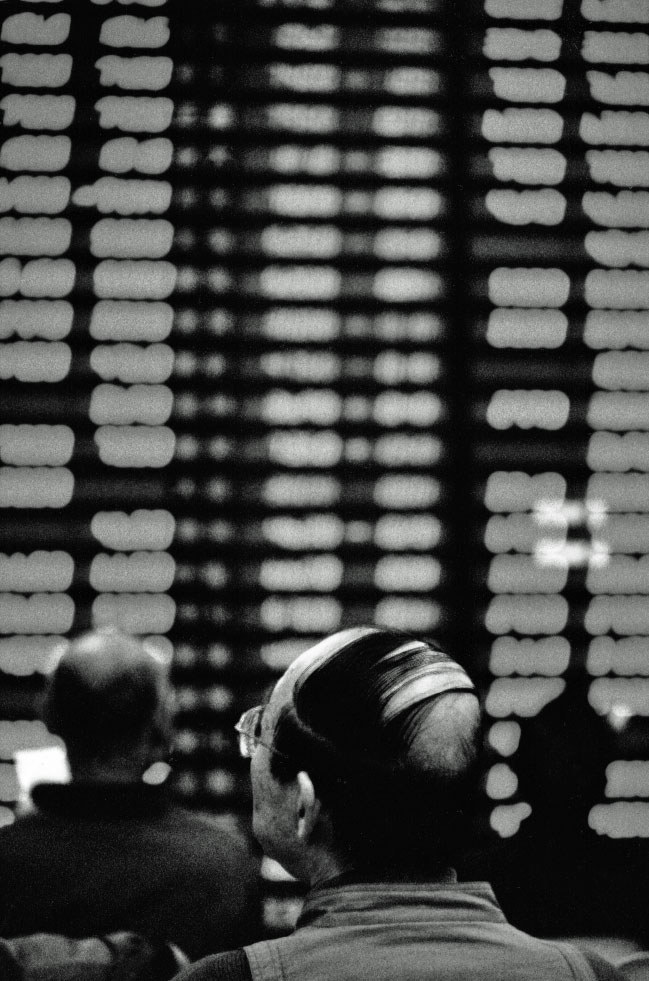 "Would you like to have a massage by a pretty girl?" asked a pageboy who brought a teapot to my hotel room in Taipei as if he just came to say this. When I asked about the charge just for information, he said that the charge for overnight service was 6,000 yuan (one yuan is about five yen). Taiwanese per capita GNP is more than 10,000 dollars and the average monthly salary of white-collar workers is not less than 36,000 yuan. A soap opera with some Chinese action was on TV, which the pageboy had turned on. There were so many commercial messages for cosmetics, videos, computers, health drinks, oolong tea in cartons and instant noodles, and also there were public messages like "Let's eat home-produced oranges."
On another channel, an NHK program was on the air by satellite. Prime Minister Li Peng was making a speech in front of a diplomatic mission to Beijing from Africa. "Taiwan Province is a Chinese possession from the beginning, and…," he remarked. The use of a parabolic antenna was approved in 1988, and now there are nearly 400,000 parabolic antennas in all parts of Taiwan.
The next day I dropped into a boutique. The price tag of a skirt said 5,800 yuan. "Taiwanese women with an expensive taste seem to prefer Milanese fashion to Tokyo fashion," a salesgirl (19) of the boutique said in spare moments from her work. Just then a beautiful girl with one length hair looking like a collage student came in. Women's psychology seems the same everywhere. She tried on many coats, asking the salesgirl's opinion. She finally decided to buy a coat at the price equivalent to about 68,000 yen. Young as she was, she was a Chinese after all. After she beat down the price by 30 %, she said that she didn't have that money at that moment and she only paid a deposit of 1,000 yuan on the coat.
People's incomes have increased
Steel-frame factory buildings with slated roofs, backed by a huge dumping ground, are clustered in Hsin-chuang City. A factory worker working at a rumbling press on the concrete floor took off an earphone of his headphone stereo and called out his boss. "I hired 10 overseas Chinese of Indonesia last February, but all of them were deported to their country, because they had only tourist visas. Since they really worked hard, I paid the same amount of money to them as I paid to Taiwanese workers," frankly said Huang (38), the president of Liang Lin Company. Six out of ten presses were not operating. "We need 30 workers for full operation, but we have only 15 workers. I offered to pay 21,000 yuan, but we have had no applicants so far. We are getting many orders…" He is pinning his hopes on the government's policy on foreign workers. The government says Taiwan will accept 15,000 foreign workers this year.
I asked to a manager of a food overseas department of a leading food company Wei Chuan Corp., "Is it difficult to do business on the mainland?" He replied, "Speaking the same kind of language is good and bad. Some words have different meanings. For example, the word meaning 'consideration' here implies 'denunciation' there and the word 'report' here means 'secret information' there. But it cannot be helped, because our political systems have been different for as many as 40 years,."
Relationship by money?
I had not driven for 15 minutes toward Taichung Port, closest to Xlamen on the mainland, before I saw a strange view open out. A building of modern designed rose in a development area where there still remained a few scattered traditional Chinese-style farmhouses with a brick wall and a warped tilted roof. There was also a real estate office so big as a tennis court. It was hanging out a sign saying '80% Low-interest Loan.' This land was a plot of the fifth land readjustment project. The plot was being developed in expectation of removal of a ban on direct trade with the mainland. My car passed a hearse, which was heading for the graveyard. From the hearse Hades paper money was being scattered so that the dead would not be hard up in the other world. I thought, "Chinese who see everything in terms of money are making such large prior investments, so…"
I talked with Kuo (24), a chief of training section of an insurance company at the park in the area of office buildings. "The mainland? Of course it's our country. Ask anyone else if you like," he said courteously but very positively. "If the nongovernmental party which advocates independence really wins, it can't be helped because it's the will of people. But the Chinese Communist Party will not keep silent about it. I prefer 'unification'. If the country is unified, we will be able to make a lot of contracts with mainlanders because there is no insurance on the mainland," he said with a smile, and then he revealed that he had served as a sergeant of the intelligence department in the army after graduation from college.

Taiwan provincial government is in the geographic center of Taiwan
On the mountain path to a summer resort Sun Moon Lake in Nantou County, where there used to be a summerhouse of Chiang Kai-shek, the buildings of Taiwan Provincial government burst into view. The lodgings for the members of the Assembly stood side by side on the road lined with palm trees and the government office buildings, which looked like school buildings, stood around the roundabout with flower beds. Except for those buildings, there was nothing in this artificial town called Jhongsing Village. The Republic of China moved the government from Nanjing to Taipei in 1949. But the ministries and government offices including the assembly of Taiwan Province moved here one by one from 1957 through 1958 on the grounds that there were too many government office buildings in Taipei.
"Why are they in this remote place?" "This is the geographic center of Taiwan. Chinese think the geographic center of the country is the best place to rule the country," Wan (37), the chief of secretarial section of the personnel department answered to me. Actually I saw a 'Taiwan Geographic Center' marker at the point 25km northwest from here, but still I felt as if I had been bewitched by a fox.
I heard that 20 out of 23 seats of the National Assembly of Taiwan were taken by the benshengren (original-province people), and that the members of the Assembly should be determined by appointment. The percentage of the seats taken by the benshengren was almost equivalent to 85% of the benshengren population. "I think the Assembly members will be selected by vote two years hence, but I'm not sure. Democracy in this country has just started. The future of democracy in Taiwan depends on how the National Assembly will amend the Constitution," Wan said. His remark implied that he was a reformist.
"I just gave you my personal opinion. If it doesn't accord with the governmental view or historical facts, you can't blame me." "I have to tell this as our rule," he added with a characteristic smile of Orientals.

Is there still friction?
It happened at a bar in Kaohsiung City a little after nine o'clock at night. More than ten men suddenly burst into the bar. They were the so-called plainclothesmen. According to a customer sitting next to me, they belonged to the general headquarters of the Defense Ministry, the Investigation Bureau, the National Police Administration, the Military Police Command or the National Security Bureau. What caught my eyes was a T-shaped luminous microcomputer to use in the dark. One of the plainclothesmen was inputting the identification number of a customer. The microcomputer was made in Taiwan and designed to identify a wanted man on the spot.
When I was on a taxi from the station, the taxi driver Yang (61) said as if he didn't know how to give vent to his pent-up anger, "A friend of mine was arrested at the 228 Incident and put in jail for as many as 30 years. When he was released, he was not young any longer. He has bee at a loose end against his will, because he cannot find a job." His anger almost exploded. Did he vent his anger on me because I was a foreigner? I wondered. Anyway, he was shaking his fist in a towering rage, driving his car one-handed on the notorious lawless streets of Taipei.
A member of the third biggest nongovernmental party, Chou (38) talked on and on in American English with a trill. "I was fired from a private high school, because I posed questions to the students in the classroom like 'Why should high school students take military training for two months?' or 'Why should they learn how to use a gun?'" He was ousted from his position as teacher in 1989, two years after the 38-years' old martial law was lifted. "Besides Mr. Huang, who ran for the Presidency, there are still many political criminals in prison. I am still dogged by 'Loyalty Record'. Taiwan may be more terrifying than a communist society."
Lu (64), alias Yoshino, said, "There are many talented people who take doctorial degrees while they are studying abroad except Hsu Hsin-liang (the head of the Democratic Progressive Party), but if they point out any fault of the government, they will not be allowed to enter the country or they will be put in jail. I'd like the democratic country Japan to support us. And there is something I want you to know. It is just an excuse of the Kuomintang (KMT) that the Chinese Communist Party may attack our country." He criticized the Establishment in an intellectual tone. On New Year's Day of 1988, the press was liberalized, and political parties were allowed to register as a nongovernmental party. Today there are about 200 newspapers and 61 political parties in Taiwan.
The Democratic Progressive Party?is it a new star for hope?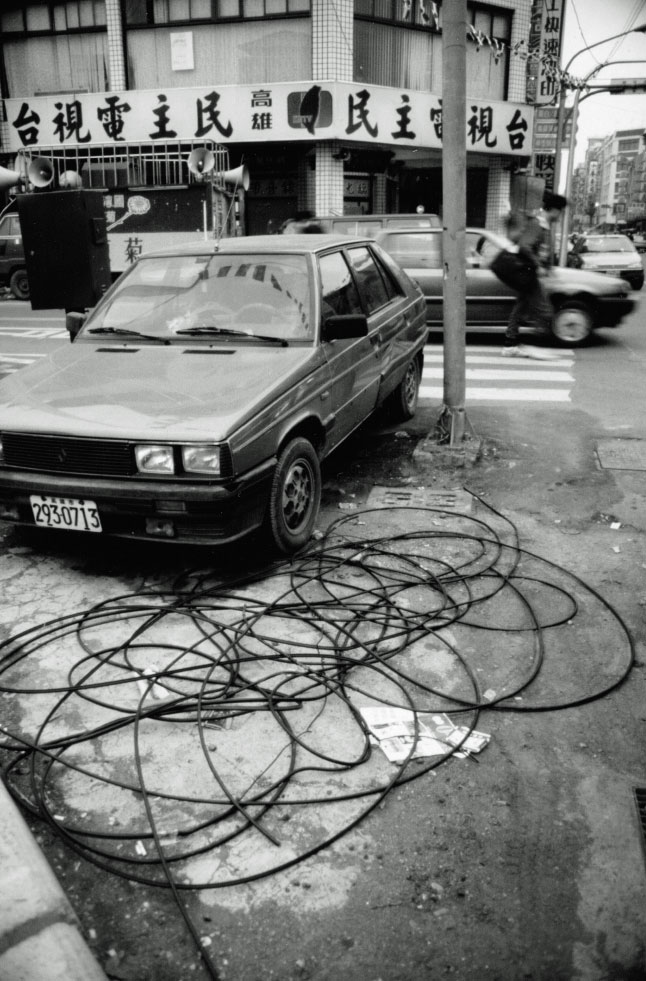 The head office of the Democratic Progressive Party (DPP), the biggest nongovernmental party, is in this Kaohsiung City. The party lost the election for the delegates to the National Assembly that was held on December 21st last year. I visited a cable TV station of the party, the Kaohsiung Democratic TV Station, with an interpreter, who hesitated in coming with me because he saw the violent behavior of the party members on TV or in magazines. They hit a table with their shoes and even turned over the table as they yelled out. The head of the TV station and a member of the municipal assembly, Huang (43) attended to us. Wearing a green polo shirt and a white jacket, he looked youthful.
"It was terrible. A broadcasting cable, a telephone wire and an electric wire were cut off by the KMT day after day for two months from August 3rd, sometimes three or four times a day. Under the escort of policemen carrying carbines, they thronged here with about 100 workers from the electric power company and the telephone office," he said. Their aim was to obstruct the DPP's election campaign. Even now they come and cut off the cable once a week.
The Kaohsiung Democratic TV station is the DPP's first TV station opened in April 1990. It is staffed with 25 workers including Huang, the head of the TV station, producers and cameramen. Now the party has 56 TV stations broadcasting on Channel 4 all day long in all parts of Taiwan. The down payment of the TV license fee is 1,500 yuan and the monthly fee is 500 yuan. About 15,000 households are under contract in Kaohsiung City alone. Channel 4 broadcasts NHK satellite broadcasting programs, action dramas produced in Hong Kong and American pornographic programs to increase the audience rating, but its features are political opinion broadcasts and accusatory documentaries after all.
I asked indirectly about the causes of the DPP's defeat in the election. "Because the KMT bought votes! They spent 2,500,000 yuan to make a candidate elected," he said vigorously. But he didn't give me any evidence and he told only secondhand stories. "We, nongovernmental parties couldn't race in one united body. We couldn't stand together with the extreme Left and the Catholic group, and…," he said evasively. He didn't give me any definite explanation of the causes by their side. "What are your slogans?" I asked. "A direct presidential election, the independence of Taiwan, the improvement of welfare for the physically handicapped, the solving of pollution problems, and …," he mentioned several. Then I asked about the damage caused by Chinese oil refinery pollution in Kaohsiung and the hearsay suit against the refinery. He only said, "Welfare facilities including a hospital were built with 1.5 billion yuan of compensation, but they were mere show." I asked him about the same question three times in different ways, but he never answered me about the actual conditions of the damage to the workers and neighboring residents and the measures to deal with the pollution problem. If he goes like this in the Assembly, he will be argued down by veteran Assembly members of the KMT.
An election to a new Legislative Yuan, which takes place every three years, will be held at the end of this year.
A ship "The goddess"
The ship-owner of 'the goddess of democracy', Wu showed me videos of the Tiananmen Incident. The videos lasted for eight hours in total. He bought them from some foreign TV stations, spending 50,000 U.S. dollars and one year. The scenes of massacre and civil witnesses, which would never be seen on Japanese TV, appeared on screen one after another. Just after the scene of heaps of bloody dead bodies shot by a BBC cameraman, a cadre of the Chinese Communist Party appeared on screen and announced the underestimated toll of dead. Wu ridiculed the cadre. Just after the incident, President Li Denghui expressed his regret, saying, "I couldn't feel sadder." But it is forbidden to rebroadcast the Tiananmen Incident now. "This is my 'last king tile.' I'm showing this only to you, but when the time comes, I will …," he said and entrusted me with a cassette tape with only sound recorded.
Tracing the family's roots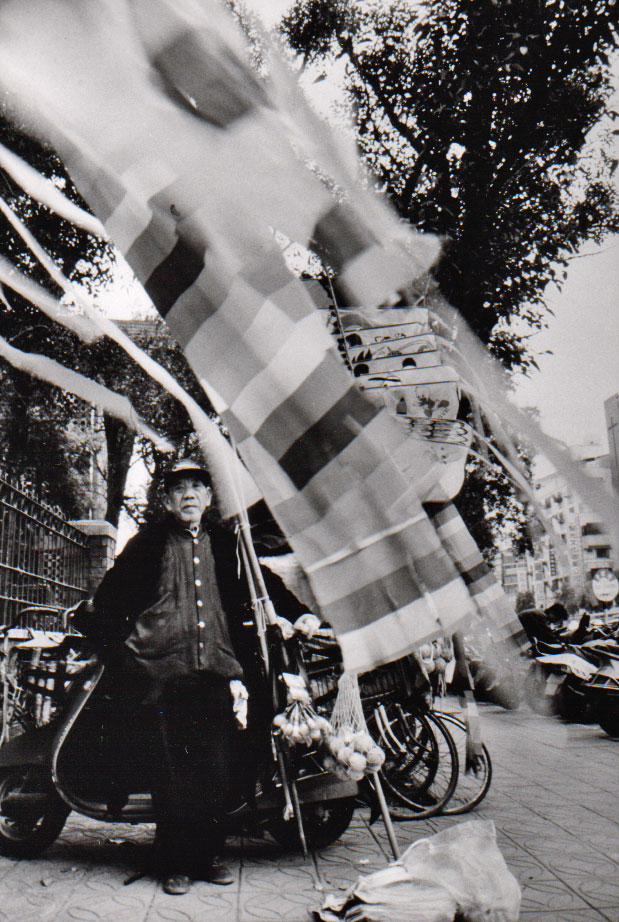 In November 1987, the government approved travel to the mainland only when they visit their relatives up to the third degree. But now, the pamphlets for the sightseeing tour to the mainland are displayed openly at the travel agencies in town. An employee of the Transportation Bureau showed me a piece of paper with a smile expecting my surprise, after making sure that I should not tell anyone who showed this. It was the government statistics of travelers to the mainland. It showed that 20,000 people (estimated) in 1987, ……, ……, 994,714 in 1991. The aggregate exceeds 2,900,000 people in Taiwan with a population of 20,200,000.
The approval to travel to the mainland will be given only in a few days, after making an application to the visa branch office of the Ministry of Foreign Affairs of the People's Republic of China in Hong Kong. Since there is no direct flight, most of the travelers enter the mainland by way of Hong Kong. The Taiwanese government is still carrying out the 'three noes' policy (no contact, no negotiation and no compromise with the mainland).
At the travel agency in Taipei, an office lady said, "The mainland? That's classic! Although I'm interested in the Chinese roots, I don't feel like going to the mainland, because I heard that the sanitary conditions of the mainland were not so good." The mainland doesn't seem to appeal to her enough. Incidentally she is from Keelung City, Taiwan. She is the sixth generation benshengren.
Lin (18), a student of the architectural work course of China Institute of Technology, was making a survey of pavements for his assignment. "After military service, I do want to go to the Forbidden City in Beijing," he said like an architect in the making. He has been to the National Palace Museum five times. He was very impressed at modern equipment for exhibition, but at the same time he was disillusioned with mortared decorations. The decorations should have been carved.
Is the conflict between the KMT and the CCP still continuing?
Before the election the Chinese Communist People's Liberation Army maneuvered its air force along the east coast of the mainland on the largest scale for the first time in the past ten years. Many viewed it as a military warning to an independence movement in Taiwan.
"They may attack us before 1997, though we will never launch an attack," said Chen (42). He is still scared of the threat from the Chinese Communist Army. In 1949 when the People's Republic of China was established, his parents escaped to Hong Kong. Chen, being in the womb of his mother, passed across the border. After completing the high school in Hong Kong, he went to Taiwan. He graduated from the Department of Business Administration of National Taiwan University. He got married to a benshengren woman and had two children. He obtained the right of permanent residence in Taiwan.
All Taiwanese men have an obligation to serve two years in the army. When Taiwan fought against the Chinese Communist Army on Quemoy Island of the Fujian Province for one year and 10 months just after Taiwan broke off relations with Japan, he was on active service at the forefront. He was a lieutenant attended by a field platoon of 120. "At that time as many as 50,000 soldiers were stationed on Quemoy Island. We shot off propaganda cartridges designed to be burst open over the enemy's camp day after day. We also used balloons and floats for propaganda. We libeled each other. We called them 'sweating worker ants satisfying their hunger with a banana skin.' They called us 'a pet dog of U.S.A., a capitalistic hound'." He laughed it off as a crazy past. "When we wrote the name of Mao Zedong we never failed to add 'Fei' between Mao and Zedong, but now …, we don't have to irritate the CCP unnecessarily," he said coolly.
That's why Taiwan has developed
"At the very beginning of this year more than 1,000 people made a demonstration march to the Hsinhua News Agency for the release of political criminals in Hong Kong. The CCP announced that the People's Republic of China would keep the economic system of Hong Kong as it stood for 50 years to come even after the administration of Hong Kong returned to China in 1997. Most of the people in Hong Kong, however, are worrying that the government may lay down an irrational security law to suppress the movement for democratization. I'm myself worrying about that. Suppose Taiwan is unified, Taiwanese, of course, will worry too. Chen, who was born in Hong Kong and lives in Taiwan with his family, feels as if the approaching "1997" were his own affair.
"There has been a threat from the CCP. That's why Taiwan has developed up to this point," said Fuhsin (41), the chief of the editorial department of the Industrial Economic Daily Newspaper. He takes a paradoxical view. He said that the KMT had kept state power and the people had followed, because there had been the fear of being controlled by the CCP. He also said Taiwan had been isolated internationally since the Great Powers established diplomatic relations with the People's Republic of China, so that Taiwanese businessmen became so indomitable as to do business in all part of the world carrying only an attache case in their hands. I asked his opinion about the results of the last election for the delegates to the National Assembly, at which the Democratic Progressive Party decreased their representation by four points to 24%. He explained simply, "The results show that people want stability. The voters knew that Chinese attacks could not be justified if Taiwan would not try to be independent and that it was impossible to be unified with the People's Republic of China, whose per capita GNP was a 25th (320 U.S. dollars)."

Young people are apolitical?
"Kaohsiung Incident? Nonsense! I belong to a different period," a girl (22) in a miniskirt said angrily. She has nice long legs, but her facial expression is severe. She was drinking cola at MacDonald hamburger shop. She is a marketing researcher. I had a chat with her for a while. She told me that apartment rents would go down soon in Taipei; she didn't want to go to America because there were too many Chinese; and so on. Then I dared to bring up the question of "young people's political awareness." "My life has nothing to do with politics, except that my brother is now undergoing military training and that if I become a member of the KMT, I'll be promoted a little earlier." She told me more than I had expected.
She went to the polls for the first time at the end of last year. "I hate the Democratic Progressive Party, because they act violently at the Assembly. But I hate the KMT more." "Well, then…?" "Hey! Do you think there is another party in this country except the KMT and the Democratic Progressive Party?" Political parties consisting of citizens' movement activists with no seat in the Assembly seem to be beneath her notice. "The Labor Party is also powerless. My father runs a construction company. The workers do any menial work if they are paid well. Money talks in this country. Money can buy anything including power and happiness." I wonder how she learned about this and by whom she was primed. Her answer was pathetic for her age of 22.

Karaoke-Nationalizm
In Taiwan pinball games and karaoke are all the rage. I heard that many songs in Minnan and Hakka were added to the repertoire of Karaoke called KTV, so I looked in at a karaoke bar "Saint Roran" in the basement of an office building in Taizhong City. There was a group of seven high school boys and girls, two groups of men looking like office workers in the karaoke bar. They sang one after another without a break. I looked at a songbook for request. Mandarin Chinese songs accounted for 60%, Minnan songs for 30%, Hakka songs for 5% and the rest were Japanese and English songs. Mandarin Chinese is an official language.
The KMT that had moved in Taiwan after being defeated in the civil war against the Communist Party designated it as an official language in 1950. Japanese language is a vestige of the 51 years Japanese occupation. Minnan and Hakka are, so to speak, Taiwanese. They are the languages of the benshengren who immigrated from Fujian Province and Guangdong Province to Taiwan before the Qing dynasty. TV programs are broadcasted with subtitles in Chinese characters for the elderly people who cannot catch Mandarin Chinese words. Many students are taught in Mandarin Chinese at school but they speak Minnan at home, except in Taipei where many waishengren live.
The song requested most frequently was "Dissolute Angel" and Minnan song "Love, Love, Love" came second. There were only a few Taiwanese songs before 1978, but the number of Taiwanese songs has been increasing. The high school students started singing a duet. It was a Minnan song with a title of "My home."

Language barrier-free for Japanese tourists
Most of Japanese tourists visit this tourist resort, the Formosan Aboriginal Culture Village in Nantou County. It is a private open-air museum, where people can come in touch with aboriginal cultures. They were called "Takasago tribe" during the Japanese occupation but now they are called "Mountain People." The population is about 320,000. They are roughly classified into nine tribes according to languages and customs. In 1988 the Federation of "Return us the land" Movement held a large-scale demonstration for the return of their land.
Wang (61) was assisting the Yami tribe in making a wooden boat, being bathed in the tourists' gaze. He was a Paiwan. He retired from pelagic fishery four years ago and got a job in the Formosan Aboriginal Culture Village. His own house is in Taitung, so he lives in the dormitory for the workers. His monthly salary is 15,000 yuan. "Mr. Miura, Mr. Mori and Mr. Yamada told off the children who called me a barbarian," he said in fluent Japanese as if it was his mother tongue. Since he played with benshengren children and has worked with benshengren fellows, he never thought he was discriminated because of a minority race. "My second wife is a benshengren." At a reproduced scene "Place for Pray," where a headhunting ceremony of the Tsou tribe was held, a high school student on a school trip was taking a picture of her friend who had an imitation skull in her hand.
At a short distance Quan (63) of the Bunun tribe was demonstrating how to weave at the loom in a hut. She said, "Even now we elderly people speak in Japanese when we talk with other tribes." She speaks only her tribal language and Japanese. She speaks only a smattering of Mandarin Chinese and Minnan.
A couple, who had been walking around the site with soft ice cream in their hands, hurried to the place where music was playing. "Ladies and Gentlemen, are you with me in Mandarin Chinese?" M.C. in a native dress asked the audience. When the elderly audience outnumbers the younger audience, he will speak in Minnan. "Shows are presented in Mandarin Chinese, but it cannot be helped," Tooko Poolsamran (44) of the Rukai tribe said in Mandarin Chinese. She works here as a dancer with her third daughter. "Our tribe has a long history, but we don't have a written language, which put us at a disadvantage when we show our history. I'm afraid not all of our grandparents and parents have good memories. Some young Rukais are good at Mandarin Chinese, but they cannot speak their own language, which makes me sad." Young people leave home and live in a big city, just as everywhere else. "However, our tribal language will become an elective subject at an elementary school in my hometown, though by way of experiment," she added delightedly. In Taipei County, where a benshengren was elected as a governor, elementary schools started to give lessons in Minnan experimentally.
A traditional dance show was over and all tourists left the theater, from which the note of electric guitar came on.
Going to U.S.A. for a dream?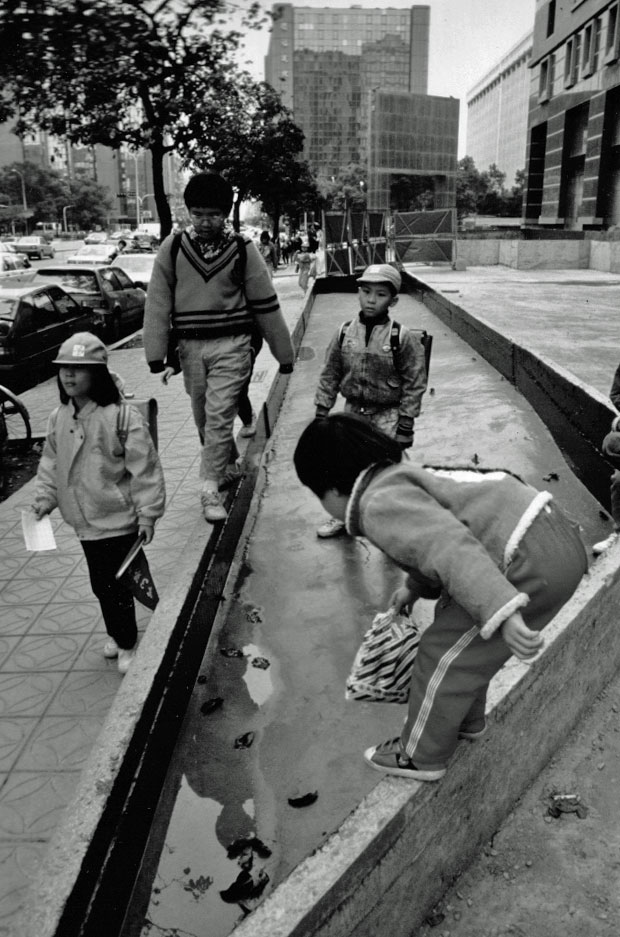 According to the statistics of the Immigration Bureau, nearly 70% of the boys and girls who traveled to U.S.A. with their parents have not returned. It is said that the reason is to dodge the draft and to get a good education. "A friend of mine lives permanently in America, but I like here," Yo (37) said in English listlessly. This is an American bar opened in Taipei three years ago. "She said in a letter that Westerners' way of empathizing is different from Orientals'. I can't make true friends with Americans, but it is not because of a language barrier." She is an owner of the coffee shop. She also said she liked to spend her free time sunbathing at Waikiki beach, but she didn't have the slightest intention of living in a foreign country.
Behind the counter there was a white young man, who was shaking a shaker clumsily, and a Chinese woman, who spoke English fluently. The woman Zhang (27) was born in Taichung, but she emigrated to Canada with her family at the age of 16. She came home for the first time in 11 years. She said, "After I completed the high school course in Vancouver, I worked as a beautician. I came back here to see how my hometown had changed, and because of money." She came home to work the other way around. Her impression of today's Taiwan is 'MORE EXCITING HERE.'
In Tainan I met a woman (30) by the name of Wau. She said she had graduated from Wisconsin University in U.S.A., and she attended the summer school of Cambridge University in England last year. "When I came home in 1988, I was surprised at the advancement of Taiwan. I understand it is difficult to control air pollution or corruption in a big country like U.S. A. But I cannot understand why Taiwanese government can't do that in this small country." She went to U.S.A. to study for four years. During her stay in U.S.A., Taiwan lifted martial law and removed the bans on news report and political parties. Before she went to England, she had taught English at National Sun Yet-sen University for three years. "You can bribe a countryman with a cake of soap. They'll be 'thankful' for it but they never perceive it a bribe. The papers often say that Taiwanese don't understand their rights under democracy. They don't know what rights they have." She seems to have a lot of grievances against her motherland.
Her father (74) is of the opinion that Taiwanese don't have to become the first-class power people, but the Japanese Imperial Rescript on Education can be employed again to teach morals in Taiwan that has liberalized increasingly. When she was a child, her father often read her the text from Confucian classics "Every part of your body including hair and skin is given by your parents. Don't injure yourself. It is the most important filial duty." She wanted to write a thesis on 'Protestantism and Confucianism' for graduation from Wisconsin University. But the theme is so big for her to handle that she gave it up.
"Man cannot live alone, so if you really take care of yourself, you will put the happiness of others before your own desires. In the Orient the harmony of a group comes before individuality. But I think Westerners and Orientals are aiming at the same end after all." Incidentally she said that she was glad to have a talk on this kind of topic in English with a Japanese who didn't understand Chinese at all.
This year the Olympic games are going to be held in Barcelona. On the campus of National Taiwan University, the most prestigious university in the country, the students were practicing basketball hard. I asked about the country's name addressed as 'Chinese Taipei' to some of the students who were waiting their turn. Lin (21) said without hesitation, "Chinese Taipei? It's not so bad." Other three students agreed with him. But one student said, "It should be the Republic of China, otherwise the People's Republic of China should be addressed as Chinese Beijing."
The view of Taiwanese writer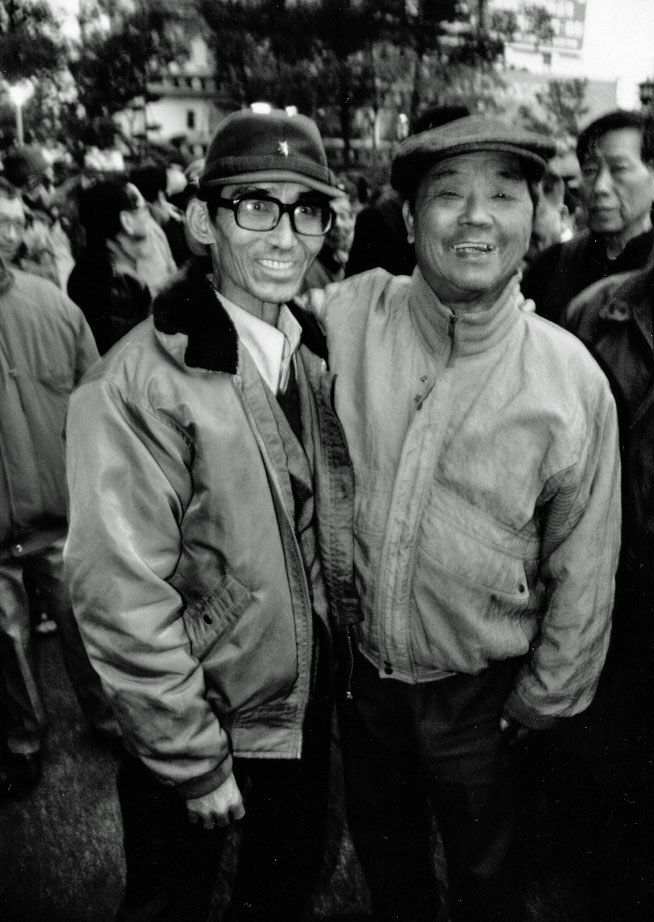 I have only one day left before my ten-day stay in Taiwan ends. I talked with various people including aborigines, benshengren, waishengren, young people and elderly people. I saw them living harmoniously on the island of Taiwan on my own eyes. The day before I left Taiwan, I met Huan Ch'un-ming (53) at his house in Taipei. He is a writer, movie director and journalist. He published his book 'Sayonara, Good Bye' in Japanese.
He enumerated problems largely concerning Japan; prostitution tours that exploit young girls of poor minorities; export of pollution such as a Kanemi oil poisoning case broke out in a school for the blind in Chungmei Village; 'economic cooperation' without transferring core technology to Taiwan, which keeps Taiwan from making an entire television set; Taiwan's trade deficit with Japan which amounted to 90 billion dollars last year as if it seems economic aggression. Then he explained why he published the Japanese version of the book. He said, "I usually write a novel intended for my countrymen, but I wrote it for Japanese people, because I thought they didn't learn much from history."
There is something I have been wondering about since I came here. Why do Taiwanese elderly people extol the days of Japanese rule? Huan explained to me. "They were not just being polite when they said so. I think they really meant it. When they heard Japanese Emperor's announcement on August 15th 48 years ago, young people who were educated to be loyal to Japanese Emperor cried standing at attention, though elderly people laughed at the announcement. The then young people are the present elderly." Fifty-one years have passed across three generations.
Some soldiers of the ROC's armed forces, who had fled from the mainland after the war, committed crimes such as robbery, rape or murder. The KMT tyrannized the people. Chinese people had been ruled by successive emperors in their history of 5,000 years, so that they are conditioned to be ruled and don't have clear concept of 'democracy.' So the people over 60 who lived through the days of Japanese occupation think it's better to be ruled by Japanese, if they are ruled after all.
I also asked his opinion about the election result. "Now Taiwanese of middle age can buy a car, have a house and give college education to their children for the first time. The people in the middle class don't want to let go their possessions that they finally obtained. They want to keep their secure livelihood. Their desires accord with the KMT's policy. A revolution will never take place, unless the economy sinks to the bottom or the country falls into a state of anarchy. The People Progressive Party should work out a concrete plan for revision of the constitution to get support from the middle class. It would be better if the party waits for a favorable opportunity, putting the issue of independence aside for a while.
"I was very disappointed. I attended a symposium "War and Literature" held in Okinawa last year. They made no mention of Taiwan. Taiwan was ruled by Japan as many as 51 years, and as many as 200,000 young Taiwanese were called up to the Japanese Army, though they talked about the Massacre in Nanjing a little bit. Setting aside diplomacy between the governments, I think there is a difference in Japanese attitudes toward Taiwan and China." He told me about his impression of today's Japan. "It is only interests that connect Taiwan and Japan. Many Japanese tourists visit Taiwan but not so many friendships are formed between both citizens. First Japanese should reflect on their past conducts and Taiwanese should raise their consciousness. And then we should shake hands again," he said and concluded his remarks.
The morning paper of February 7th 1992, when I had just finished writing this article, led with the story of 'The top executives of the army were involved in the dispatch of comfort women from Taiwan.' It was an affair that took place just 50 years ago.