Cambodia
Stormy Free Economy
August 2006
The GDP growth rate is 13 % !?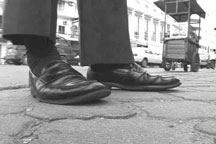 I got an e-mail from an old friend in Cambodia this year. The e-mail said, "The government announced that the economic growth rate of Cambodia in 2005 was 13 %, and this announcement arouse controversy as to whether it is true or not." The rate was twice as high as Asian Development Bank Statistics. Apart from the question as to whether the rapid growth was real or not, it was certain that the government had issued the statement, because the news came from my Cambodian friend who had worked in the Ministry of Intelligence since the beginning of the current administration.
Before I got this mail, I had bought a pair of men's shoes for 4,000 yen, tempted by the low price. I thought they were made in China because they were so cheap, but I found them made in Cambodia. I was so surprised and I started to think of writing a report on Cambodian economy, when the e-mail came.
I went to Phnom Penh with those shoes on. After 2001, 25 shoe factories were set up in this country with foreign capital from countries such as Taiwan and China, and 14 of the factories are still in operation. There is no Japanese-affiliated factory among them, but there is a factory that exports their products to Japan. I visited the factory by the name of Minda Shoe Factory. The vice-president Yang Juita, who was a Taiwanese-Australian, showed me around the factory, which was amazingly large. He said that it had eight assembly lines and about 3,400 workers and that it produced one million pairs of shoes a year.
The factory workers are paid monthly from 45 dollars to 85 dollars according to their skill. Their salaries are nearly twice as much as those of civil servants such as teachers and police officers. So I thought the announcement by the government might not be wholly exaggerated. A 17-year-old female factory worker living in Phnom Penh said shyly, "I give all my salary to my mother." A male factory worker, who had come to work from Prey Veng Province, said, "The work here is not dirty, and it's rather easy." He smiled. Indeed there was no litter on the floor and the assembly lines stood systematically. And it was also well ventilated by ventilating fans with a diameter of about one meter on the ceiling, so the smell from volatilizing gum didn't bother me much.
Off guard against inquiries about the imitation goods they produce

Johnnie on the bottle of Johnnie Walker Black Label sold at a duty-free shop in the airport or at a Japanese liquor shop is walking toward the left, but Johnnie sold cheap at a local liquor shop in Phnom Penh is walking toward the right.
The vice-president Yang showed me a pair of sample sneakers proudly. He said, "These are made to order from a Japanese wholesaler." I found the French quality brand-name of 'le coq sportif' was printed outside the sneakers in Japanese hiragana letters. On the real goods the name is printed in lower-case of alphabet inside the sneakers. According to him, the wholesaler exports goods to six to seven countries ranging from Singapore in the south to South Korea in the north. Whether their shoes are marked 'Made in Cambodia' or not depends on an instruction by the wholesaler. The factory sometimes affixes logos provided by the wholesaler to their products or boxes shoes in pairs.
Even when I asked about their fake products, he didn't seem to feel wary or guilty. I have had doubts as to the genuineness of Scotch whisky "Johnnie Walker Black Label" sold at local liquor shops because the price is lower than that at duty-free shops. So I decided to taste Johnnie Walker Black Label sold at a liquor shop in Phnom Penh with some Cambodian friends. The price of a liter bottle of Johnnie Walker Black Label at a duty-free shop in the international airport was around 25 dollars, while that at the liquor shop in the town was 18.5 dollars. Even if the government has not levied a customs duty or a liquor tax, it is very strange that the price of Johnnie Walker at a local liquor shop is cheaper than that at a duty-free shop.
We compared the taste of Johnnie Walker Black Label that I had bought at the airport with that of Johnnie Walker Black Label that I had bought at a liquor shop in Phnom Penh. All of us were of the same opinion. "The tastes are different. Phnom Penh's is dry." "Maybe it's faked. Where was it made?" Talking about this and that, we compared the two bottles. Then we made a "great discovery." Their cases, labels, colors, styles of type and even quality of paper are indistinguishably alike, except for the sculptures of Johnnie carved into the glass bottles in relief. Johnnie on the bottle I bought in Phnom Penh is walking toward right, the opposite direction just like the image in a mirror. Probably the fake Johnnie Walker Black Label distiller made a clear modification deliberately to evade a charge of forgery. They would say it was not an imitation but a different product from the beginning.
Fake brand-name goods and academic degrees are on sale
In Japan the Article 21 of the Customs Tariff Law prohibits the import of imitation that infringes on the intellectual property right, and the Article 109 of the Customs Act carries a penalty of five years' servitude or less, and/or five million yen or less.
It is only 15 years since the civil war ended. Cambodia still depends on foreign aids for half of its state budget, but the country cannot receive special treatment under the worldwide free economy. I wonder whether they try to make a quick buck or whether they think necessity knows no law, but quite a number of exports are imitations. At electrical appliance stores electric fans with misleading logos such as 'ITACHI', 'Nasonal', 'Sanzyo' that are very similar to Japanese makers' are displayed, and a video CD deck with a logo 'SONY' is priced at 45 dollars. The CD deck has a logo in an elaborate typeface but there is no mention of the service center in its brief instruction manual and, needless to say, it doesn't have a warranty by the maker. Only a few genuine Japanese video CD decks are on the market in Cambodia and the price of the genuine article is twice as high as that of its imitation. In Cambodia, where the salary for a university-bred elite employee is about 200 to 300 dollars, even an imitation is not cheap.
MP Son Chhay, chairman of the Committee on Foreign Affairs, International Cooperation and Information, said that to develop human resources is most essential for the development of Cambodian economy, but the government doesn't have enough funds or personnel to carry it out. So private enterprises take the lead instead. "Many private universities have set up in Phnom Penh, but they grant a student a master's degree or a doctor's degree if he/she pays 300 to 500 dollars. I hope a genuine educational institution will be set up."
Japanese ODA for the development of human resources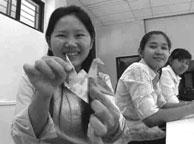 I visited the Cambodia-Japan Cooperation Center that was opened on the campus of the Royal University of Phnom Penh this February with Japanese ODA (official development assistance). They are offering entrepreneur development courses and comprehensive management courses, but it seemed that no students have enrolled for the courses. Today lessons are given in Japanese Language Class and Origami Class of Exchange Program. Both classes are very well attended. The number of young people who want to learn Japanese language and culture has increased, and candidates for a Japanese language proficiency test, which they had to go to a neighboring country to take, can take the test here from this year. There are three Japanese language courses of pre-intermediate course, intermediate course and tourism course. The monthly fee for a course is 15 dollars to 20. 20 to 30 people take lessons three times a week. There are three teachers of Japanese. The leader of them, Seang Nimol said that it was difficult for students to find a job. "Most of the students become Japanese teachers after they complete the courses, because they cannot find another job." Although the students want to work for a Japanese-owned company, Japanese companies they count on have hardly expanded their business to Cambodia.
The course manager of the center Ing Ren, a master of business administration of Phnom Penh University, said that they were aiming to run the center on their own account in five years without any help from foreign countries. They invited foreign teachers including Japanese for the commemorative lectures at the opening of the center, but for a full-time teacher they want a Cambodian who can teach in Cambodian. However teachers are in short supply in the country and it is not so easy for students to take lessons because of the school fees. They have to pay 180 dollars for three-month lessons. "We need to publicize our center to invite students in cooperation with other institutions. We are advertising for Cambodian teachers in the newspapers," Ren said. He seemed to try to do everything to get the center started along the right lines as soon as possible.
Behind the scene of gigantic construction site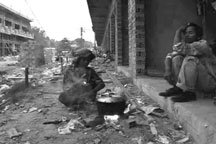 Besides many imitation goods, I also noticed many buildings being constructed. In Cambodia they seem to intend to give priority to practicality. The center was built within the campus of the Royal University of Phnom Penh with the aim of providing practical content in all lessons, and a building of the Royal University of Fine Arts where war orphans could have learned traditional Khmer dance was torn down and at the site of it a Chinese-Cambodian is building a giant shopping center named 'Tang Cheng' annexing a nine-storied hotel with 140 rooms. Before its completion all of 94 stores in the shopping center were already sold out in spite of its high rent of 70,000 dollars. I saw a man carrying a reinforcing bar up to the roof with his bare hands. His name was Som Chea (29) from Prey Veng Province. He said that he could not have planted rice in his paddy field this year because of drought, so that he had come to Phnom Penh to work two weeks ago, having left his wife and children at home. "Of course I'd like to study and learn a trade, but all I can do is to make a living. I earn only two dollars a day. It's a hard life," said Som. He lodges at a store under construction. When he takes a shower, he uses water from an outside water pipe and when he cooks, he uses scrap wood for fuel.
Money economy has penetrated into villages, and many trees in woods have been cut down. Irrigation facilities, however, have not built after deforestation. As a result, an increasing number of villagers are forced to leave their villages for work away or give up farming. Still they are counted as farmers and never counted among low-paid workers or jobless people when statistics are taken. An economist of Cambodia Institution of Department, Kang Chandararot has doubts about high-growth of the Cambodian economy announced by the government. He said, "This country's statistics are untrustworthy because their populations are not accurate. The 13 % growth is impossible, except in the year when a large-scale infrastructure is constructed or natural resources begin to be produced. As you know, the economic structure of this country changes very slowly."
Now that free economy is prevalent all over the world, there is no leeway for a developing country to take protective measures to catch up with developed countries, and there will be no chance to make a profit if they compete fair and square. Therefore the people in this country are forced be tough to live through these days even if they are tossed about in the storms of free economy. It is at least some consolation that their living has improved on the whole, even though it's not evenly, compared to that at the civil war.