Taiwan, Hong Kong, UK & Japan
Immigrants, Refugees and the British
January 1989
The colours of the people passing along streets are black, brown and yellow. White is little. Since England has been troubled with racial problems, it has changed their immigration laws several times and tightened their laws. It is a multiracial nation with more than 3.5 millions immigrants, which make up six percent of its population. Let's see '*KOKUSAIKA' in England.
*Japanese word: to take foreign culture into oneself. If dare to say in English,"internationalize".
HOMELESS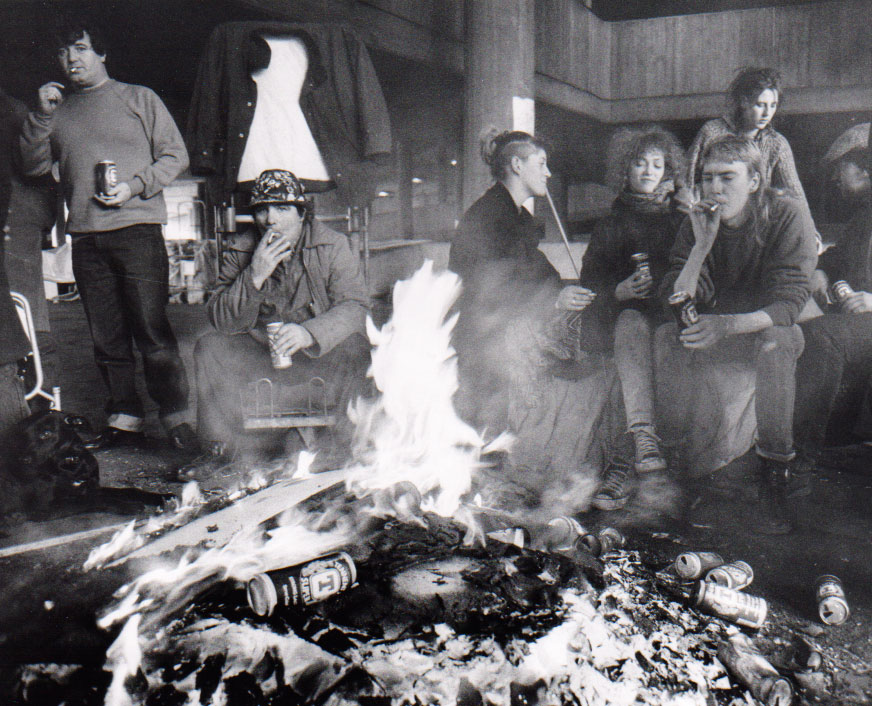 At midnight, under the roundabout by Waterloo station. Called on, heard there was the haunt for over two hundred.
In the cold, about 30 enclosed a fire. Suddenly, a man apparently alcoholic grabbed me. "Give me money or I'll break your camera to pieces."
While running away, another man whispered in my ear. "You want such a story, do you? Right. Come again tomorrow. Don't forget to bring Tenants."
Shouldering two dozens of the tinned beer, visited his 'house' of cardboard next day.
"Thatcher's tightening may be affable to everybody except her people. But it's nothing. It cuts down the weak. Unemployment in creases and disparity in wealth widens."
The man who prouded himself on being an anarchist, he continued the blazing criticism on the political system.
The numbers of registered home less in London are more than 35 thousands. Most of them are alcohol drug addicts or the people who has been kicked out from the closed institutes.
Although the government pays 69 pounds to them every two weeks, he says "I never accept even a penny from Thatcher"and plays on a pipe in the underground. "Look at the passersby carefully as I play here." His place of work, subway was busy with commuters rushing back home. Their faces pretending to be wooden and indifferent looked straight past him.
"You see? This is the true nature of British people and also the government. It means the coloureds whom you also will be writing about are looked on in the same way."
This is Stuart, a graduate of Manchester University, educated and only 31.
TAXI DRIVER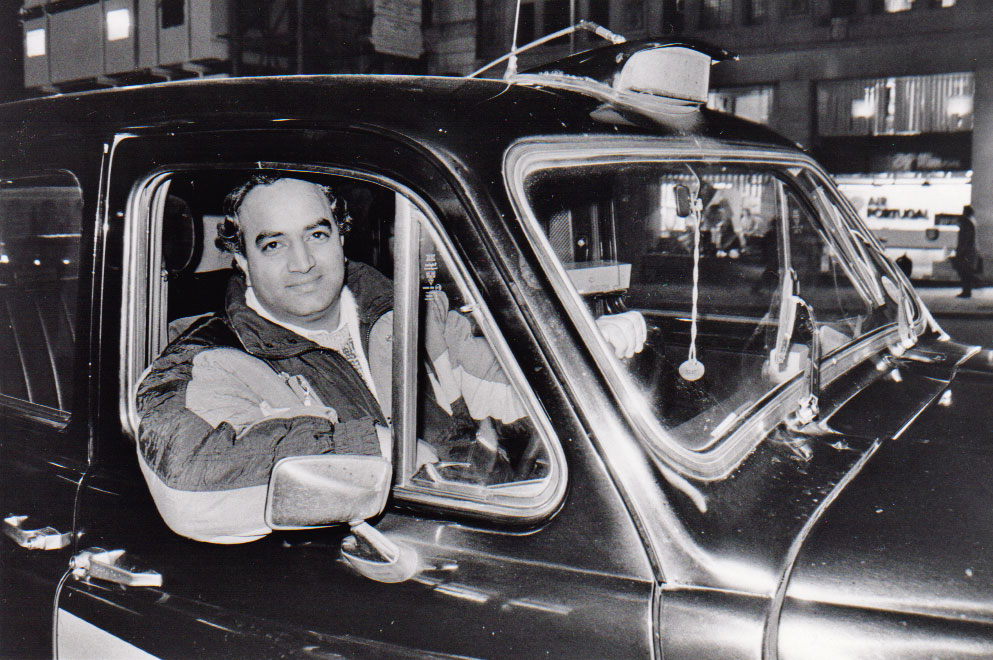 The driver of the taxi I took by chance was an Asian.
"Get out of the way! Paki!," a white in the wedged van shouted. But the driver only returned a look at the man for a second. Like the double decker, the old-fashioned black taxi is one of the London's attractions. There aren't so many coloured taxi drivers although there are many bus conductors in London.
"Well, the passengers sometime say something about me, too. I always take no notice of that sort of party." Mr. Daulat Ari (33) at the wheel began to talk to me probably because found me an Asian.
22 years ago, he came to England following his father who had been working here."I didn't think I would settle down in this country, but I did simply because we wanted to live together."
Father's days were terrible. He sent most of his income home by saving the money even on meals. Now, we can live in a neat flat with furniture and television. Not only this, it's also possible to have a two-month vacation every two years by going back with his family and spending a quiet time there. "There's no economic problem", Ari said.
"I don't like to be employed in any company. So I took the exam.for a taxi license. It's on even ground with whites, isn't it?"
A london taxi license needs the ability to calculate out immediately the nearest and fastest route to the passenger's any destination in London. It' not same as Japan's one that required only driving skill.
As far as he knows, some 20 Pakistanis and four Chinese drive such famous British licensed taxies.
His only problem is "there isn't enough time with my children, passing each other because of this job". By the look on Ari's face, he had made it in his new life.
PRINCIPAL
"'Falling behind'. The parents said so and made their children leave this school, all they are just racists". The principal, Mrs. Penny Bentley(47) declared positively.
This area, the East End has accepted French, Irish, Jewish, Pakistani and Bangladesh immigrants since the 18th century. She has been the principal for four years of Columbia Junior School that is near the centre of the 1978 racial disturbance.
The pupils are around 400. Some of them are moving in or out everyday. 85 percent of them are Bangladesh, five percent are Chinese and 15 percent are whites. Although five years ago the whites constituted half the school population.
Looked in a second-year class. A child is learning the alphabet here. Another one is writing a composition. Teaching is done by dividing pupils in four groups according to individual achievement.
In the hall, other class's children surrounded a large red paper on the floor. "they are just making the decoration for Chinese New Year Days". Depending on the principal, Jewish, Christian,Moslem, Hindu and any other's festivals are prepared and commemorated by all pupils, even for only a child from different culture as so long as being in this school.
"In fact," Mrs. Bentley confessed that her two children attend the school just next to hers. "They'll fall behind if learning there," their grandmother, her mother worried about her grand-children, had advised changing their school.
"Bangladesh children absorb very quickly four language at the same time as Seraphy, their mother tongue. They learn Arabic of Koran, Hindu for Indian amusement video and English from school though they are still so little. Including their parents, I don't see such diligence among British people any longer."
The grand mama visited grand children's class at work and then understood her speaking.
"SMASH XXX", a white sprayed graffiti was on the wall of vacant land near the school. Caught a glimpse of the scribbler's feeling.
BE HOME
"FOR SALE," the sign was hung outside the house. The two-storeyed brick house with a white fence. It is a common style of the middle class familie's in the suburbs.
Derby is a industrial city, about two hours by north-bound express from London. The strong fragrance of peculiar Indian dish comes into the nose as soon as the door was opened. The man that opened the door was Mr. Prem Singh(58), a first generation of immigrants.
"I bought a house in my native land last year. We think of going back in near future." Mr. Prem has served as the national president of Indians Worker Association Great Britain for four years. His four sons are working in this city, too.
Mr. Prem used to be a high school English teacher in Punjab, India. Although he was promoted as a head master, but in 1962 he came to England alone. "I wanted to see once the country of English, the language that I taught and thought of taking a degree in England."
But it is impossible to travel freely to his home country any more because 'Commonwealth Immigration Act' was enforced from that year. The government began to look into racial friction more seriously because involved more than two millions foreign labourers at that time.
"At first I was a guard with the British Rail. I mean with the goods train. It was a very dangerous job that I had to give it up after only three months and then I worked as a bus conductor for five years in Nottingham. Later on, I came here to begin retail business and opened the welfare office for the immigrant workers eventually." explained Mr. Prem Singh.
There are from the famous Rolls Royce to the unknown textile man ufacturers in this city, Derby. And Japan's leading automaker, Toyota also is building their British plant here. Both the big factories and small mills employ many immigrant labourers.
"Young men forces their ways by violence or abusing 'Racial Discrimination Ban' are coming out among the second generations of some minorities. And British way (of discriminating) is worsen",he said. When the topic changes to racism, his tone switches at once.
So to make it possible for Mr.Prem to visit his sons or grandchildren in Derby again, he has to live in his home country, India after a lapse of 28 years as a British.
APPLICANT
Brixton. Known as 'the town which is not in the London map.'Used to be a residential area but now, most of the citizens of this ward are coloureds. "You should leave your money behind," a British friend advised, however it is comfortable here as a yellow journalist.
The popular paper for the minorities group, Next Steps, is sold on the street. Its daily circulation is about ten thousands and criticizing against racism and the problems that they're facing.
Had a chat with a black paper seller, Courtney(23) at a cafe near by. He applied for the entrance of three politechnics three months ago after finishing his college but till now he hasn't received any reply yet.
"In the application form, there're the sections of origin and complexion. Ones have to fill in or else he is suspected an illegal entrant." Though Courtney is British nationality, named like a white and speaks good English but still he is considered as a black.
35 years ago, his father immigrated with family from Jamaica and is the head of blow paint part in British Ford. His father who was only ten years old at that time doesn't tell him very much about their homeland.
Courtney studied the history of immigrants from West India by at tending library. The labour immigrant yield from the inclined industrial structure of the independent country after a long colonial rule. The manpower in 50's, here, in London as same as the present Tokyo, ran short so much that the labour recruitment offices had to be set up in Jamaica and some places.
Only 45 percent of his classmates was able to get jobs including self-employment. The unemployment gets acute among the coloured people especially the blacks.
"We want more chances for further education. This country will be better if we are given the chances. But the government are not happy about it. I guess they want black people to be labour forever," said he.
Courtney wants to become a journalist so that he can carry on with his will and he will keep up applying till receiving the reply.
The photograph's caption: Courtney sells Next Steps as willing to be a journalist.
FLOWER OF HOA MAI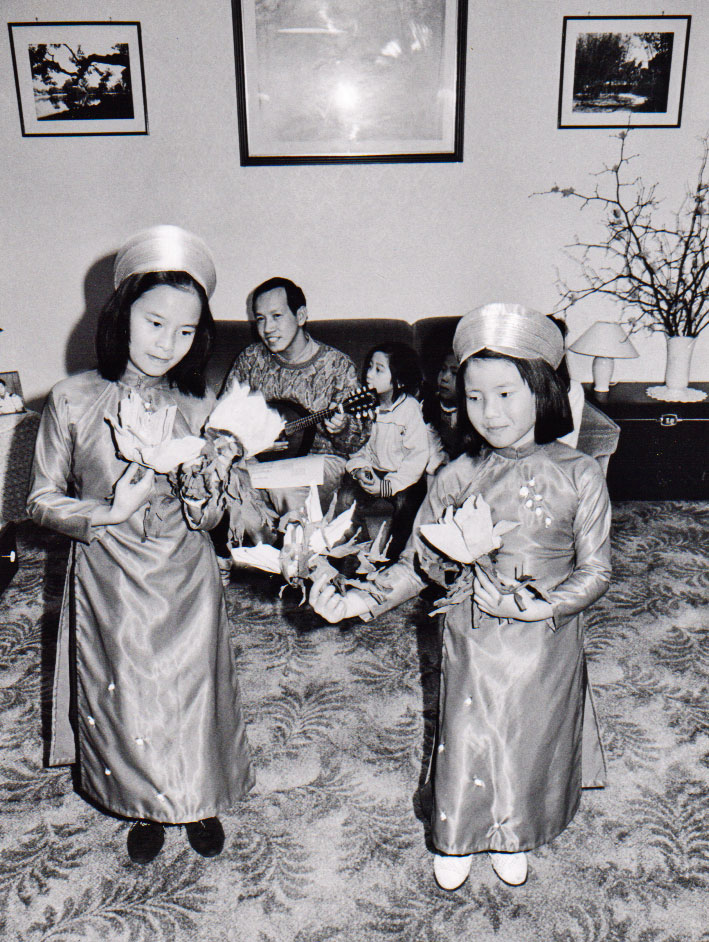 " … We're in a free country but we'll never forget home, Vietnam."
The dear children's singing Mr.Nguyen Quoi Ton (40) put into English for me. This song was written by an ex-refugee settled in Norway. It is loved by the dispersed Vietnamese in democratic states all over the the world.
In Ton's house on the outskirts of London, the practice of folk singing and dancing was just at its height of the New-Year celebration by the Vietnam Refugee National Council in the United Kingdom.
A photograph of junks passing each other in the Mekong Delta hung on a wall. On a table, beautiful yellow flowers were arranged in a vase. But after a closer look, the flowers which resembled Japanese plum blossoms turned out to be artificial.
"I made them for myself from memory. They are called 'Hoa Mai.' Although indispensable to our 'Tet'(New Year), there aren't any in such a cold land."
He was picked up by a British freighter five days after drifting in a boat and came to England in 1981. He had been a pharmacist and had graduated from Saigon University. After the defeat of the South, he had been in prison for three years. Then he had been forced to work for a government hospital for very low pay. "Those hospitals made use of our technical expertise but denied our intelligence." He had no hope of escape from this life and no hope for the future, and he lived in fear of being arrested by the secret police again.
Three years after he had settled in Newcastle, at last, he requalified for his pharmacist license. He was employed by a Jewish pharmacy owner who "had once also been a refugee" and he had moved to London. But he resigned from the pharmacy when the Vietnam Refugee National Council gave him the position of administrator. As a "Vietnam physician teaching English to refugees because he gave up his requalification." Ton says his life is now even better.
His eldest daughter was three when they left Vietnam; now she is 11, and a second daughter is eight years old. His long-hoped -for son was born in England two years ago. Ton named him James, and his middle name is "Vietnam".
DREAM FOR JAPAN
Lambeth of London, where antique Victorian three-storied flats stand side by side, is the town of the coloured. Lilian Baylis Secondary School is located in the centre of this town.
In many places, due to the doughnut phenomenon, immigrants and refugees live in the old urban flats abandoned by the native- born population.
The teacher's room seemed busy before the first period. "I was in the midst of deciding which classes would be cancelled because five teachers are absent this morning." Mr. Daya Moodluy (52), the head teacher, explained about the lack of teachers. Although the school had advertised in the papers about the vacant positions and had even included an incentive allowance from the special budget of the school board, no teacher had come.
There are 40 teachers for 560 pupils. This may seem like a good ratio when compared with Japan's rate, but "20 children enter every month without even the word 'hello'. And there are even more who don't know how to use rulers because they wasn't enough education in their native countries. Also, the students speak more than ten native languages.
"It is a good idea, but the field is just in chaos." Miss Jane How (31), the teacher responsible for children with special needs, criticizes the school board's policy that ignores the actual circumstances.
The government made a 180-degree turn from the conformism of the '50's and '60's to esteeming individuality in the present day. In the resulting reforms, extra-curricular activities in each of the mother tongues have been held for seven years every Saturday in this school. Thus, although two days off a week are usual in England, the teachers have to work on the weekends.
Secondary school is the end of compulsory education. After that, teachers help the students with job placement, but they must then face racism.
"Look at me. Though I've got three degrees in pedagogics,…….", Mr. Moodluy began, himself an Indian from South Africa. He seemed to mean that promotion was slower for him than for whites in the educational world as well.
"I would like to teach in a Japanese high school or to study in a Japanese university. Do you know any … ?." This head teacher, tired out with his seemingly futile endeavours, appeared to be entrusting me with his dream of escape from England.
COLOUR OF MONEY
China Town in Soho. Stressing its exotic mood, the redevelopment advances. I had dinner with Mr. Iqbal Wahhab (26), a journalist, in a restaurant which gave the illusion that it was in Hong Kong.
He came to England with his family when he was eight months old. He is now a freelance journalist; he graduated from the London School of Economy and worked on the staff of quality papers for minorities for three years.
When people talk about immigrants and refugees, the topic is apt to be racism. "The rough-and-ready way to overcome discrimination for the coloured people is to get into an advantageous position financially."
Hearing this, Mr. Patel (35), an Indian manager from Uganda who set up a big electrical appliance shop in Central London, agreed. "Though I can't change my colour, they do not count the colour of money. If you work harder, you can earn more. Our four white shop-assistants see this as well."
Mr. Wahhab explained further with figures. "In the general election of 1983, 81 percent of the Moslems voted for the Labour party. However, in 1987 the percentage decreased to 57 percent, while 23 points changed to the Conservative party. That is to say, the usual principle that people becomes conservative when they become stabilized economically works even among immigrants. And now, Labour has taken four Blacks in as members in order to gather Black ballots."
The attendant at our table was a Chinese lady (32). "They can soon find a nice flat which even whites could not get easily, if they are refugees. And they live on unemployment relief without actively looking for a job." That may be unpleasant for the woman who came to this country from Hong Kong 15 years ago and rose to be the manager of such a big restaurant without any such support.
"Though it's a paradox, I think that people can be roused when coming across adversity by being discriminated against." The journalist, Mr. Wahhab, winked at me.
BRITISH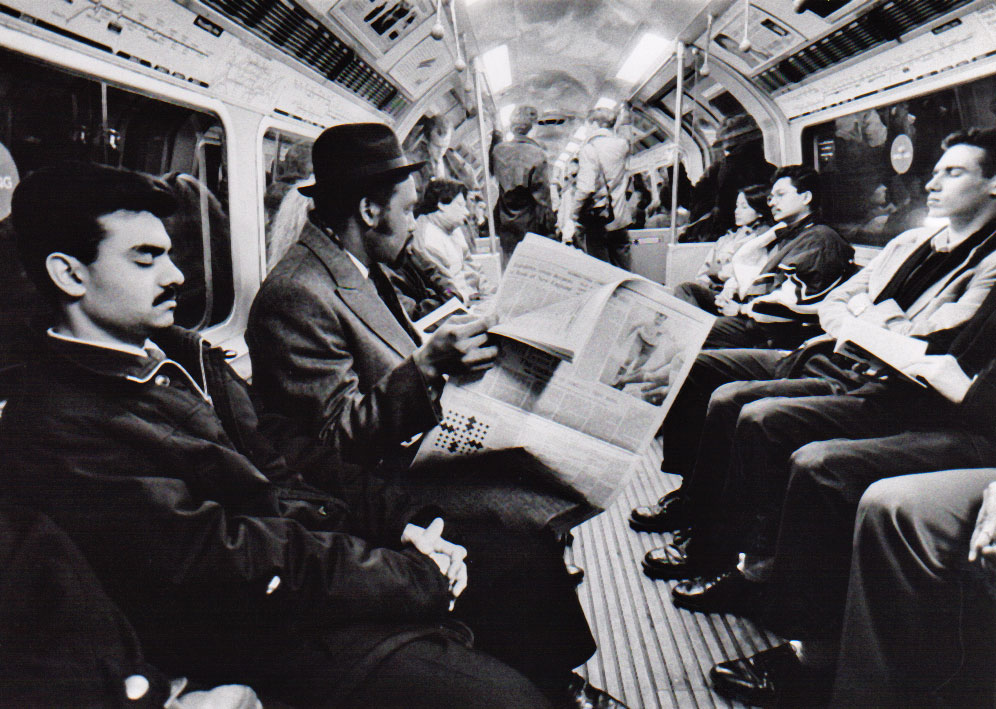 In a restaurant near Piccadilly Circus, Lisa (22), who sat down at the same table by chance, says she has been working away from home, Australia, for two years. She is a secretary. "Any difference from my country? They still type using carbon paper" she chuckles. She seems to mean that electronic typing is common in her country but not in England.
Even that industrial nation, West Germany is said to have gotten out of the high-tech age because they depend so much on the cheap labour of foreigners.
Sitting across the table, John (46), an advertising executive, is a natural-born British, but he criticizes scathingly. "Reckon on the foreign workers on night shift and weekends; the lot is thinking only of going back early to their sweet home in the suburbs and what kind of video to watch tonight."
I was invited to dinner at the home of a solicitor acquaintance, Mr. Peter Gurney (64). He was born in British Kenya and returned home at the age of eight.
"In jobs, each race may be useful in its own way. And it's quite natural for the people who came from very hot or otherwise different countries has some gap in a sense of living with the British."
It is very difficult to practise impartiality although he understands well that he ought to treat them so, he says.
"I can't get along with Moslem ladies who don't try to learn English, or with Black people makes merry till four o'clock in the morning."
But it is also true that the British economy cannot hold together well without their labour any longer.
"An Irish family lives in the neighborhood, but no one minds now as they have already melted into society. The years have helped us understand how to get along with each other, and also their second generation is being educated properly in this country."
"The other day, a son of my friend got married to a Chinese. Who my children will marry, I've no idea…." Mr. Gurney, who has seen for himself the changes in British modern history from colonization to immigration, thinks of the dilemma.
SEND BACK
As "non-refugees," 51 Vietnamese were repatriated from Hong Kong last December. I had a look at the press conference of the field report about what had since become of them; it was by T. Raison, a right wing M.P. of Labour.
"We have found no evidence of political persecution or official harassment in Haiphong where they were sent back."
It was announced with complete self-confidence but the attending reporters were sceptical about their results from only a two-day inspection.
Mrs. Ming Phu (46), a Vietnamese socialworker, tries keeping down her anger "The situation will get more serious if not only Hong Kong but also ASEAN countries, where tens of thousands of refugees are waiting for acceptance by other nations, see this as an opportunity for them to do likewise."
I met an ex-South Vietnamese could speak Japanese. Mr. Muowg Tan Tuoc (46) studied at the Hokkaido University of Japan for eight years beginning in 1963, but he then chose England instead of Japan.
"I thought if I learned English, I could work in Southeast Asian countries near my home land, so I decided to come to this country. Vietnamese often yearn to go to Japan, but most of them don't know even a word of Japanese even though they can speak in broken English. In addition, getting their families to England is easier than getting them to Japan."
In spite of his worry over the refugees, whereever they were, his tone was careful and moderate. But language difficulty isn't the only reason why Vietnamese don't choose Japan.
Although England is embarrassed by its racial problem and has accepted about 25 thousand from Vietnam, Japan has received only one fourth of that.
"Japan, as a big power in the world, should make more effort to do its part. Of course, we should do as well." Mr. Sandy Buckham (44), the director of The Refugee Arrivals Project in Heathrow Airport, said so and added, "Refugees certainly contribute to the countries that accept them when taking the long view, because they are refugees and immigrants who have determined to leave their native land through future."
It sounded like a message from Mr. Buckham to Japan.