Laos & Vietnam
The Spratly Islands on Land
December 2016
China's Southward Expansion into Laos
China's construction of artificial islands on the Spratly Islands and their militarization has become a territorial issue with the Philippines and Vietnam and Washington tries to contain this activity. In Japan also, this news has been reported boisterously as the islands are located in the sea area where the sea lane passes through. However, the present situation of Laos which is said to be "almost like a colony of China" has been barely covered in Japan. This time, I visited Laos to witness the current situation and headed for the border with China leaving from the capital Vientiane.
Although direct flights to Burma (Myanmar) and Cambodia from Japan started flying, there are none to Laos, yet. I left Japan in the morning and arrived at Bangkok the capital of Thailand in the evening. Then, I flew to Udon Thani with a domestic flight of Thailand as the transit is more convenient and economical. From there, I made car transfers, crossed the First Mittaphap (Friendship) Bridge over the Thailand-Laos border and entered Vientiane at night on the same day. While I have six months until I retire at my workplace, my old friend who accompanied my trips around this country for five times since the first one in 1994 when we covered the opening of this international bridge together already retired as a public employee and has become a good-natured old man who receives a pension almost twice as much as the starting salary of university graduates.
New Land too large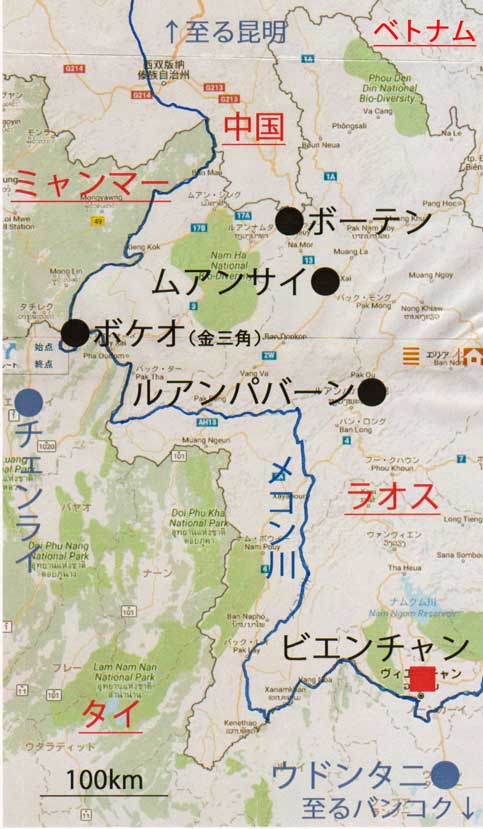 Although the population of Vientiane is said to be 700,000, it looks smaller than a local city of Thailand and seems quiet. I took a stroll around a night market where a large amount of Chinese-made cheap clothes, watches and so on are sold, and in the next morning, I visited a special economic zone which I have heard about. It is a development project of the "That Luang Lake Special Economic Zone" for which Shanghai Wanfeng Group signed a contract with the Lao government on November 28, 2011. It is located about 3 kilometers east from the center of Vientiane and next to a huge shopping mall recently built by a Laotian living in France. The land was made by filling in a reservoir which used to be a relaxation place for citizens. Seeing this, I cannot help but remember that in Phnom Penh of Cambodia to the south, a Chinese bank is constructing the first high-rise buildings in the country and an urban development project is being undertaken on its west side also by filling in a lake.
The billboard has a rendering image looking like a theme park which resembles European streets with a marketing phrase for a grand plan, "Realize a 50 billion 'New Land' of 365 hectares" in Laotian and Chinese. If the host country provided only a land and extra territorial rights under the name of a special economic zone prevailed, this time China itself might aim at something like a settlement which used to be existed in Shanghai, Qingdao and Dalian.
Five whole years have passed since the conclusion of the contract but the construction seems to be still in its initial phase. The site was covered in silence without any hammering sounds. Although there are high-rise condominiums which seem to be almost complete, no one seems to have moved in yet and buildings whose construction has stopped with only concreting finished are visible. According to the contract China concluded with the Lao government, China rents this land for 90 years until 2101. Will Lao people with the population of less than 7 million living in a land area as large as Honshu of Japan live or work in high-rise buildings even though the buildings have elevators? Or, will businesspeople and companies come from overseas including the Western countries, just like Hong Kong and Singapore?
In May this year, about two months before the ASEAN Ministerial Meeting was held in Vientiane, Japanese Foreign Minister Fumio Kishida visited here. He agreed with Foreign Minister Saleumxay that peaceful resolution based on the international laws was important for the issue in the South China Sea where China is advancing aggressively. More specifically, they denied China's claim for rights in the South China Sea and called for respect for the ruling by the Permanent Court of Arbitration in Hague. On this occasion, Japan decided to offer a grant of approximately 2.7 billion Japanese yen for repairing the "East-West Economic Corridor" which connects Vietnam and Myanmar crossing Laos. However, at the ASEAN Ministerial Meeting, a joint statement to contain China could not be issued. At the ASEAN meeting where a unanimous accord is considered right, Japan's prior preparations to build consensus turned out to be in vain. Laos acting as the chair and neighboring Cambodia to the south who receive a large amount of financial support objected to it.
In the eyes of a Chinese Laotian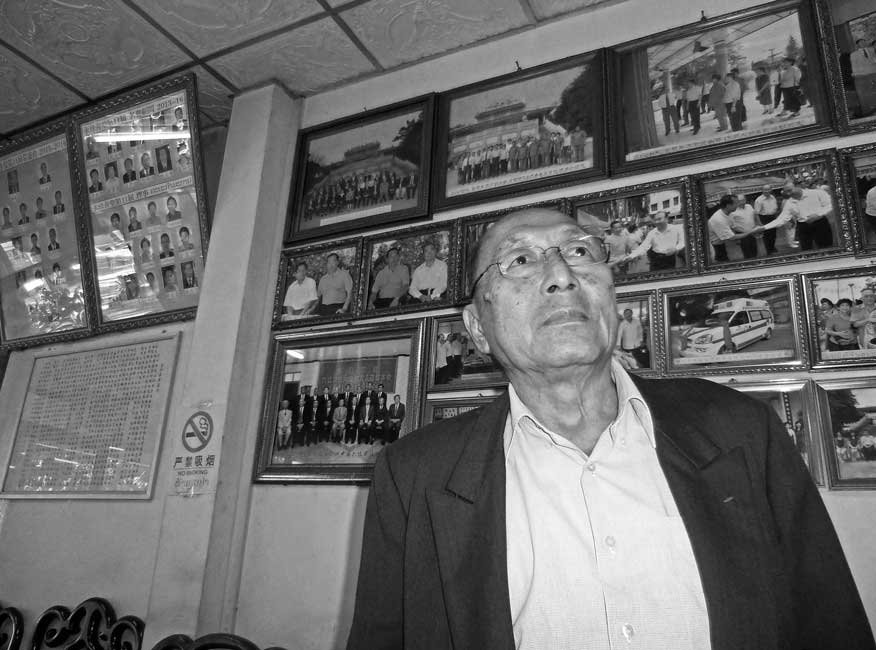 After leaving the silent construction site, I went to see a Chinese Laotian. "Laos has nothing to do with the issue of the Spratly Islands and this country will accept anything for economic development," says Cho Zīyuán (70), Vice Director of the Vientiane Chinese Association, in a calm manner with an almost resigned look. "Now the country is taking an economy-oriented policy so Chinese who like business and gambling surely come wherever they can do businesses. Now that a road has been completed to connect the two countries, they can come here casually but if they don't succeed, they will go back immediately. A lot of funds flowed into Laos which has opened the door and no one can stop this trend." He is a second-generation Chinese born in Vientiane. His parents escaped the Chinese Civil War and left Swatow to go to Saigon by boat. Then, they came to Laos and started a business to sell French products including clothing. He himself started a plastic bag factory here but has already retired. Presently he is engaged in charities such as free funerals at this association.
The average starting salary for university graduates in this country is 1.5 million kip (21,600 Japanese yen) for an employee of a private company and 17,300 yen for a civil servant. The minimum wage specified by the law is 13,300 yen for a monthly salary, and on average 720 yen for a daily pay of a worker and 1,000 yen for an engineer. "Anyway, that special economic zone is too big. The population of this country is small and there are no sightseeing spots. If they bring workers from Vietnam, that's a different story." Quite a few people invest in foreign projects if they are imposed on taxes inside China, even though they cannot make immediate profits. Poor workers are willing to go to construction sites abroad if they can get better wages, for just a bit. Large corporations expand into Australia and small and medium-sized companies come to Laos and other countries.
He says that more than 4 million Chinese enter this country by land annually, which is equivalent to almost 60 % of the country's population. Nonetheless, few people settle here and they come in the form of a business trip or many people aim to go to northern Thailand passing through Laos. "When we were young, we didn't need a passport or a visa but I want them to follow the rules specified by the state now," says he, a remark characteristic of the person who has become a member of the Laotian business circle even if he is a Chinese descent. Although Vice Director Cho was concerned about the future of the New Land Development Project in Vientiane, he said he would totally welcome a railway which would be constructed by China at the end of December, when a groundbreaking ceremony for virtually the first railway in Laos was taking place in Luang Prabang.
Heading for the Chinese border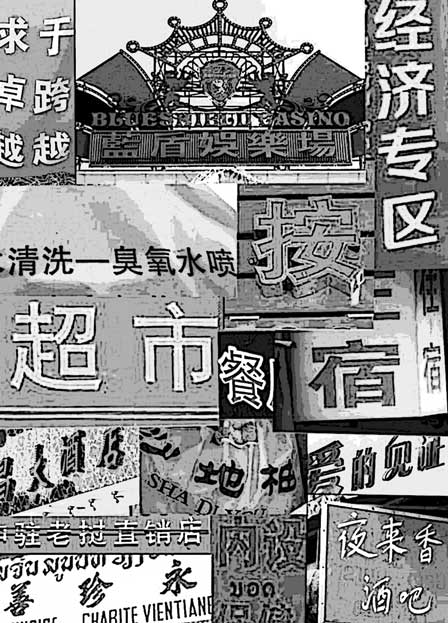 After hearing that 4 million Chinese enter the country annually, I headed for Muang Xay, a regional core city in north Laos close to the Chinese border. As it takes a whole day to go there by land driving 550-kilometer winding mountain roads, I decided to take a Lao Airlines flight. It is a 50-minute flight by ATR 72 manufactured by a joint company of France and Italy. The Lao Airlines has Xian MA60 made in China too but these planes seem to be used for other air routes. So I didn't have to fly with an infamous airplane which is said to fail to meet the international safety standards.
Oudonxay Province whose capital is Muang Xay has a population of 300,000. According to the Commerce and Industry Bureau of the province in charge of promoting investment, 263 companies invested about 1.8 million dollars in total this year, which includes small and one-person businesses such as diners and general stores. Large-scale investments are made to cattle feed, raw rubber, lumber processing, dried corns, supermarkets and hotels. Incoming capital is dominated by China for 80% and Vietnam accounts for 10%. In this province, approximately 60 % of the wage earners work under the Chinese capital. I hear that Japan provides only aids for public health and local industries and that no private company operates here.
Foreign investments in the agricultural area are made to bananas and rubber, and in recently years, kidney beans, pumpkins and tobacco farms. There are not so many businesses in the industry area and there are one battery factory, one assembly plant for motorbikes and cultivators respectively and one packaging factory for drinking water. Each factory is small, employing about 100 workers or less. While agricultural products are carried to China by truck, industrial products are sold in north Laos. They are assembled here as the taxes are lower than exporting finished products. Although the battery factory received complains about an odor in early days, it was improved and no pollution has been reported since then. I heard that, in any case, without an agreement, no international project starts and continues in both agricultural and industry fields so no problems have occurred so far.
Having said that, although banana farms started operations in this province about five years ago, they don't accept new applications in order not to increase them any longer. The reason is a voice of concern about agriculture was raised among farmers and the country with a policy of "environmentally friendly agriculture" cannot ignore it. Presently, experts are sent to conduct a soil survey. Surin Mittaphap (45) Vice Director of the Industry and Trade Department of the Commerce and Industry Bureau of the province says, "For environmentally friendly investments, we'll arrange farmlands and workers. We have a plan to construct a third dam so we would like to invite processing factories of agricultural products. In addition, this place can be a transportation hub located about 200 km from China, Vietnam and Thailand, so we expect a lot on a service industry including tourism in future." There is a cave which is the third biggest in the world and the biggest in Laos but presently access and other facilities are being prepared and therefore, it has not yet become a sightseeing resource. The country tries to attract foreign visitors with eco-tourism such as trekking, kayaking and cycling by taking advantage of "Laos, a land of forests". However, Chinese tourists show no interests and only a few individual tourists from the West were found who were attracted by unexplored areas of the East.
Red banner with no Laotian letters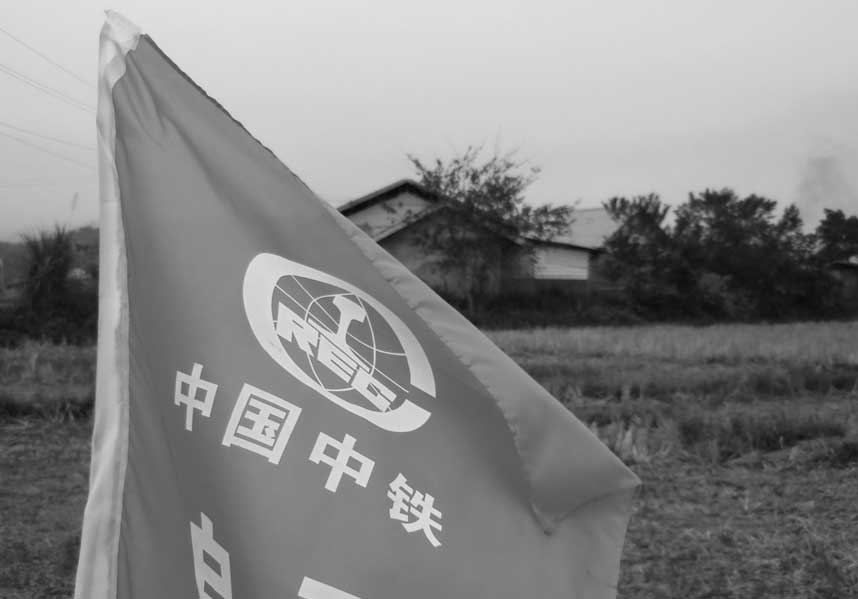 At the beginning of December, a briefing for the locals was held inviting Laotian and Chinese reporters. In this province, a 126-kilometer railway will be laid, with 79.9-kilometer tunnel parts in total. 32 tunnels will be dug and nine stations will be constructed. The railway is planned to be connected to Vientiane in 2019. A site for Oudomxay Station is planned to be 3-kilometer long with a width of 250 meters. On this planned site exists a farmhouse which is also making noodles. Bungpeng (46) who has been pressed to move to another place says, "I think it cannot be helped because it is for the development of the country. However, a farmland as large as this one cannot be found so easily and I want to continue making noodles, too. I haven't heard about any specific compensations, yet."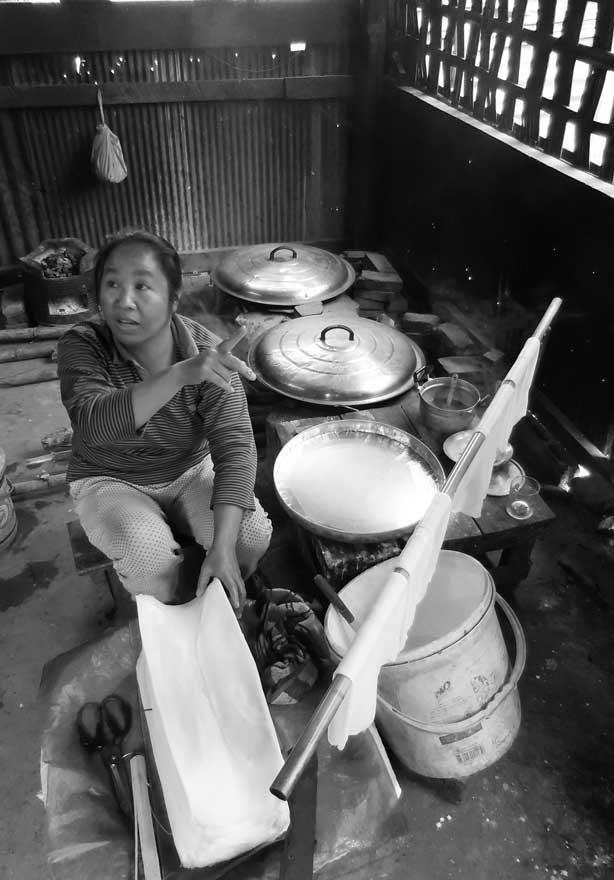 Myporn (33), a reporter of a national TV station, imagines that the country is thinking of cargo transportation because the population of Laos is small. A Chinese company has gained a mining right and it is now mining, so a railway is essential to bring back heavy iron ore to China. However, he wonders, "I think it will not be in the black. I cannot understand why China is laying a railway." Nominal GDP per capita of Laos is the smallest among 10 ASEAN nations and the population density is only 26/㎢, so these severe conditions hinder commercialization of this railway. I can only think that China does not plan to gain profits while recovering the construction expenses but it has an ulterior motive to secure supremacy in this country by offering a grant to lay the de fact first railway in the country. Japan once forced through the construction of the Thai-Burma Railway saying marine transportation with Burma was dangerous. It is obvious that they didn't consider its profitability from the fact that about 100,000 prisoners of war and local workers who were forced to work at the construction site were sacrificed.
However, I heard that in the present Laos, each province sets up a committee and decides everything through discussions with the Chinese side, so there is only a welcoming mood and no one is concerned about political or cultural pressures. This country with a small population has an absolute shortage of workers and they cannot carry out a big project only by the country. For the railway construction, China sends not only engineers but also many workers but the Lao government has won a condition to select places for those Chinese workers to live and to procure their food inside Laos.
Quiet resistance to a banana farm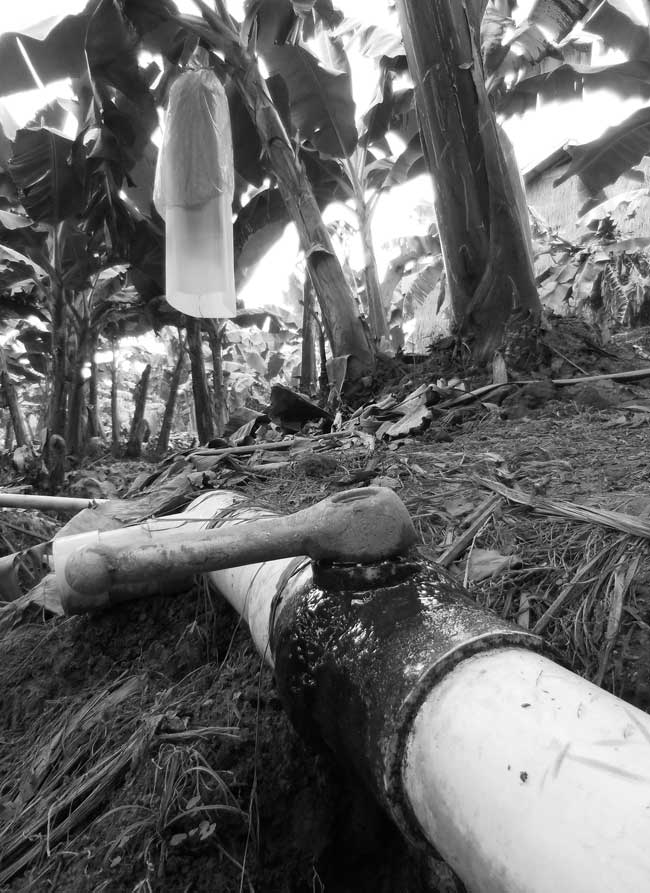 Going south for approximately 40 kilometers from Muang Xay, capital of Oudomxay Province, I went to see a banana farm run by the Chinese capital in Namet Village, Beng District. Their operation system is that they lease a land on a ten-year contract from a villager, hire farmers in the neighborhood as workers, carry materials from China and carry back fruits to China. In villages of Laos people eat bananas themselves or sell them at a nearby market and they have never cultivated the fruits as commercial products in earnest. The Chinese method is that seedlings are planted at equally spaced intervals, sprinkling pipes are laid, chemical fertilizers and agricultural chemicals are used and banana bunches are covered with plastic bags or Styroform for pest control and temperature management.
Thuree (30) who was engaged in extension work of a fertilizer warehouse of the village says, "Whether leasing a land or not is based on each person's free will so I have no specific objection." If a villager leases a land, he can get an income of 25 to 30 million kip (360,000 to 432,000 Japanese yen) per 1 hectare for one period of ten years. I was told that as they can earn only as much as one third if they are engaged in agriculture on the same land by themselves, it makes a good income. However, only 20 % out of approximately 350 houses have concluded a contract.
Almost 80% of the villagers didn't sign a contract because of concerns that growing only bananas without crop rotation for as long as ten years may have an adverse effect on the soil and that they are afraid their life might be messed up if they live on cash money. A woman (37) who leases a hill behind her house and obtains 3 million kip a year says, "I have never eaten even one banana from this farm as they use a lot of agricultural chemicals and I am afraid of it." This kind of banana farm by a Chinese company was operating in the suburbs of Vientiane, too. Farmers sued this Chinese company as cows which drunk water flowed out of the farm became sick and the company eventually withdrew.
Sluggish industrial sector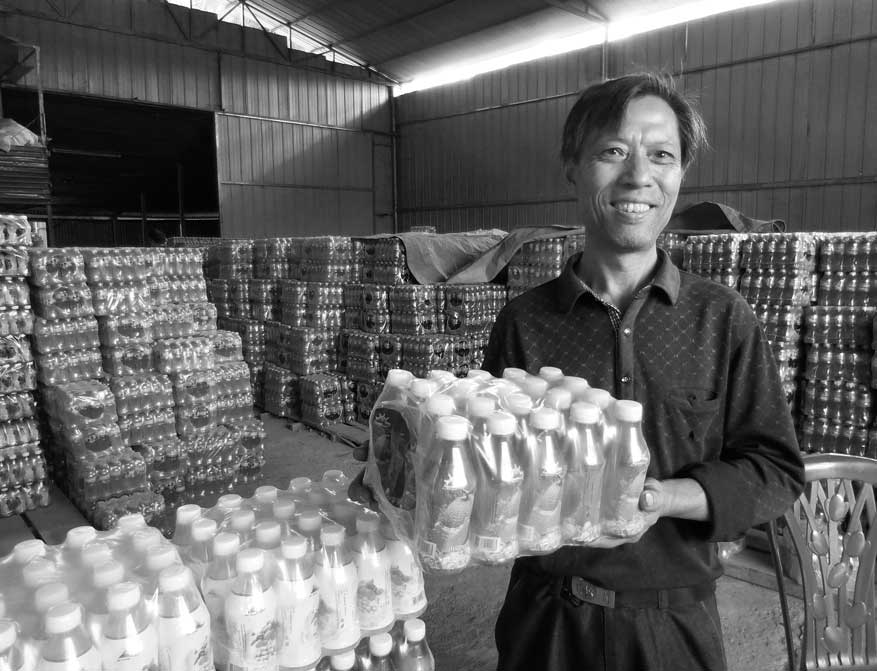 On the other hand, there are few industrial fields. Hongxin has been assembling motorbikes on the Chinese capital here for nine years. Sengsan (38) Director of the General Affairs Department who attended me is from Oudomxay Province and this is his sixth year with this company. He studied bookkeeping at a university in Vientiane and worked as a local staff member of an aid organization in Australia when he was young. He wanted to be a civil servant but it was extremely competitive and he joined a Chinese company thinking a private sector with a high salary might be good. As Laos is an ASEAN member country, if they manufacture motorbikes, not assembling, they can export them to Thailand without any duties. However, this country has no human talents or facilities for it, yet.
For five years since 2010, the company assembled 8,000 motorbikes annually on the average. They have three models of 70 cc, 100 cc and 150 cc ranging in price from 4.5 million kip (64,800 Japanese yen) to 115,200 yen per unit. They are about 20 to 30% cheaper than Japanese brands but a Laotian executive admits their horsepower is weaker at the same engine displacement. Rich people prefer Japan-made products and Chinese models are popular among ordinary people. The company recruits factory workers regardless of academic history and when there are more applicants than the number of the positions, they screen them by interviews. They can become regular workers after completing two-month training. The employees work for eight hours in the daytime for 6 days from Monday to Saturday and their monthly salaries range from 1.2 million kip (17,280 Japanese yen) to 40,320 yen depending on the ability, with a bonus worth one month salary, which is not a bad condition in this country. However, most of the workers work only for five years at the longest. They return to agriculture or become independent and start their own repair shops after obtaining skills. There are 13 Chinese employees stationed and they are engaged in liaison jobs with the headquarters and technical instructions.
Director Sengsan says, "We had 120 workers at the peak period but now only 50. Users are getting to have a good eye these days so we think we have to improve our product quality."
I also visited a juice factory which started operations six years ago. Their brand name is "Xay Oudom" converting its place name. The factory looks like a warehouse at a glance. It is surrounded by deep blue tinplate and no brand name is written anywhere on it with no nameplate showing a company name. Labels on the bottles have no Chinese characters and all are in Laotian, so consumers don't know that all is made in China except water.
Cho Zuofa(60) who attended me kept smoking but was very amiable. They have hired 18 Laotians and two Chinese people are in charge of management. They bring liquid concentrate, bottling machines, plastic bottes and labels all from China.
Oudomxay is the second poorest province after Houaphan. While per capita GDP of Laos is 1,760 dollars, it is 1,050 dollars here. In the richly colored plastic bottles piled up in the factory, there is no actual fruit juice as juice is in name only. Products are made of sweetener, food coloring and flavoring agents diluted by water. The wholesale price is 10,000 kip (144 Japanese yen) for one pack with 20 bottles. They are sold at a store for 1,000 kip (about 14 yen) for one bottle, a double price. An orange taste and a coffee taste following a coconut taste are popular. They say that the company sells 3,000 packs per year but that doesn't reach the sales of 2 million yen. Private companies receiving no grants from the government must compromise on quality and provide products matching market purchasing power so it is understandable that no foreign capital except for China operates here.
Is the border moving southward, too?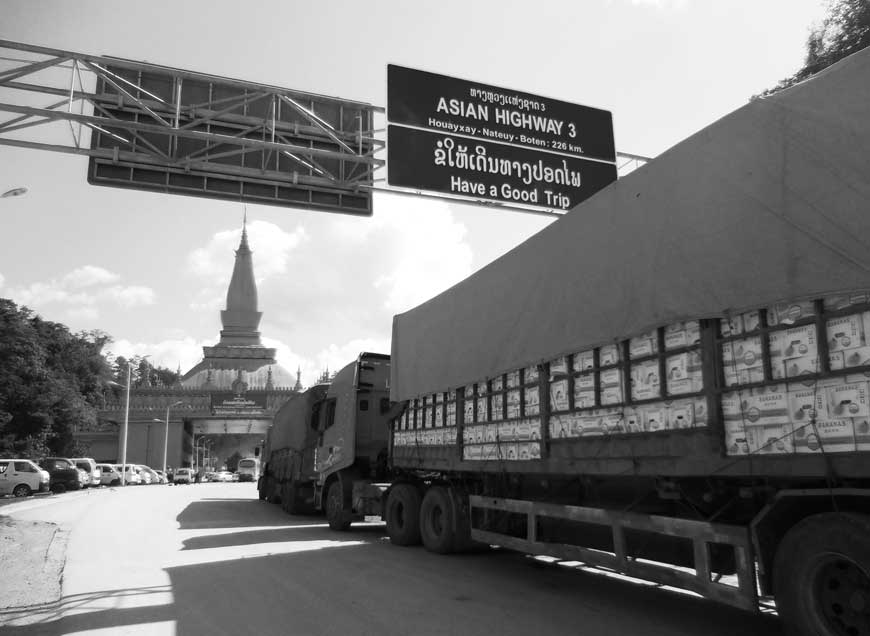 Crossing many peaks overlooking a sea of clouds and seeing several billboards indicating tunnel construction for the railway, I went up north on the Asia Highway from Oudomxay and traveled by car for almost three hours. This is a point where a traffic jam of large trucks and trailers going to China starts. These vehicles are waiting for their turns to go through immigration and customs procedures and many of them have license plates with a simplified Chinese character indicating they are from Yunnan Province. Some of them even have license plates of Shenzhen City of Guangdong Province. The border with China is just over there.
When I got closer to stopped trucks, I found one of them had a full load of only bananas. In many places on the cardboard boxes only "Bananas for Supermarkets" is written in Chinese and English. Those bananas may be for contract farming with a major supermarket. Besides bananas, the trucks are full of dried corns and lumps of rubber, looking like a convoy heading for China. Although there is a weigh station for trucks, it seems not functioning. Seeing towering cargos piled up full of products and a sinking bed of every truck, it is surely overloading, no matter how you look at it.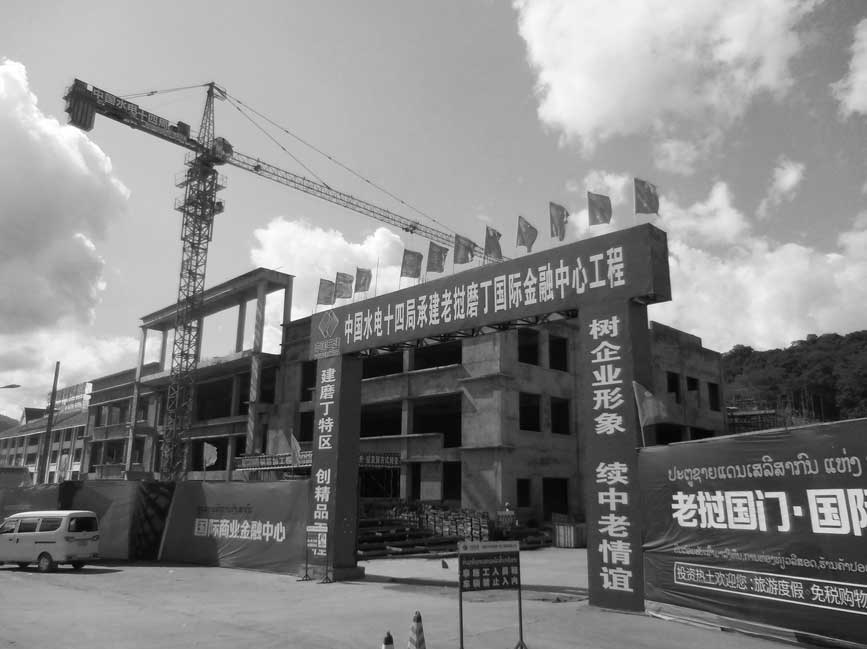 Just in front of Boten where the Laotian immigration office is located, heavy machinery is leveling a mountain rising close to the Asia Highway. This construction started in October this year and the land is planned to be a vacant lot in February next year, which is a planned site for the International Commerce and Finance Center in the Boten Special Economic Zone. The construction has been contracted to a corporation of the Communist Party whose headquarters is in Yunnan Province and the construction gates says "China Hydropower Generation 14 Process". This is a national policy concern which is constructing not only this one but also a trade center in Yangon, Myanmar, a flood-control dam in Sri Lanka and highways in Congo. On the fence walls for the construction is written "The Belt and Road Initiative, China-Laos Economic Joint Free Port". This is in the territory of Laos but all depends on the Chinese capital, with no Laotian or third countries' funds. This is a special economic zone under the contract between the Chinese government and the Lao government but it even seems China is forcing forward its border. Next to a commercial building under construction, a duty-free shop, a restaurant and a hotel are already operating but on the day I visited this place at least, there were more employees than customers.
Shin (24) who was waiting for the immigration procedures at a gate under a curved golden roof characteristic of Laotian traditional architecture says he operates a freight business with one 12-ton truck based in Luang Prabang. "Today, I loaded off corns at a warehouse located behind the checkpoint on the Chinese side, and then, I loaded the truck with construction materials for railways instead and will carry them back to Vientiane." From this return trip, he can earn from 5 million kip (72,000 yen) to 86,400 yen. I wonder if this fare is profitable enough after a depreciation fee and a fuel expense for the truck are deducted.
In addition to the Kunming-Bangkok Expressway of the Asia Highway connecting Kunming of Yunnan Province of China and Bangkok of Thailand via Vientiane, the Fourth Mittaphap (Friendship) Bridge opened over the Mekong River three years ago which defines the border with Thailand going down in the south-southwest direction on Route 3 from here. This international bridge was crossed between Thailand and Laos and its construction cost exceeding 1.6 billion baht (5.1 billion Japanese yen) was equally paid by Thailand and China. And a Chinese and a Thai companies were in charge of construction. Laos only agreed on the project.
In order to visit Bokeo Province this time where the third special economic zone exists after Vientiane and Boten, I took a route to go over a mountain from the Chinese border again. The reason is that a means of transportation between Vientiane and Bokeo is only a boat on the Mekong River There are no roads constructed in a section which does not make profits for surrounding countries.
NGO worrying about the country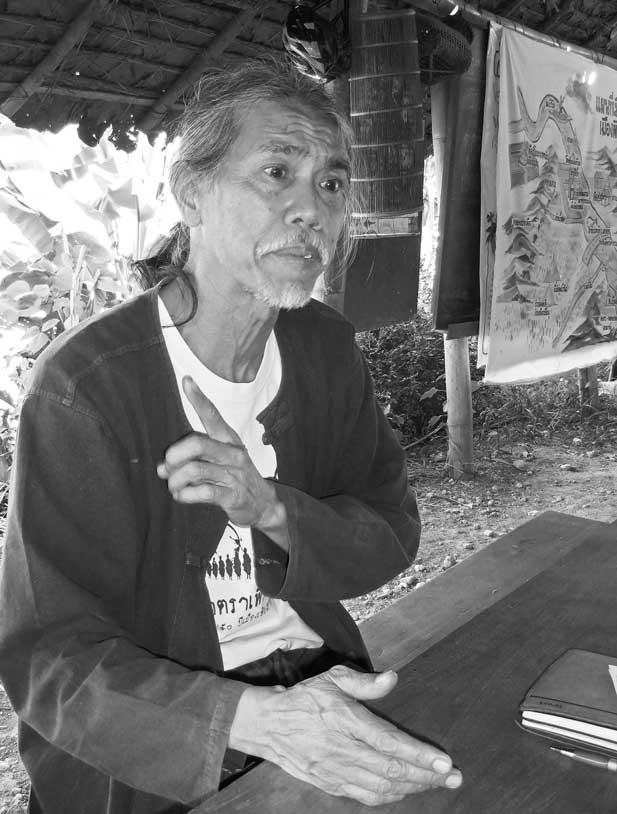 Leaving Laos after crossing the Fourth Mittaphap Bridge, I went to meet Niwat (56), Director of an NGO named "Chiang Khong Conservation Group". Niwat in traditional working clothes of a farmer started talking, "China's southward expansion strategy is already influencing not only Thailand but also Myanmar and Cambodia. In case of Thailand, it can be found in banana farms and the Mekong River."
A Chinese company has operated a huge banana farm with a total area of 2,700 rai (approx. 700 hectares) in Ching Rai Province since three years ago. That means a banana farm which had been rejected in Laos came to Thailand where a private sector is stronger than in Laos and free economic activities can be pursued. As a large-scale agricultural project uses a large amount of water, the river of that farm was dried up last year for the first time in history. Herbicides, pesticides and chemical fertilizers are also of concern. Farmers receive only 5% of the profits the farm obtains even though they sell their resources and sacrifice their environment. I wonder if it is really beneficial for this country. Niwat says, "Presently, the National Human Rights Commission of Thailand, an independent organization of our country, and the Conservation Group are analyzing river water near the banana farm. If a toxic substance exceeding the reference value is detected, we will file a lawsuit against the Chinese company."
Another influence is emerging in the Mekong River. As China in the upper-most area built a power generation dam in its territory, water levels around here depend on the convenience of China. Freshwater seaweed called "kai", a specialty of Chiang Khong, which is grown at the bottom of the river from January to April is eaten by people and also by fish but after a water level has come to change by one meter only in a week, the output started decreasing. In addition, the number of fish is declining and many fishermen are said to have decided to give up their businesses. Moreover, China is planning dam construction in Pakbeng in Laos, too, about 90 kilometers downstream from Chiang Khong and therefore, it looks as if Thailand were sandwiched by China both from the upper stream and the lower reaches. The fact that water levels which are related with agriculture, fishing and industrial water are controlled by another country is a security issue for the countries in the river basin.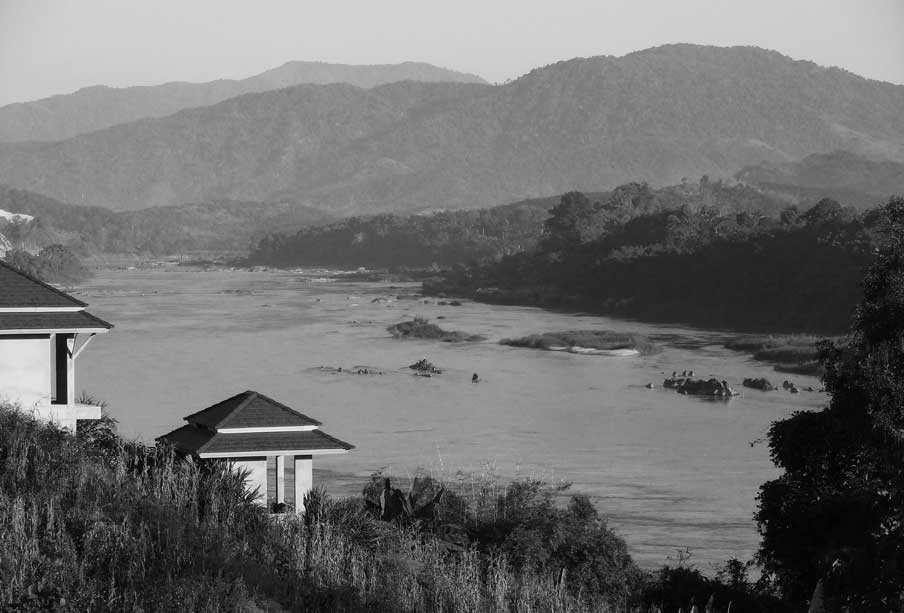 Furthermore, China is proceeding with a plan to navigate 500-ton class cargo ships for 886 kilometers between Simao of Yunnan Province and Luang Phabang in Laos with the purpose of expanding its trade. According to Director Niwat, China already blasted reef rocks in the water with dynamites in the territories of Laos and Myanmar to secure a sea route for large-scale ships. In northernmost Thailand and southwest Laos, approximately 100-kilometer Mekong River creates a border between these two countries. Its downstream river flows into Laos again and reaches Luang Phabang, a core city in the central part of Laos. Therefore, for China who wants to create a sea route, this section is literally a bottleneck. Many reef rocks situated in a narrow part of the river, 20 kilometers upstream from Chiang Khong of Thailand are targeted for blasting. As the border is defined as the middle of the river, if Laos permits to blast, the reef rocks in the northern half of the river will be removed. It is obvious that the ecosystem of the Mekong River formed by mutual interaction of sandbank, reef rocks and water plants will dramatically change by such sea route construction. Although large cargo ship passage will be beneficial for China, what Thailand and other countries in the river basin have to lose is immeasurable.
Director Niwat says, "We submitted written protests to the Chinese Embassy many times and asked the Thai government not to make an easy agreement with China", keeping a stern look on his face. What he meant was found out right after this interview. At the end of this year, the Thai government gave permission to China to blast reef rocks located at 20 kilometers upstream of Chiang Khong.
Banana Farm with no mosquitoes flying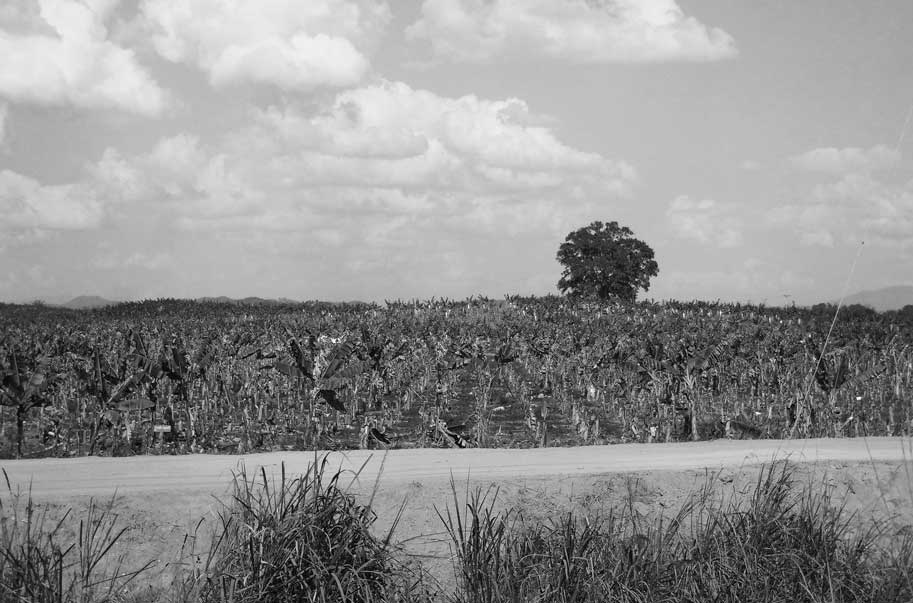 I visited Phayamengrai Farm which Niwat told me about. This banana farm is run on the Chinese capital and it is also becoming a problem in Thailand. At the gate, Thai security guards are permanently stationed and the door has a red sign "Keep Out". The site is huge with an area of 2,700 rai, approximately 700 hectares and grow mainly bananas and also ginger, green peppers and kidney beans. On a gentle hill, bananas are planted with equal intervals and instead of nothing planted between the rows, white sprinkling pipes run. In another lot across this farm, other agricultural products are grown covered by nets between banana trees. This farm was launched three years ago and until then, it had been a mandarin orchard. No one from the surrounding villages come to work at this farm and most of the Thai workers quit due to health damage and concern. Therefore, the Chinese company gather people of Myanmar or ethnic minorities in town and make them live and work here. When I was taking a photo from a public road, two cars suddenly came out of nowhere and people started warning the security guards about something in a harsh tone.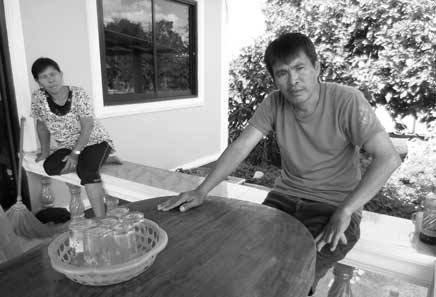 Lun (52), Village Mayor of neighboring Turnamin Village across the In River with a width of about 20 meter complains, "If you walk around that banana farm, you will find no mosquitos. This year in April we had a serious problem." This is a farm village where about 200 people in 60 households live and grow vegetables and longans. As the farm on the Chinese capital waters bananas in dry to cool seasons, they retained water of the In River, pumped up the water and made the river on the downstream side dried up. He says, "This kind of thing has never happened before." In the village, people had no choice but to use stagnant water barely left in the dam for water supply from January to May. They not only suffered from a water shortage for watering fields and washing clothes but also about 30 villagers who bathed in the water suffered from red rashes. A hospital they visited said it was caused by the water.
As Director Niwat said, Village Mayor also saw that officials came to inspect the water of the river. After that, while villagers were making it through with well water, water levels increased with the start of a rainy season and the damage went away on its own. He heard that the Chinese company dug four deep wells on their site in order not to pump up the river water but he is insisting on anxieties about what will happen in the next dry season. As the site of the banana farm is across the river and it is under the jurisdiction of another district, he doesn't know whose land it is and who closed a contract with the Chinese company. It is only clear that such a huge site doesn't belong to an individual.
Current situation of the Golden Triangle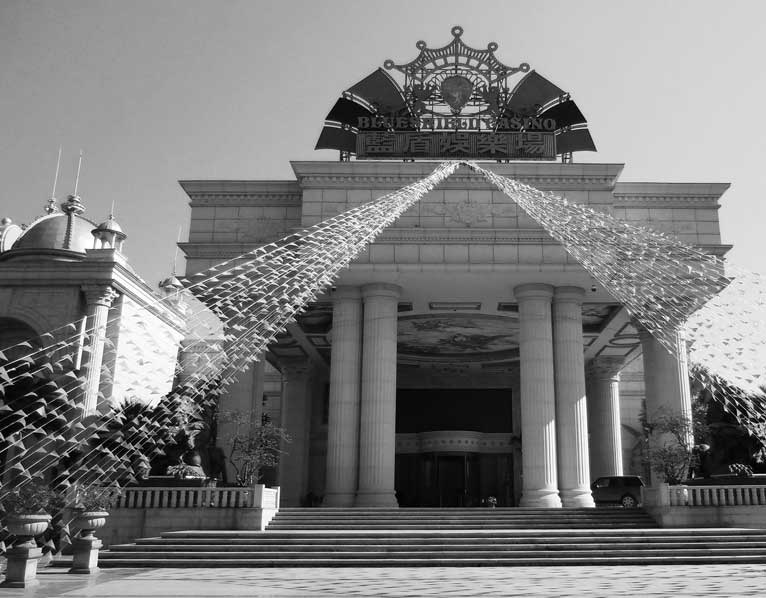 Chiang Saen, a northernmost town of Thailand, is an entry point to the Golden Triangle. That's because Bokeo Province on the other side of the Mekong River has extremely poor access for east-west transportation and most of the visitors come from the Thai side. Going up a road along the Mekong River for about 5 kilometers from Chiang Saen, there is a ferry landing for the "Golden Triangle Special Economic Zone". However, the opposite side of the river is a huge sandbank of Laos. That means visitors are crossing over to an island in the Mekong River. There is only an immigration office and although there is a sign of customs, there are no staff members and people can go through the customs unchecked. After landing, when I went through the immigration office of Laos, I found a huge billboard saying "Laos Golden Triangle ASEAN International Investment Group: Tourism, Real Estate, Net Banking, Business, Gambling". This place is called "triangle" as the three countries of Thailand, Myanmar (Burma) and Laos meet here but on the street lamp pillars on a main street, national flags of four countries including Chinese Five-Star Red Flag are repeatedly hoisted, not only the three countries. A red banner stretched between street trees has a slogan in Chinese, "People of Golden Kapok should cooperate to stop opium and make cotton (kapok)". This may be the only remains of the world's largest drug manufacturing area where Wa people of Myanmar, remnants of the Republic of China and Khun Sa were engaged in secret maneuvers.
After leaving Thailand, I saw the first ship crew and taxi drivers who were wearing jackets and ties, which is rare in this area, and all the fares are free. This is because the destination of all visitors is a casino without exception and these people are casino employees to welcome the guests. It is a five-minute drive to the "Blue Shield Casino" from the ferry landing. The building is Roman-style architecture showing off grandiosity but columns, lion statues and tempera paintings with angels dancing all look like large props of a performance stage.
After leaving my belongings at a cloakroom and receiving a security check, I went inside the casino. Under a dome-shaped ceiling, there are 40 tables for baccarat and poker. Each table has a bill counter, a monitor and a camera. In Japan, it is even or odd but here it is Dragon or Tiger. Dragon Tiger is a simple-version of baccarat without additional cards and seems popular with a crowd gathering around. When a dealer says "no more betting" and draws two cards, win or lose is instantly decided. No chips are used and a dealer has a wad of bills in dozens of centimeters at hand. On the table, Chinese and Thai bills, 100 yuan (about 17,00 Japanese yen) bills and 1,000 baht (about 3,200 yen) bills are flying about. Although this is in the territory of Laos, no kip bills can be found. For your information, the biggest bill of Laos is 1 billion kip bill (1,400 yen) but it is not circulating very much and rarely seen.
By the wall of a dealing room as large as a gym, there are automatic roulette machines, slot machines, ATMs and a coffee counter. Near customers who are drinking coffee or smoking, young men who want to lend money to those who lost all the money are hanging around. "50,000 or 1 billion baht?" "That's big money." "It is big outside but not here." The second floor surrounding an atrium is a VIP room. A middle-aged Thai customer wearing a polo shirt who exports ginger to sushi restaurants in Japan and comes here almost every day says people can buy a Laotian woman for 2,000 baht. All the staff including dealers put a name tag in Chinese and people from Thailand, Myanmar and Laos are employed here. Their monthly salary is 12,000 baht (38,000 yen) for a dealer and 25,600 yen for a coffee server. I bet 1,000 baht as an entrance fee but have no gamble sense and instantly lost. I ended up without asking how the workers think of the customers who get or lose more money than their monthly salary in a few minutes.
Self-respect found in peacefulness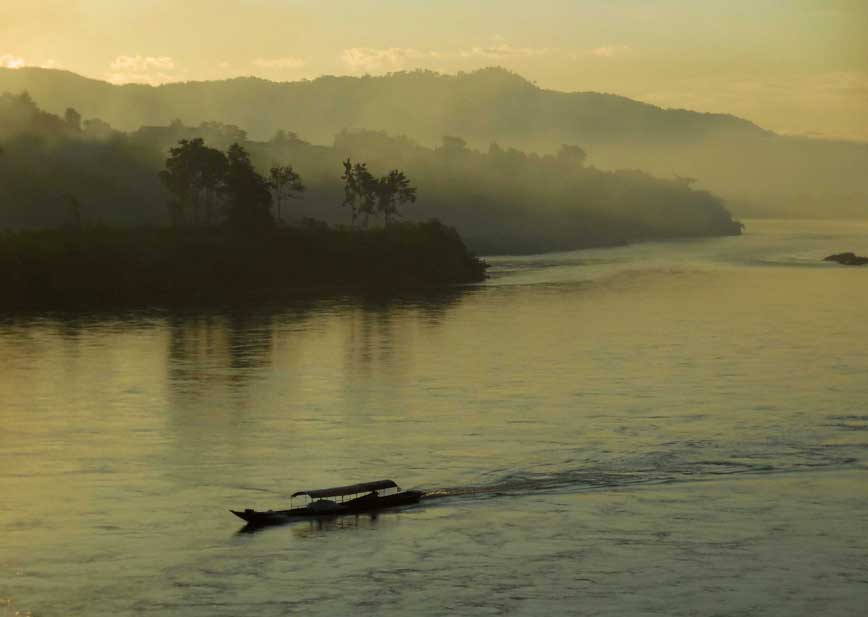 During this trip, I traveled approximately 600 kilometers by car, moving up through Laos. What often caught my eyes are houses abandoned in the middle of the construction. Those unfinished houses have only foundations or foundations and pillars, or some of them have pillars and walls but no windows or doors. Scaffolding was removed, and seen from a color change of the concrete or weeds growing, they appear to have been abandoned for several months to several years.
An old Laotian friend told me that people start construction even if they cannot prepare all the expenses and when money to buy construction materials or hire a carpenter is all spent, they stop the construction. And when they have money again, they will resume construction. According to him, such a thing is not rare at all. I am worried if they don't build at least a ceiling and windows in one go however difficult it may be, woods will be rotten or rebar may be rusted by being exposed to rain, which may damage appearances or strength of a finished house. However, my old friend says no one except architectural experts is concerned about such things. Chinese companies are carrying out construction of many high-rise buildings in the special economic zone very slowly, which will perhaps fail to meet the completion year declared in a billboard. It is totally unknown when all the vacancies are filled with tenants but these may not be a big deal for most of the Laotians, too.
Although I didn't mention this until the end, there is something I was looking for from the car window in addition to buildings whose construction was stopped. I had been guessing, especially near the national border, there might be a border security, if not a military station, or there might be some tension related with the movement of people and goods and China might offer military assistance. Although China is constructing a military base on the Spratly Islands, there is no sign of it on the land of Laos at all. For a country or an area which wants to realize quick economic development but has no own funds, intimidation by arms is not necessary as economy is a top priority there.
China is actively expanding into countries where national power is weak due to the aftermath of a civil war or political instability, national finance is dependent on aids from foreign countries and international organizations, infrastructure is not established, no industries have yet developed and healthy economy is not yet growing. China's targets in Southeast Asia seem to be trade expansion, roads and railways to the Andaman Sea and securing a sea route of the Mekong River. Projects supported by the Chinese government and economic activities by Chinese companies are often witnessed in Myanmar and Cambodia but in these two countries, many more foreign countries beside China are advancing economically than Laos and China's influence is not the only power which is always strong.
Western countries and Japan do not expand into Laos because there are no or few semi-governmental corporations which aim at imperialistic development and are protected and privileged by the state. On the other hand, for private companies, it is perhaps difficult to establish a business for profits. Laotian people have lived with rich nature and this rich nature is a priceless thing which cannot be converted into money. The development and industrial promotion of the country are not on a commercial base and most of them are carried out by support from the Chinese government and Chinese national policy concerns. Japan, although its is a trading nation, has a little interest in Laos and might be alienated from Asian distribution networks and markets in the near future. Meanwhile, the nature where most biodiversity remains in Asia and Laotian people's life living with such rich nature might be lost in exchange for short-term profits. Even so, people in this country try to attract tourists with ecotourism, quit lucrative plants with their free will, stopped the expansion of banana farms which damage people's health and environment, select lodgings for hundreds of thousands of Chinese workers who will enter the country for the railway construction very soon and signed a contract to procure food for them inside the country. I felt pleased with such self-respect during this trip. I think I have to come to this country again.