Burma(Myanmer)
Rohingya refugees, why can't they return?
March 2019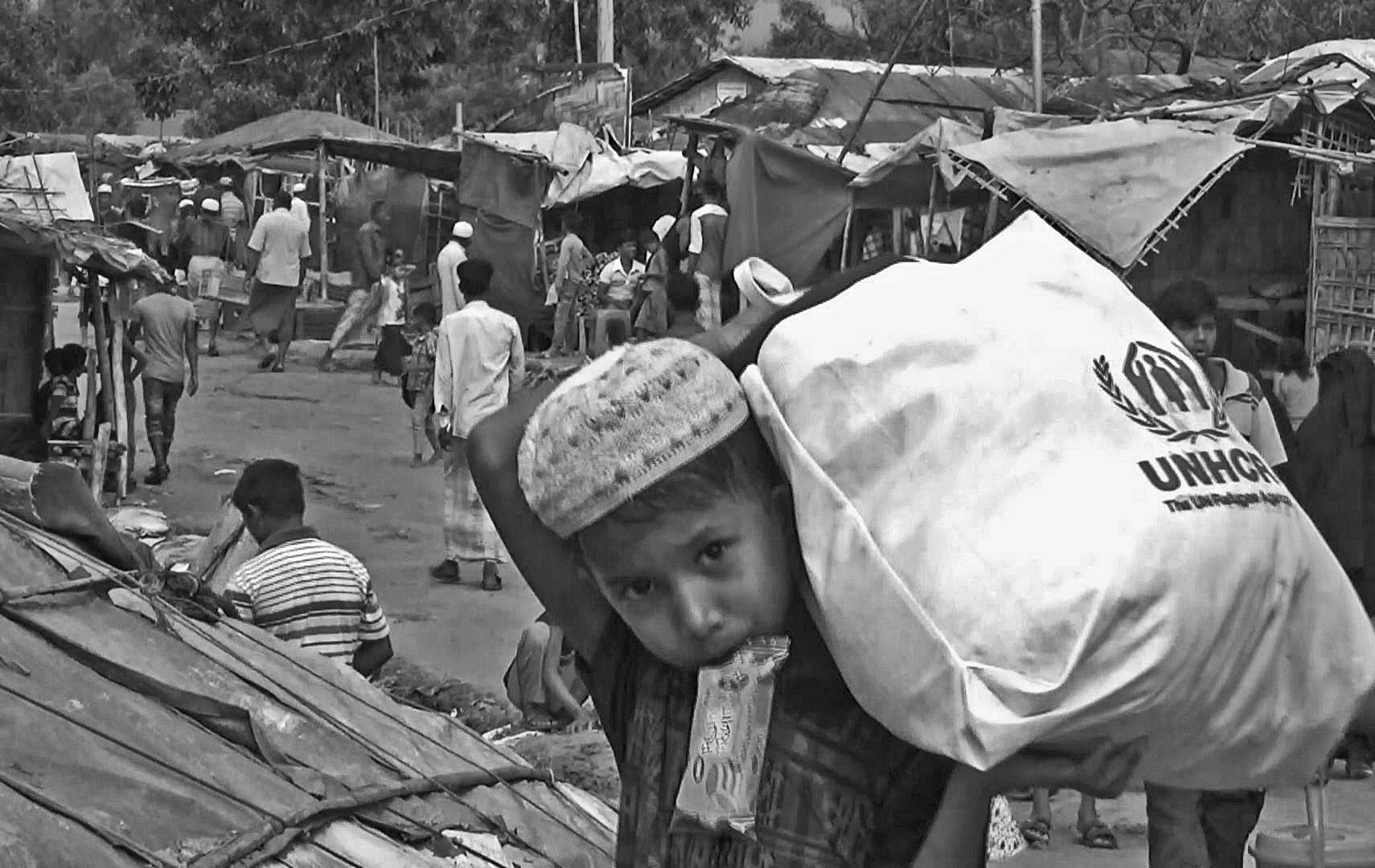 In Myanmar where discrimination and persecution against the ethnic minority Rohingya have persisted for a long time, the Arakan Rohingya Salvation Army (ARSA) attacked police facilities in Rakhine State on August 25, 2017, and in response to this, the Myanmar Army "slaughtered" ordinary citizens of the Rohingya, which triggered an escape of a record of more than 650,000 refugees into Bangladesh at one burst. According to the surveys conducted by NGOs and refugee organizations, more than 10,000 people were killed, approximately 2,000 people were arrested and imprisoned and raped respectively, and more than 80,000 houses were fired on purpose.
As a result of this, Cox's Bazar Refugee Camp in Bangladesh has suddenly expanded. Presently, more than 800,000 Rohingya people are waiting for a day when they can return to their hometown in Rakhine State.
Although Myanmar and Bangladesh signed an agreement on the refugee return in November 2018, specific procedures or schedule have not been decided yet. While State Counsellor, Aung San Suu Kyi, carefully refrained from using a term "Rohingya" which arouses public opinion's antipathy, she established the "Rakhine Issue Investigation Commission" by third parties. The Commission proposed (1) admitting freedom of movement, (2) granting nationalities to residents living in Rakhine for generations and (3) integrating regular citizens, second-class citizens and naturalized citizens, but there is no sign of these proposals to be realized.
To cover this Rohingya issue, I visited various places to gather news sources in Japan, Bangladesh, Myanmar and Thailand from January to March 2018 and produced a video report focusing on the theme "Why can't they return?" The video runs for about 22 minutes. Although the original video was shot by the AVCHD high vision format, it was converted to a light mpeg4 file for YouTube. For BGM, copyright free music is used.
Here is an abridged chronological table titled "Rohingya People, History of Discrimination and Persecution" below. Please read through the table before or after watching the video, which I hope will help you deepen understanding of this matter.
Rohingya People History of Discrimination and Persecution
[Before WWⅡ]
Present Rakhine State was colonized by the British and Muslim immigrants flowed in from Bangladesh. There were already frictions with Buddhists of Rakhine State at that time.
[1942]
The Japanese Army invaded Rakhine State. Japan armed Buddhists and the British armed Muslims, which developed into a proxy-war between Japan and UK.
[1948~1962]
Burma (present-day Myanmar) became independent. On the existing documents, the term "Rohingya" appeared. During this period, there were lawmakers from the Rohingya and radio broadcasting in the Rohingya language.
[1962]
A military coup led to the establishment of Burmese style socialist regime by the Burma people. On the ground of the "Illegal Immigrant Survey", harassment against the Rohingya began.
[1982]
The revised Citizenship Act stipulated that the Rohingya are not an indigenous people and those who call themselves Rohingya came to be regarded as foreigners.
[1990]
A permit system was introduced for the movement from both Maungtaw and Buthidaung in the northwest of Rakhine State where many Rohingya people live.
[1990~1991]
Discrimination and persecution forced tens of thousands of Rohingya people to flee into Bangladesh.
[2008~2010]
The current constitution was enacted, the state name was changed from Burma to Myanmar and Aung San Suu Kyi was liberated. However, the military, the police and border security forces are still under the jurisdiction of the military people and therefore, civilian control was not realized.
[2012]
On the occasion of the outbreak of an ethnic riot in Sittwe, capital of Rakhine, the Rohingya were displaced to one limited area.
[2015]
Census did not include the Rohingya and decided them "stateless".
[October, 2016, August 2017, January 2018]
The Arakan Rohingya Salvation Army (ARSA) attacked Myanmar police and the government force, and in response to this, the military contained residents excessively, which led to the outflow of a record 650,000 Rohingya refugees into Bangladesh.
According to the survey at the end of 2017 by Médecins Sans Frontières, at least 9,000 Rohingya people died from August to September of this year, 71% of which were killed. On the other hand, the Myanmar government says that the death toll was 432, 387 of which were Bangladesh terrorists.
[November 2018]
Myanmar and Bangladesh signed an agreement of a refugee period. However, specific procedures and schedule have not been agreed upon yet.
[By February 2019]
The Japanese government offered an aid of a cumulative total of 82.7 million dollars to refugees in Bangladesh through NGOs. Meanwhile, JICA supports the business expansion of Japanese companies to Rakhine State in Myanmar where China and India have already promoted infrastructure construction.