Thailand
Shadows of the Drought
September 1987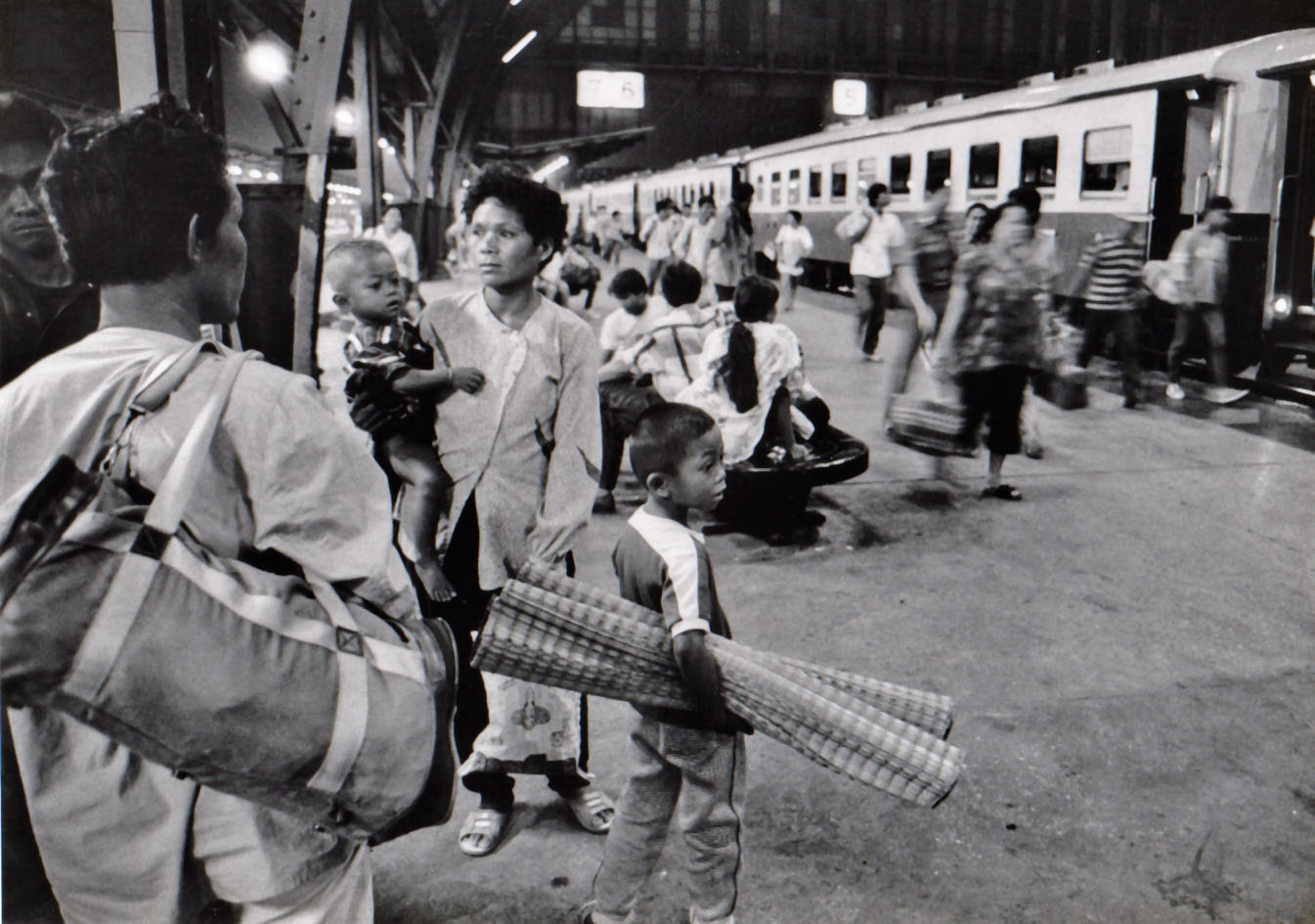 This summer tents suddenly sprang up in front of Hua Lampong Central Station,the entrance to Bangkok, capital of Thailand. The tents shelter farmers who fled from rural areas suffering from "the worst drought in twenty years."
They have flooded into the capital city seeking jobs. With nowhere to turn,these people are exploring not only the "camp grounds" but also the local slums. Although the Thai government has held many showy events to lure foreign tourists, including Japanese, with the "Centennial of Japan-Thai friendship," this stark new poverty makes a grim contrast. Stronger beams make darker
shadows.
In the beginning of September, four 30-tatami-mat-sized tents were pitched in the square in front of the station, which is as big as a football field.
According to the Thai Meteorological Agency, the drought is dreadful, especially in the Northeast. Nong Khai Prefecture, across the Mekong River from Laos, received only 36 millimeters of rain in May, the beginning of the rainy season. That is a mere 16 percent of the average. "No farmer could plant rice," said farmer's wife, Tiam (24), as she gave water to her crying baby behind the tent. Hollow-eyed, she doesn't have enough money even for their return tickets. Her husband spends every day looking for jobs to keep them alive.
The estimated growth rate of the Thai economy is six percent, which means that among Southeast Asian countries, Thailand, like Singapore, is rapidly industrializing. Anticipating this growth and using their strong yen, Japanese companiesh ave made 1.8 billion baht worth of investments in only the first half of thisyear.
The commercial areas of Bangkok are connected directly with the US and Europe as well as with Japan. The number of foreign tourists has also rocketed. But such a bustling city is too dazzling for the emigrants from the countryside. Suan Plu slum, not far from the station, was full of people from the Northeast. I met a 16-year-old girl there. Three months ago, she had come alone to Bangkok from Khon Kaen, a provincial Northeastern city.
"I send most of my money to my family," she said. "What I earn in the streets, …… My income is more than a graduate's," she continued with a smile. I was surprised, however, when I visited her room. It was no bigger than two tatami mats, in which a person can hardly lay down, and has no windows. The drain odors seep up from between the cracks in the floor.
I wondered what she thought about her life when she came back to this room in the end of a day? Something hot welled up from the eyes looking through the finder of a camera.