Thailand
Lights and Shadows of Long Stay
April 2003

As stock prices have been cheap and interest rates have been low these days, people take an increasing interest in living overseas after retirement. The people living on their pension have to lead a frugal life in Japan, but if they live in a foreign country where everything is cheap, a luxurious life is not a pipe dream. They may be able to live in a house with a swimming pool and give all their time to playing golf. But in reality things don't go so easy. I visited Chiang Mai, a popular place for a long stay, to see how things go.
A man enjoys the luxury of giving all his time to playing golf with his wife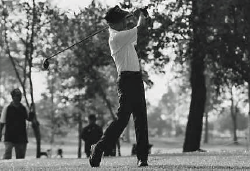 Birds are singing and the grass is glittering in the morning sun. Mr. Soichiro Kawai plays two rounds of golf at Lanna Golf Club every week. Since Mr. Kawai retired from an American movie company, where he worked as a branch chief of Japan for a long time, he has been here for ten years.
"This golf course is good and cheap, so I decided to live near here," he said. As might be expected of his saying so, he is a good player. He has a handicap of 12, even though he is over seventy. He lives comfortably with his wife, who is more than 30 years younger than him, her niece and a white poodle in a detached house with a garden in the city. Mr. Kawai, however, hasn't spent a lot of money for these comforts. The fee for playing a round of golf is less than 1,000 yen, the expense for lunch at the clubhouse is about 60 yen and the cost of the two-storied house with six rooms and a kitchen was a little less than five million yen. As you see, prices here are a fifth of those in Japan.
"I'll never leave him."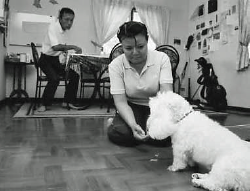 "When he gets sick, I'll take care of him and take him to the hospital. I'll never leave him until the last," said his wife Kwaikamon (42) without turning her eyes away.
Such words have appeal for Japanese men who will probably lead a lonely life in their old age. Those humane feelings are so attractive for the elderly person as to choose this place. Smiling self-consciously at her remark, Mr. Kawai said, "The Thai people live under an extended family system as the Japanese people of old did." The Thai people think that a person who is well off should help a person who is badly off, so Mrs. Kawai gives financial support to her brother and takes care of her sister's daughter because she is better off than them. Mr. Kawai also said, "It's wonderful for a family to help each other. But I really got culture shock when I faced it." By following the proverb 'When in Rome, do as the Romans do,' he lives happily. However, a lack of understanding of the family relationships in Thailand causes many troubles with a long stay.
Foolish passions and money troubles
Last year a man was found dead in a dam lake. He was a Japanese man in his 60s living in Chiang Mai. He died an unnatural death. He was at law at that time. He bought a car for his common-law wife but she rode away with the car, so he took it to court. His lawyer Apichart Kangbida (44) said, "He dated with four girls in Thailand, and he bought a car for each of them." The girls took it as the wealthy old man's mere pleasure. The police concluded that he committed suicide by throwing himself into the water and gave up the search.
I also talked with Leck (42), who resented having been deceived by a real estate agent in Tokyo. "He said he loved my daughter, and he made her abandon everything." Her daughter divorced her husband, left home and even quit her job. The Japanese man said that he would live with her daughter and bought a house in the name of her, but he transferred her title to the house to his company without consulting with her daughter. Since the Thai law prohibits foreigners from buying real estate, foreigners who want to buy real estate often borrow the name of a Thai. "He had raised her hopes, and then…" She's obviously distrustful of the Japanese.
More interested in young girls than nature and culture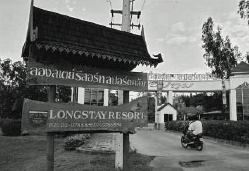 The Thai government started to issue a long-stay visa to an elderly foreigner of 50 years and up in January last year. The conditions are that he/she should have 800,000 Baht (1 Bart is about 3.2 yen) on deposit or draw a pension of the same amount and over. Besides that, he/she needs a certificate issued by Japanese police that shows he/she has no criminal record and a health certificate issued by a public hospital. A third sector Thai Longstay Management Company Limited, which a Japanese company has a share in, was established last September, and preparations for receiving are complete. The president of the company, Mr. Pratak Simapichaicheth (61) said, "We want the baby boomers, who have worked very hard, to realize their dreams in Thailand with a lot of nature and cultural interest."
But many middle-aged men come alone for young girls, which seems to cause a lot of troubles.
Middle-aged man with the mistaken idea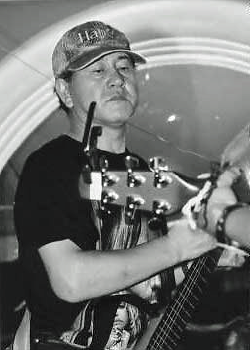 There is a music pub 'Sangen-chaya' in Chiang Mai, which was opened three years ago by Kimio Abe (53), who had worked for the French Embassy in Tokyo for 20-odd years. Mr. Abe is very friendly, so that his pub looks like an all-round guidance clinic for the Japanese people.
"People say Thailand is a country of smiles. But many middle-aged men get it wrong." Mr. Abe said that 90 % of the men who ask for his help want a mistress or a marriage partner. He is disgusted with it. "They seem not to understand that the smiles are for their money not for themselves. A man bought a car and a house for a girl after he saw her only two or three times. But he made a great fuss, complaining that he had been deceived by her. It was childish of him. An arrogant man who thinks money can buy anything makes me sad."
If you stay long, you will have much to do with the local people. On average, the people of Thailand are simple, honest and warm-hearted. If you want to spend your remaining life happily in Thailand, you should keep it in mind that you cannot associate with them in a businesslike manner.