Thailand
Marriages through Online Sites
August 2004
The way matrimonial agencies do arranging mixed marriages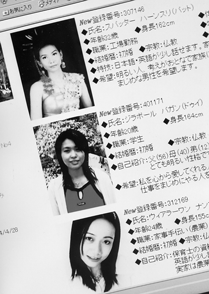 'URGENT!! CANDIDITS FOR BRIDE WANTED: We are inviting Thai women to marry Japanese men.' This is an advertisement that appeared in a local paper "Chiang Mai News" in August 2004. An applicant should mail a description of herself including her age and profession together with her photo to the agency. Within two weeks her profile marked 'New' appears on the Japanese matrimonial agency's home page.
In the Tokyo metropolitan area, one out of ten couples registers a mixed marriage. 80% of them are couples of a Japanese husbands and a Southeast Asian wife (surveyed by the Ministry of Welfare and Labor in 2000). If all couples had gotten to know each other during their stay abroad for business, study or sightseeing, the number of mixed marriages wouldn't have been large like this. There are as many as more than 250 matrimonial agencies in Japan and they advertise on their home pages. Marriages arranged by those agencies make the number of mixed marriages snowball. I visited Thailand to cover the circumstances on brides' side, which we could not see in Japan.
The investments will be recovered after an engagement is made.
The advertiser who put the above-mentioned advertisement was Somsack (38), who ran a nightclub in Chiang Mai. He set up a matrimonial agency two years ago, teaming up with a Japanese, who lived in Kansai region of Japan. He said 40 women ranging from 19 to 42 years old were on the register. "Some get engaged soon, but some take about one year to decide," he said. There is no specific schedule for a marriage. The charge for the arrangements is about 280,000 yen odd exclusive of the air far, so that they can make a profit from the arrangements alone.
However, most of the agencies charge about 150,000 yen including the air fare for the arrangements to meet a prospective wife. The charge is almost less than the cost price. Since this cheap offer is just to attract customers, the agencies recommend intently getting engaged at their first marriage meeting so that they can charge more. After all, a Japanese man will be charged more than 2 million yen before his bride comes to Japan, but most of the men are eager to get married without fail.
Disagreement over the terms desired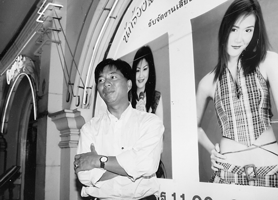 I met three Thai women who wanted to get married to a Japanese man and registered with an agency. Chongtitto (23), a PC-part factory worker, said, "I want to stay in Thailand after I get married. I'll never go to Japan until I can believe that my husband loves me from his heart." No Japanese man can comply with her wishes except a man who can quit his job in Japan or an old man who lives on his pension.
Gin (28) runs a small beauty parlor. About ten years ago she saw a Japanese man for the first time. When some Japanese young people visited her village and stayed with the villagers, she made friends with a university student. After he returned to Japan, they had exchanged letters for one year. One day she got a letter from him. It said "I became a lawyer. I will visit you again when I have enough savings." That was the last letter from him. She said she didn't bother about the amount of her husband's earnings if she could secure her livelihood. "I'm O.K. with a man in his early 40s. I'm not so young as to chase a dream," she said laughingly.
She, however, didn't know at all about the matrimonial process that Japanese men desired. "I can't give an immediate answer at the first meeting. I registered with the agency because I wanted to have a chance to get to know a Japanese man." She looked puzzled.
A bottleneck in getting a visa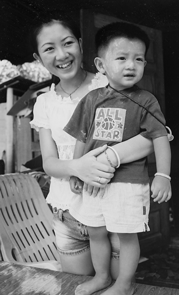 Oh (23) wearing a very short miniskirt, which suits her nicely, has a two-year-old son, although her profile on the agency's home page said she was single. She assists her family in keeping a shoe shop. "Thai men like to play around. They like gambling and drinking alcohol. I'm sick of them. But Japanese men look sincere and cute." She explained why she had registered with the agency.
Even a love marriage, however, may collapse. There was a precedent for that. When Ms. A (32) was a child, she liked to read Japanese cartoons, which were popular in Thailand, and her hobby was collecting products featuring popular cartoon characters. When she was studying Japanese in Tokyo, she met a Japanese man five years younger than her. He urged her to marry him, saying, "If you don't marry me, I will kill myself." He was so persistent that she gave in. She had her name entered in his family register at the age of 25. But she didn't know that he was an extreme mama's boy until she married him. He never worked even when the power supply was cut off. He asked his mother for money for their living, but he didn't allow her to work part-time. She thought if she had continued her marriage to him, he would have never been mature. So she left him and returned to Thailand. Now she conceals herself with her 3-year-old son in her friend's house in the northern part of Thailand.
Even if a couple marry for love, it is difficult to see the spouse's true character. Sometimes it is too late when it is revealed. If it is an arranged marriage through an Internet matrimonial agency, it is impossible to see through such propensities.
Ms. B (35), who is working at a Japanese bar, said, "I don't care if my husband is married to another woman. I just want to know whether he is fine and happy." She shed tears. Her father died young and she had to take over his debt of 1,200,000 yen, so she went to Japan to work at the age of 27. She married her customer and had her name entered in his family register. Five years after they married, she went to the Immigration Office to get a spouse visa, and then she was said she had overstayed illegally. She was forcibly repatriated.
Even if a foreigner's marriage to a Japanese is registered, the couple can 't always live together in Japan. Close examination to screen out feigned marriages with the aim of working in Japan formed a bottleneck in getting a spouse visa. It is not too much to say that the bottleneck makes the matrimonial agencies flourish.
Somporn, who was looking for a trustworthy agency, made a phone call to an agency whose home page carried a picture of its Japanese owner and his Thai wife, who looked happy. The agent said, "I can assure you that all registered Japanese men here are good guys. There's nothing to worry about, so please just register yourself." When she asked about the process for marriage, he answered, "If both of you like each other, you get engaged on the day when you are introduced." "But I'd like to date with a man for a couple of months before I decide to get engaged." Then he said, "There is no time to do so." "If I want to break off the engagement, what should I do?" "You have only to go through the legal procedure, but you should pay the expenses which a Japanese man have paid to a Japanese language institution and paid for a visa." He implied that she had to pay a fine. He also said that 20 % of betrothal money should go to the agency. She thought it unreasonable, so she didn't register.
Japanese men are impatient to marry; Thai women are uninformed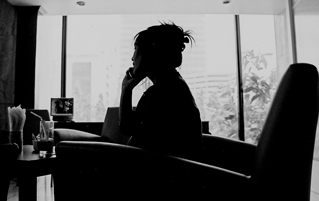 A bike taxi driver in Bangkok, Sombad (33) is a single man. "There are some sincere men in Thailand like me, though we are poor," he said with a laugh. "A girl who wants to marry a Japanese man tries to take the easy course. She thinks of only her interests."
Kannika (30), a boutique owner, said, "It would be best for a woman to have a job and support herself. I sometimes have a romance, but I try not to depend on a man to avoid a trouble."
I obtained a manual passed out in Thailand by another Japanese matrimonial agency. It was typed in Thai. It explained how to tell Thai women about the system and Japanese men's conditions before registration. This was also mentioned–"Those women will be avoided; 1) who is selfish, 2) who has a boyfriend, 3) who likes amusements, 4) who works or used to work in a bar or restaurant, 5) who doesn't look after her parents and 6) who has been to a foreign country to work." As you see, the requirements were very severe. As for the reason why they would get engaged on the very day of the first meeting, it said that Japanese men could not stay long because they took days off from work to be here in Thailand, and that travel expenses were too expensive to come many times.
Professor Surichai Wun'Gaeo (55) of Chulalongkorn University said that some agencies seemed to be circumspect in doing this business, but sooner or later those mixed arranged marriages would become an object of public concern. He feels misgiving about it. "It's a malady of the Internet years. It is dangerous to make a hasty decision on the grounds that the woman seems familiar or the chemistry seems right. Thai women with a desire for marriage to a Japanese man hanker to go to Japan and want to get out of their present situation because of financial problems or trouble with human relations. Japanese men are impatient to marry and Thai women are uninformed. It is unfair to take advantage of a language barrier." The talk with Professor Surichai ended with the conclusion that the matrimonial trade should draw up guidelines and both of a man and a woman should try to know each other better.